News > Idaho
Brodie leads Panabaker; Currie wins
Wed., May 26, 2004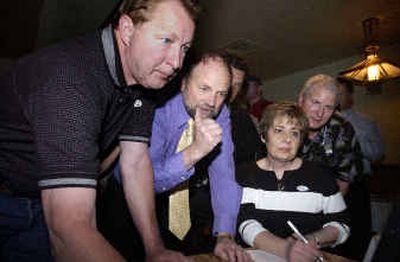 Katie Brodie was sending Kootenai County Commission Chairman Dick Panabaker to an early retirement but Commissioner Rick Currie gets to keep his job.
Brodie, a former county planning commission chairwoman who raised a record-breaking $24,540, was edging out Panabaker by 174 votes with 95 percent of the precincts reporting in Tuesday's Republican primary election. Challenger Rich Piazza had 26 percent of the vote while Mike Piper received 8 percent.
"Oh my word that's incredible," Brodie said when she learned she was leading. "I'm scared to death, I would hate to say anything further."
Currie squashed Republican challenger Claudia Brennan with 63 percent of the vote.
Currie said that as a native he has the perspective and insight needed to run this quickly growing county.
Brennan, a political newcomer who owns Unique Printing, ran against Currie because she felt the commission lacked management skills and has done a poor job managing the county's $54 million budget.
"They know I look at the issues and I don't rubber-stamp anything," Currie said about why voters re-elected him. "I will continue to be out there and study the issues and make the best decisions."
Brodie wants to curb the county's spending while attracting commercial and clean industry to Kootenai County to expand the tax base. She wants to do that by giving more county money to the private business recruiter Jobs Plus. Brodie is a former assistant for Jobs Plus. She is currently a property manager for Idaho Forest Industries.
Panabaker ran for re-election because he refused to "roll over" to special interest groups, such as Jobs Plus. Panabaker, who was first elected to the commission in 1994, said Jobs Plus, Hagadone Corp., and Concerned Businesses have too much influence in the county.
Both Panabaker and Currie were grossly outspent, but they argued that voters aren't looking for who has the big money.
Brodie raised $24,540, which is more than four times the $5,700 Panabaker amassed in his war chest.
Brodie is a former county planning commission chairwoman and former assistant for local job recruiter Jobs Plus. She currently is a property manager for Idaho Forest Industries. Brennan raised $15,100 including a last-minute personal loan of $1,550. She used $4,000 of that money to hire a campaign consultant, who is also the former county planning director. That's about the same amount of money Currie raised for his bid, $3,992. Brennan said she didn't have time to campaign because she was working full time and learning the issues.
During the race, Currie took issue with Brennan hiring a consultant, arguing it was a poor use of campaign dollars.
Colleen Pryor of Post Falls voted for Brodie because she's still upset with Panabaker's 1999 vote to put a railroad refueling depot on the Rathdrum Prairie.
"The aquifer means so much to me I just couldn't vote for Panabaker," Pryor said Tuesday after voting at the Post Falls Library.
Norm Heitstuman of Rathdrum also didn't vote for Panabaker, as he has in the past, because he thinks the commission chairman has lost his finesse and makes too many people mad.
"He's starting to get a little cranky," Heitstuman said.
A woman voting at a Coeur d'Alene fire station, who didn't want her name used, said she voted for Piazza because he came to her door. She is unhappy with Kootenai County's growth and misses the "hometown feel."
"He was exactly what we were looking for," she said. "He's down to earth and the kind of guy who we would have known 30 years ago."
Piazza is a retired county tax appraiser who ran because he thinks the commission needs an ordinary citizen who will represent everyone, not just special interests. He's also mad about the commission's vote on the refueling depot and that's why he challenged Panabaker four years ago. He raised $5,035.
Piper is a political newcomer who is upset with how the county is managing growth. He leads the conservation watchdog groups Save Hayden Lake, Alliance for Responsible Growth and Canfield Mountain Preservation. He wanted the county to lobby the Idaho Legislature to change state law to allow counties, like cities, to charge impact fees to help pay for infrastructure in new development. Piper didn't seek campaign money but raised $1,301 including $575 of in-kind donations.
Local journalism is essential.
Give directly to The Spokesman-Review's Northwest Passages community forums series -- which helps to offset the costs of several reporter and editor positions at the newspaper -- by using the easy options below. Gifts processed in this system are not tax deductible, but are predominately used to help meet the local financial requirements needed to receive national matching-grant funds.
Subscribe to the Coronavirus newsletter
Get the day's latest Coronavirus news delivered to your inbox by subscribing to our newsletter.
---