News > Nation/World
Bush says clinics are medical 'safety net'
Wed., May 26, 2004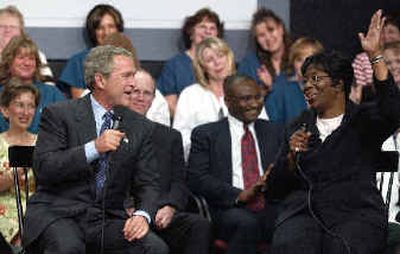 YOUNGSTOWN, Ohio – A day after trying to rally the nation behind his Iraq policy, President Bush pivoted back to his domestic agenda Tuesday, traveling to this Democratic stronghold to highlight the role of community health centers in caring for the uninsured.
In a campaign-style "conversation" at Youngstown State University, Bush touted neighborhood clinics, a centerpiece of his health care agenda, as a primary way to expand access to medical services.
The president hailed the thousands of community health centers around the country as "a safety net" that provides primary care to those without insurance. "This is access to health care in a practical way," he said.
With the number of Americans lacking insurance now at more than 43 million and rising, the issues of health care access and soaring costs have continued to hover as top-tier social concerns in the decade since President Clinton and now-Sen. Hillary Rodham Clinton, D-N.Y., attempted, but failed, to restructure the nation's health care system.
In a background paper, the White House noted that Bush's 2005 budget proposal contains a $1.8 billion request for community centers, an increase of $218 million over 2004, and a 57 percent increase since Bush took office.
The National Association of Community Health Centers, a nonprofit organization that represents the clinic network, welcomed Bush's support for the centers but said still more funding is needed.
In 2002 and 2003, about 1,250 clinics applied for federal funds, but only 411 applications were approved, the group said. The association reported earlier this year that 36 million Americans lack access to basic medical care. There are about 3,500 community health centers across the country, serving as many as 13 million people, most of whom live in low-income urban neighborhoods or underserved rural areas. About 40 percent of those people have no health insurance, and many more are underinsured and cannot afford to meet the cost of their deductibles and co-payments.
Most of the clinics, which provide primary medical care and basic dental services, receive little or no federal funding.
Since his first year in the White House, Bush has made expansion of the health-center safety net the centerpiece of his health care policy. His five-year initiative calls for 645 new health centers and 555 expanded clinics by 2006.
Administration officials say this expansion, if fully funded by Congress, would extend health care availability to an additional 6 million Americans.
Neighborhood clinics are "a common-sense approach to making sure the health care system works … without centralizing decision-making process in Washington, D.C.," Bush said.
Another provision of Bush's health care platform would allow small businesses to band together to buy insurance for their employees as a group, thereby qualifying for lower premiums.
Bush also has called for imposing limits on awards to victims of medical malpractice, saying that such caps would deter "junk and frivolous lawsuits," as he put it here, that he said drive up medical costs.
Like other "conversations" that the Bush White House stages around the country, whether the topic is health care or the economy, Tuesday's event included a half-dozen participants whose experiences highlighted points that the president wants to underscore.
Dr. Compton Girdharry, an obstetrician-gynecologist, said he had been forced out of private practice in Alliance, Ohio, by high malpractice insurance premiums. His experience, Bush said, illustrated that "the system is totally out of whack." Youngstown and surrounding Mahoning County voted for Democrat Al Gore in 2002 by a near 2-1 margin, even as the state went for Bush by 4 percentage points.
Local journalism is essential.
Give directly to The Spokesman-Review's Northwest Passages community forums series -- which helps to offset the costs of several reporter and editor positions at the newspaper -- by using the easy options below. Gifts processed in this system are not tax deductible, but are predominately used to help meet the local financial requirements needed to receive national matching-grant funds.
Subscribe to the Coronavirus newsletter
Get the day's latest Coronavirus news delivered to your inbox by subscribing to our newsletter.
---