News > Nation/World
Fighting damages holiest Shiite shrine
Wed., May 26, 2004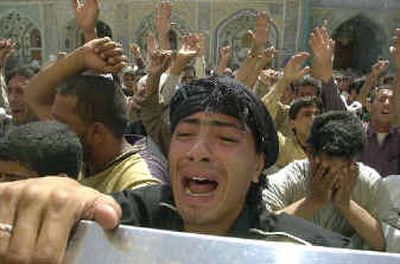 NAJAF, Iraq – Iraq's most sacred Shiite shrine was slightly damaged for a second time and at least 13 Iraqis were killed in fighting Tuesday between American forces and militiamen loyal to a radical cleric. The U.S. military blamed Shiite militants for shells that hit the holy site.
In Baghdad, a suicide attacker detonated a car bomb that wounded at least five Iraqis, including a 10-year-old boy, U.S. military officials said. Police said they believed the bomb may have targeted the nearby Australian Embassy and detonated prematurely. Australia has some 850 military personnel in Iraq.
It was the second time the Imam Ali shrine has been hit in the past two weeks of fighting. On May 14, machine-gun fire struck the golden dome, leaving four small holes and each side blaming the other.
After fighting in Najaf eased Tuesday, crowds loyal to radical cleric Muqtada al-Sadr gathered at the shrine to look at the damage. The inner gate of the shrine, leading into the tomb of Imam Ali Ibn Abu Talib, appeared to have been hit by a projectile. Debris was scattered on the ground.
A veil covering the gate was ripped apart, and parts of the wall were damaged. Bits of mortar and parts of a projectile were scattered on the courtyard floor.
Another projectile landed outside the shrine, about 10 yards from the outer wall. Three militiamen were wounded in that attack, and three fighters were killed in fighting in the city, al-Sadr's office said. Supporters of al-Sadr accused the Americans of firing mortars at the shrine.
Brig. Gen. Mark Kimmitt, deputy chief of operations, denied that U.S. forces shelled the shrine. He said the Americans were uncertain whether the damage was caused by exchanges of fire between rival Shiite groups or whether al-Sadr's fighters targeted the compound "to try to provoke outrage so they could blame it on the coalition forces."
The Kuwaiti representative of Iraq's most powerful Shiite cleric, Grand Ayatollah Ali al-Husseini al-Sistani, accused al-Sadr's militia of deliberately attacking the shrine "to agitate world opinion against the coalition."
Ayatollah Mohammed Baqer al-Mehri said in a statement that the militia fired a mortar shell at the dome of the shrine but hit a wall instead.
Al-Sistani, who is more popular among Iraq's Shiite majority than al-Sadr, has long shunned the younger cleric. Al-Sadr has gained support among Shiites through his defiance of the U.S. occupation – and al-Sistani has refrained from criticizing the young cleric openly.
Explosions and gunfire were heard Tuesday around Najaf's Revolution of 1920 Square and the cemetery, a warren of paths and tombs offering many hiding places for militiamen armed with assault rifles and rocket-propelled grenades.
Eight people were killed and 18 injured in the fighting in Najaf, said Seyed Kifah Shemal, an official at Hakim General Hospital. Two people died and 14 were injured overnight in Kufa, said Riyadh Kadhem, a nurse at the Forat al-Awsat hospital there. They said the casualties were mostly civilians.
There were no reports of U.S. casualties.
According to figures compiled by the Associated Press, about 328 Shiite insurgents and 21 coalition troops have been killed in al-Sadr's uprising since early April.
In other developments Tuesday:
• President Bush sought to rally international support for the transfer of power, saying that even European leaders who opposed the war now "share the same goal" of a budding democracy. Following a nationwide speech on Iraq, Bush spoke by phone with French President Jacques Chirac, who has been one of the fiercest critics of U.S. policy there.
• Insurgents fired rockets from an apartment house toward a police station in Baghdad, triggering explosions and wounding one American soldier, witnesses and officials said.
• A 1st Infantry Division soldier was killed and two others were injured in a traffic accident, the U.S. military said. The accident happened late Monday in Dwar about 85 miles north of Baghdad.
Local journalism is essential.
Give directly to The Spokesman-Review's Northwest Passages community forums series -- which helps to offset the costs of several reporter and editor positions at the newspaper -- by using the easy options below. Gifts processed in this system are not tax deductible, but are predominately used to help meet the local financial requirements needed to receive national matching-grant funds.
Subscribe to the Coronavirus newsletter
Get the day's latest Coronavirus news delivered to your inbox by subscribing to our newsletter.
---