News > Idaho
Judge blocks defense evidence
Wed., May 26, 2004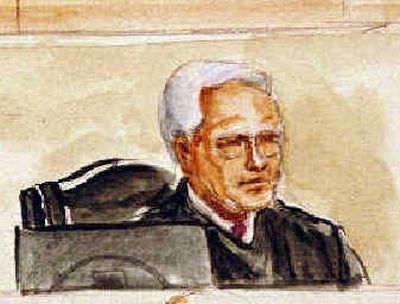 BOISE – Sami Al-Hussayen's terrorism trial is almost over, defense attorneys told the court Tuesday, after a judge angrily delayed the testimony of the defense's first witness and blocked key evidence from being introduced.
Judge Edward Lodge refused to allow evidence that after the Sept. 11, 2001, terrorist attacks Al-Hussayen organized a blood drive for the victims and condemned the attacks.
After Lodge's rulings Tuesday morning, lead defense attorney David Nevin asked for the rest of the day off to retool his case, and promised the court he'd be done presenting his entire case by Thursday. That would mark a major change in a trial that so far has stretched for more than six weeks, just with the prosecution presenting its case.
Al-Hussayen, a doctoral student in computer science at the University of Idaho, faces charges of providing material support to terrorists, in part by operating and maintaining various Islamic Web sites. Prosecutors say material on the Web sites helped terrorists raise funds and draw new recruits. Al-Hussayen maintains his innocence, saying he merely lent his computer skills to a legitimate religious outreach group, the Islamic Assembly of North America.
When jurors were led in Tuesday morning only to be told they were leaving again, at least one threw up her arms in disgust. "Because of some legal rulings made by the court, there has to be an adjustment in the order in which witnesses are called," Lodge told the jurors. "So we are going to recess again."
Prosecutors were still seething Tuesday morning over Nevin's cross-examination on Monday of one of their star witnesses, a terrorist recruit from Virginia who had testified that viewing Web sites and videos, in part, prompted him to head off to a terrorist training camp in Pakistan.
But under cross-examination from Nevin, Khwaja Hasan, 28, acknowledged that it was the Sept. 11 terrorist attacks and strong urging from a Muslic cleric he respected that prompted him to take up arms. Hasan said he was first urged to go the very day of the attacks, and headed to Pakistan less than two weeks later.
Both sides in the case had agreed before the trial to leave Sept. 11, Osama bin Laden and al Qaeda out of their arguments, because both agreed that Al-Hussayen had no role in the attacks and mentioning them would prejudice the jury.
Assistant U.S. Attorney Kim Lindquist, quivering with anger, told the court, "The government has been restricted from using, from making any reference to Sept. 11. … Yet … the defense wants to use the events of Sept. 11 to their advantage."
"The defense should not be allowed to have it both ways," Lindquist declared.
Key portions of Al-Hussayen's defense, as outlined in opening arguments, include the Saudi student's response to the Sept. 11 attacks. As president of the UI's Muslim Students Association, Al-Hussayen condemned the attacks, issued press releases and organized a blood drive for victims. He became a prominent spokesman for Moscow's Muslim community, working on efforts to educate people about Islam and stressing that the religion doesn't justify such violence.
Nevin noted that much of the evidence admitted in the trial thus far has come in under court-ordered restrictions, requiring jurors to consider the evidence not for its truth, but for what it suggests about the defendant's knowledge or intent.
Prosecutors have argued that under post-Sept. 11 terrorism laws, they need only prove that Al-Hussayen either knew or intended that his activities would help terrorists raise funds or recruit, to prove him guilty of providing material support to terrorists.
Nevin said Al-Hussayen's post-Sept. 11 actions show his intent and should be considered.
"We are talking here of an alleged intention to encourage acts of murder, kidnapping, maiming," Nevin told the court. "It has not been shown with direct evidence. … It's all been inferred. So … we are entitled to submit his direct actions, which lead to a counter-inference."
Both sides offered complex citations of federal rules of evidence to bolster their arguments, but the arguments, as the jury waited in another room, seemed to frustrate the judge.
"The issues you brought up here could easily have been anticipated," Lodge fumed. "It just seems like this whole trial has been proceeding that way – keep the court in the dark, see if the court makes a mistake and then take advantage of it."
Lodge said the issues the lawyers were bringing up were "crucial to not only the admissibility of the evidence, but could affect the outcome of the trial."
But he said he was forced to rule on the spot, and concluded that federal rules block the admission of evidence about "character traits" like Al-Hussayen's allegedly peaceful nature. "The court is not going to permit the same," he said.
He did leave the door open to allowing evidence like press releases Al-Hussayen issued on behalf of the Muslim Students Association, but only after further arguments and a further ruling.
"We had a common understanding throughout this trial that Sept. 11, Osama bin Laden, the Taliban were not going to be let into this," the judge said, not only because Al-Hussayen wasn't involved but "because they're highly prejudicial."
Lodge said he wasn't going to allow the cross-examination of the government's last witness, on the last day of the government's case, to "open it all up."
He also said he thought any statements made solely by Al-Hussayen, rather than on behalf of a group, would be inadmissible as hearsay evidence. "He is available as a witness," the judge said. "It's his choice whether he chooses to testify or not."
Nevin would not comment on whether Al-Hussayen would testify, but it's considered highly unlikely.
The first witness he planned to call, Al-Hussayen's doctoral adviser at the university, John Dickinson, also was the subject of heated arguments among the attorneys.
Lindquist said there was an indication earlier that Dickinson would testify as an expert witness, but prosecutors were never provided an expert's report, to allow their own computer experts to analyze Dickinson's contentions and assist in cross-examination.
Nevin said the defense had decided to call Dickinson as a fact witness, not an expert witness, but the judge said, "He will not testify today until the report is given to the government. He was noticed as an expert."
That ruling prompted the halt in the trial for the day, as it required a re-ordering of the defense's case. Nevin declined to comment on why he also decided to shorten his case. The defense had earlier estimated that its case would take 2 1/2 weeks.
Local journalism is essential.
Give directly to The Spokesman-Review's Northwest Passages community forums series -- which helps to offset the costs of several reporter and editor positions at the newspaper -- by using the easy options below. Gifts processed in this system are not tax deductible, but are predominately used to help meet the local financial requirements needed to receive national matching-grant funds.
Subscribe to the Coronavirus newsletter
Get the day's latest Coronavirus news delivered to your inbox by subscribing to our newsletter.
---