News > Features
Kate Hudson juggles parental tasks on, off screen
Wed., May 26, 2004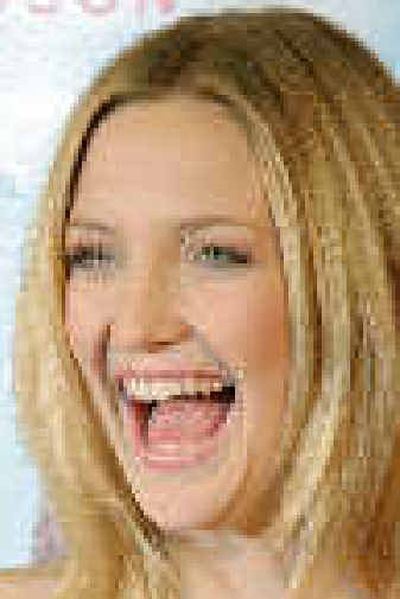 Babies are booming for Kate Hudson.
That's why, on this Saturday afternoon, she's running hours behind schedule. Hudson had to halt her press duties to nurse her infant son, Ryder.
Then show him off to director Garry Marshall, who stopped by to get a glimpse of the baby.
Then spend a little time with her boy before embarking on yet another interview.
But the delay is no big deal, because Hudson is unabashedly besotted with the new man in her life.
"We both are, obviously," says Hudson, referring to her husband, Black Crowes musician Chris Robinson. "That's everything that we are now, a family.
"The experience is bigger than anything I could have possibly conjured up. Nothing means nearly as much at all — you can't even put it into words — it just changes your life."
And her character's as well in the romantic comedy "Raising Helen," which opens Friday.
In the Marshall-helmed flick, Hudson, 25, plays a carefree career girl who becomes a parent when she's left to raise her sister's (Felicity Huffman) three kids after their parents die in a car crash.
In real life, Hudson gave birth to Ryder Russell Robinson in Los Angeles on Jan. 7.
"The movie took on a whole different meaning now that I'm a mom," Hudson says. "I saw it yesterday, and I couldn't stop crying. You have a baby and you're like, 'I can't die.' God forbid.
"And you do think about those things, and the struggle is real.
"Being a mom is really hard, and you make mistakes all the time, and you have to just chug through it."
Between nursing and changing nappies, Hudson is stepping out to promote the first film that she carries almost single-handedly.
"Helen" will test her ability to fill theaters, especially since Hudson is in nearly every scene. To date, her record has been spotty; her last flick, "How to Lose a Guy in 10 Days," was a box-office success but a critical letdown.
Being the film's marquee name and major selling point is "slightly nerve-wracking," she acknowledges. "But I try not to think of things like that or else I'd make myself crazy.
"I'm just so happy I made it because it's a movie that I would want to go see."
And so will others, bets Marshall, who knows a few things about picking leading ladies that audiences love. He is, after all, the director who gave us such tenderhearted hits as "Pretty Woman" with Julia Roberts and "The Princess Diaries" with Anne Hathaway. Hudson, he says, has that ephemeral, magical quality that elevates an actress into a movie star.
Adds Joan Cusack, who plays Hudson's disapproving older sister in the film: "She's just a really nice, warm person who knows what she's doing and works hard and wants to have a family."
And don't let her bouncy, sparkly demeanor fool you. Hudson, Marshall says, is "driven like I am driven. We like to keep busy. She's not so good at doing one thing at a time or just standing there."
Instead of chilling out between scenes, Hudson feverishly completes newspaper crossword puzzles, chats on her cell phone or hangs out with her husband, who visited her several times on the set. The entire shoot, reports the director, was a bit of a family affair.
Hudson's mother, Goldie Hawn, stopped by, as did Hudson's girlfriends, many of whom are pregnant.
While shooting "Helen" last winter, Hudson turned to Marshall for advice, not about acting, but on maintaining some semblance of familial normalcy in Hollywood.
"She was interested in the fact that I had stayed married to the same woman for 41 years," he said. "I told her if we're in the middle of a scene and Chris calls, she should take it," he says. "She seems to truly want to have a life."
In fact, Hudson seems to love hers.
Clad in a black top, cream pants and chunky heels, she oozes warmth and blissful satisfaction. She's almost back to her pre-baby weight, thanks to a grueling, three-hour-a-day cycling, cross-training and Pilates regimen she has followed for the past few months to shed the 60 pounds she gained during her pregnancy.
"I've never had to be dedicated like that. It was almost like a meditation retreat. It's slowly coming off. My muscles were so tired. It's so intense," she says.
So is being a first-time parent, although Hudson has the best help that money can buy. But she still yawns throughout the interview. Even makeup can't quite conceal the slight bags under her eyes.
"Whenever I feel stressed out or like I'm going crazy, I stop myself and say how lucky I am to be able to do what I do. I'm so lucky to be able to have my baby with me everywhere I go," she says.
"If I work 15- to 18-hour days on the set and the only time I see my son is for 30 minutes when I can breast-feed him, it feels like it's not enough. But then I think about all the women out there who work and have to stop nursing their babies because they have a 9-to-5 job… ."
Hudson leans back on the couch and smiles: "I feel blessed just to have him with me."
Local journalism is essential.
Give directly to The Spokesman-Review's Northwest Passages community forums series -- which helps to offset the costs of several reporter and editor positions at the newspaper -- by using the easy options below. Gifts processed in this system are not tax deductible, but are predominately used to help meet the local financial requirements needed to receive national matching-grant funds.
Subscribe to the Coronavirus newsletter
Get the day's latest Coronavirus news delivered to your inbox by subscribing to our newsletter.
---