News > Business
Krispy Kreme sees a drop in its dough
Wed., May 26, 2004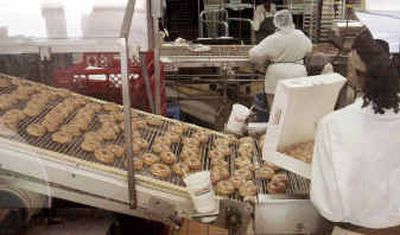 Krispy Kreme Doughnuts Inc. reported its first quarterly loss since going public in 2000, blaming the low-carb diet craze for the slump.
Chief executive officer Scott Livengood remained adamant that carb-counting snackers, rather than rapid expansion, was the culprit.
"In 30 years in this business, I never ever seen anything that rivals what has occurred over the last three months," he told analysts, dismissing claims Krispy Kreme was using the diet theory to cover its mistakes.
The company said Tuesday it lost $24.4 million, or 38 cents per share, in its first quarter after taking a charge for shutting down its Montana Mills Bread Co. chain — which it plans to sell — and other restructuring costs.
Krispy Kreme, which has seen its share price plummet 37 percent since warning on May 7 that the surging popularity of low-carb diets had hurt its sales, also scaled back its expansion plans for the year. It now estimates opening about 100 new stores systemwide, about 20 less than previously planned.
Krispy Kreme earned $13.1 million, or 22 cents a share, in the same quarter last year.
Excluding the nonrecurring charges, earnings were 23 cents a share, which matched the average analyst estimate compiled by research firm Thomson First Call.
Total sales rose 24 percent to $184.4 million and systemwide same-store sales increased 4 percent. Sales at company-owned stores rose 5.2 percent.
In other reports Tuesday:
• Williams-Sonoma Inc. said profit for its latest quarter jumped 60 percent, helped by strong sales at the retailer's Pottery Barn, Pottery Barn Kids, and Williams-Sonoma stores as well as cost-cutting measures. The company said it earned $21.4 million, or 18 cents a share, for its first quarter ended May 2, compared with $13.4 million, or 11 cents a share, in the same quarter a year ago.
• British mobile phone giant Vodafone PLC continued to suffer big losses in its latest fiscal year because of costs relating to previous acquisitions, even as sales 10 percent. Net losses stood at 9.02 billion pounds (US$16.15 billion) for the year ended March 31, down 9 percent from the previous 12 months.
• La-Z-Boy Inc. swung to a fiscal fourth-quarter loss as impairment charges and weakened casegoods sales weighed down results.
For the quarter ended April 24, the furniture retailer posted a net loss of $42.1 million, or 80 cents a share, compared with year-earlier net income of $25.1 million, or 45 cents a share.
Local journalism is essential.
Give directly to The Spokesman-Review's Northwest Passages community forums series -- which helps to offset the costs of several reporter and editor positions at the newspaper -- by using the easy options below. Gifts processed in this system are not tax deductible, but are predominately used to help meet the local financial requirements needed to receive national matching-grant funds.
Subscribe to the Coronavirus newsletter
Get the day's latest Coronavirus news delivered to your inbox by subscribing to our newsletter.
---