News > Nation/World
Rules proposed to protect whales
Wed., May 26, 2004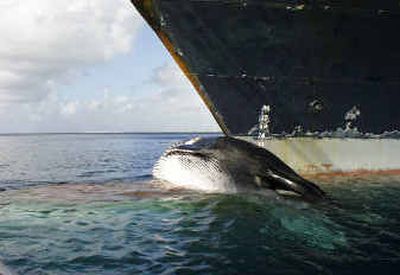 WASHINGTON – In an effort to protect North Atlantic right whales, one of the world's most endangered large whales, the Bush administration is considering speed and routing restrictions for East Coast shipping.
The Commerce Department's National Oceanic and Atmospheric Administration plans to release details by month's end of the first step in the process of issuing the new rules.
Only about 300 right whales exist in U.S. and Canadian waters of the western North Atlantic, the species depleted largely by centuries of commercial whaling. Now, accidental collisions with ships or entanglements with nets threaten recovery. Adult right whales, which can live about 70 years, range from 45 to 60 feet long and weigh 30 to 80 tons.
Aleria Jensen, a fishery biologist with NOAA's Office of Protected Resources, said Tuesday that ship strikes have been responsible for an average of one to two right whale deaths per year over the last decade.
"At this point, the North Atlantic right whale population status is so critical that even the loss of a single individual may impact the species' ability to recover," she said.
Jensen's office in Silver Spring, Md., which is responsible for protecting endangered marine species, intends to set uniform speed limits after receiving 60 days of public comment and holding meetings on the East Coast.
Right whales, apparently named for a belief that they were the "right whale" to hunt, were much hunted in the past for their oil. The International Whaling Commission banned commercial whaling in 1986.
NOAA says there have been at least 292 ship strikes on large whales from 1975 to 2002, including 38 involving North Atlantic right whales. That's partly because the whales are slow, love shallow water and spend time on the water's surface, often in shipping lanes.
An environmental group, Public Employees for Environmental Responsibility, says ship strikes are on the rise because of increasing coastal ship traffic, smaller crew size, bigger vessels, faster speeds and deafening underwater noise that obscures approaching propellers.
Options for protecting the last right whales, NOAA officials say, include rerouting vessels around the highest-risk areas, restricting ship speeds to not-yet-determined levels in those areas or changing their routes to minimize the time spent in whale areas.
Affected vessels would be 65 feet or longer or weighing more than 300 gross tons, but the limits would be imposed only in areas where the whales were present.
After outlining the options, NOAA plans to complete a six-month environmental assessment of potential impacts and then propose the new regulations by early 2005.
Local journalism is essential.
Give directly to The Spokesman-Review's Northwest Passages community forums series -- which helps to offset the costs of several reporter and editor positions at the newspaper -- by using the easy options below. Gifts processed in this system are not tax deductible, but are predominately used to help meet the local financial requirements needed to receive national matching-grant funds.
Subscribe to the Coronavirus newsletter
Get the day's latest Coronavirus news delivered to your inbox by subscribing to our newsletter.
---