News > Features
'Santa Claus of Barbecue'
Wed., May 26, 2004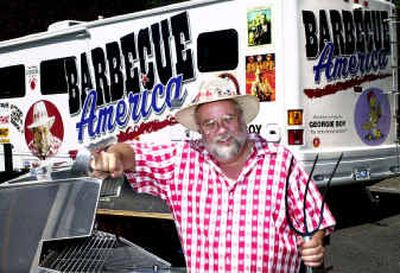 This spring, a 6-year-old girl spotted Rick Browne at a barbecue festival in Iowa, turned to her mother and said, "Oh, look, there's Santa Claus."
"She saw the red and white shirt, the white beard, a big chubby guy laughing," said the 56-year-old barbecue master. "I laughed and thought, 'OK. Great. Santa Claus of Barbecue.'  "
It was the first time anyone had noticed a resemblance. But given Browne's round cheeks and belly, whitening mustache and beard, and affable manner, it wasn't surprising. Also, the colors in his signature "tableshirt" (made from red-and-white checked picnic tablecloths), with his white straw hat and headband to match, might well have called the holidays to mind.
These days, the award-winning photojournalist is as excited as a kid at Christmas. He's reveling in the gifts of unfolding success and celebrity in his newfound career in barbecue.
His travelogue cooking show, "Barbecue America," which started last spring on public television, is entering its second season this month. A third season is in the works.
Armed with his "Ph.B.," an honorary doctorate of barbecue philosophy awarded him by the Kansas City Barbecue Society, he hosts and produces the 13 half-hour segments, distributed by American Public Television to about 180 stations, not including Spokane.
"Rick Browne's Barbecue America TV Cookbook," a companion to the show and Browne's fourth book on barbecue and deep-frying in five years, comes out in June. Another book on barbecue is in the making. And Browne's folksy, homegrown style is striking a chord: Requests to appear on national television shows keep coming in.
What accounts for the success? "One hell of a lot of hard work. It's my life now," Browne said. He'd initially worked on his books and shows while holding down a full-time job as photo chief for his area's daily newspaper.
"Last May, I resigned to follow my cookbook and television future," said Browne, who had spent 35 years as a professional photographer, including a stint with The Associated Press.
No doubt, the self-taught barbecue specialist's infectious enthusiasm and evangelism for outdoor cooking have helped.
"I really love barbecue. I love the way it bonds people and families," said Browne, interviewed at his new customized 35-foot Georgie Boy motor home, temporarily parked at a shopping center.
Emblazoned on the outside are an oversized photo of Browne in his tableshirt and straw hat; the red, black and blue Barbecue America logo; logos from more than half-a-dozen sponsors; and images of his books and of Baxter the Beer-Butt Chicken, a chicken sitting on a beer can on a grill — the icon for his signature recipe for beer-can chicken (recipe follows).
In his first experience motor homing last summer, Browne and his wife of 28 years, Kathy, left their country home on three-quarters of an acre in Ridgefield, Wash., near Vancouver, said goodbye to the four children, aged 24 to 38, and the two grandchildren they have between them, and hit the road for nearly five months.
The couple logged 30,000 miles, crisscrossing the country to promote Browne's television show and books, attend barbecue and cook-off events, and demonstrate grilling and deep-frying techniques. They look forward to more of the same this summer and fall.
Browne's love affair with barbecue began in 1997 when he traveled to barbecue hotspot Kansas City, Mo., to photograph a story for a national travel magazine. He went back to the city later with the story's writer, his friend Jack Bettridge, and the pair researched and co-authored "The Barbecue America Cookbook."
Browne said he had an "epiphany" after hours in the kitchen photographing cooks and techniques for the book. He immersed himself in the world of barbecue and his new career began to take shape as he researched, wrote and photographed "The Frequent Fryers Cookbook" and "Grilling America" (both published by ReganBooks in 2003).
"I try to do what I do as a journalist. I try to show them (readers and viewers) what I've seen," Browne explained.
The barbecue maven conceived his trademark tableshirt when he and Bettridge were invited to barbecue live on Fox's national morning show in 1999. He bought two picnic tablecloths to cover his 5 foot 11 inch, 252-pound frame (he's lost 12 pounds since and hopes to drop another 40 for health reasons) and asked a local seamstress to create the shirt with a crooked pocket and one sleeve shorter than the other. "I wanted to have fun," he said.
A colleague at the newspaper designed Baxter for the "Beer-Butt Chicken" recipe he had learned in Blue Springs, Kan. The recipe calls for putting an open beer can in the cavity of a whole roasting chicken and setting the bird, propped on the can, atop the grill.
The steam created by the liquid produces "a bronze-colored, moist, and incredibly flavorful chicken," writes Browne in "Grilling America."
If Browne had his way, everyone in America would be cooking outdoors and discovering new ways to use the grill. "One of the things I try to get across is that anybody can do it (barbecue)," he said. "Buy a good one (grill or barbecue) and then play with it and experiment with it."
Beer-Butt Chicken
Recipe from "Grilling America" by Rick Browne, Regan Books, 2003, $25.95
Dry rub:
1 teaspoon brown sugar
1 teaspoon garlic powder
1 teaspoon onion powder
1 teaspoon dried summer savory
1/4 teaspoon cayenne pepper
1 teaspoon paprika
1 teaspoon dry yellow mustard
1 tablespoon sea salt (ground fine)
1 large chicken (4 to 5 pounds)
Basting spray:
One 12-ounce can of your favorite beer; fruit juice, wine or soda can be substituted
1 cup cider
2 tablespoons olive oil
2 tablespoons balsamic vinegar
Preheat grill to medium heat (400 degrees to 500 degrees) for indirect cooking.
Mix the rub in a small bowl until it's well incorporated. Set aside.
Wash, dry and season the chicken generously inside and out with the rub. Work the mixture well into the skin and under the skin wherever possible. Place in a medium bowl, cover, and set aside at room temperature for 20 to 30 minutes.
Pour half the can of beer or other liquid you've chosen into a spray bottle, add the cider, olive oil and vinegar, and set aside.
Take the beer can in one hand with the remaining liquid (half the beer) still inside and insert it vertically into the bottom end of the chicken while keeping the bird vertical as well. Place the chicken on the grill over indirect heat and use the legs, and the can itself, to form a tripod to hold the chicken upright. This positioning does two things: first, it helps drain off the fat as the chicken cooks; second, the beer steams the inside of the chicken, while the outside is cooked by the barbecue heat, making it the most moist bird you've ever laid yer eyes, or gums, on (see note). Some people put a small potato or carrot in the neck opening of the chicken to keep the steam inside; I prefer to let it pass through.
Cook for 1 1/2 to 2 hours. During the cooking time, spray the chicken all round with the basting spray several times. The chicken is done when the internal temperature reaches 180 degrees. Carefully remove the bird, still perched on the can, and place it on a heatproof countertop. After your guests have reacted appropriately, remove the chicken from the beer can with tongs while holding the can with an oven mitt. (Careful! That aluminum can is very hot.)
Give the chicken one more spritz of the basting spray, then carve and serve.
Yield: 2 to 4 servings
Note: Browne suggests setting the beer can and chicken on the grill in an aluminum pie pan filled with a half-inch of water. Since it's cooking on indirect heat, the drippings won't cause flare-ups but the pan will catch any drippings that do occur. He adds that the pan does not affect the cooking.
Nutrition per serving: Unable to calculate due to recipe variables.
Local journalism is essential.
Give directly to The Spokesman-Review's Northwest Passages community forums series -- which helps to offset the costs of several reporter and editor positions at the newspaper -- by using the easy options below. Gifts processed in this system are not tax deductible, but are predominately used to help meet the local financial requirements needed to receive national matching-grant funds.
Subscribe to the Coronavirus newsletter
Get the day's latest Coronavirus news delivered to your inbox by subscribing to our newsletter.
---