News > Idaho
Voters toss lawmakers Meyer, Bailey
Wed., May 26, 2004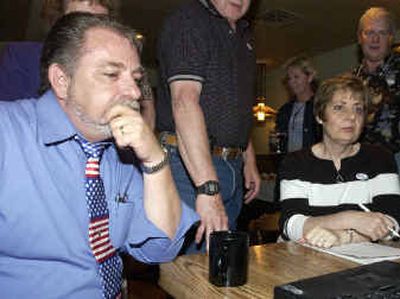 A winner-takes-all battle in Kootenai County's District 3 spilled a lot of old blood Tuesday. Incumbent Republican lawmakers Sen. Kent Bailey and Rep. Wayne Meyer both lost races in the district that includes Hayden, Rathdrum, Spirit Lake, Athol and Bayview.
With 47 out of 75 precincts reporting, one-term incumbent Bailey was being beaten by upstart Mike Jorgenson. Eight-term former Sen. Clyde Boatright had hoped to regain his old seat.
Jorgenson, 55, is a business consultant who has twice before been elected to the Hayden City Council. "I'm pleased with the groundswell of support from voters," Jorgenson said, declining to comment further until results were finalized.
With no Democrats in the race, the election was decided by Tuesday's primary. The one-party aspect of the race soured some voters, including Lorraine Tipke, of Hayden.
"I'm very disappointed in the Democrats for not having any candidates," Tipke said moments before casting her ballot. Like other Democrat-leaning voters, Tipke considered voting only on the Republican side of the ballot because of the many contested Republican races.
"I haven't made up my mind yet," Tipke said. "When you don't have a choice, what are you going to do?"
For Republicans, though, the race wasn't short on action. Candidates and their supporters campaigned until the last minute, with some standing on the side of U.S. Highway 95 Tuesday afternoon holding signs and waving at motorists.
In House Seat A, Rep. Jim Clark withstood a challenge by Hayden City Councilor Jeri DeLange. Clark, 60, was elected in 1996. Until now, he had never faced opposition. DeLange, 50, is a purchasing agent and administrator for Hecla Mining Co. She was elected to the Hayden City Council in 2002.
With 47 of 75 precincts reporting, Clark had captured 60 percent of votes.
Veteran lawmaker Wayne Meyer lost control of House Seat B to Athol engineer Phil Hart, according to preliminary results. Meyer, 54, is a bluegrass farmer from Rathdrum and five-term incumbent. His chairmanship of the Ways and Means committee and seat on the influential joint budget panel made him one of the more powerful members of the Legislature.
With 43 of 75 precincts reporting, Hart had secured 59 percent of the vote.
Hart, 48, ran for the Legislature in 2002 as a Constitution Party candidate. He is noted for his strong support of charter and virtual schools. He also wants to phase out field burning.
Meyer opposition to end field burning was important for voter Norm Heitstuman, of Rathdrum. Heitstuman thinks farmers need to be given a break. "They were here first," Heitstuman said. "If you lose all that grass on that prairie you're going to lose the aquifer."
Local journalism is essential.
Give directly to The Spokesman-Review's Northwest Passages community forums series -- which helps to offset the costs of several reporter and editor positions at the newspaper -- by using the easy options below. Gifts processed in this system are not tax deductible, but are predominately used to help meet the local financial requirements needed to receive national matching-grant funds.
Subscribe now to get breaking news alerts in your email inbox
Get breaking news delivered to your inbox as it happens.
---