News > Features
'Art Hog' gentle on glasswork
Sat., May 29, 2004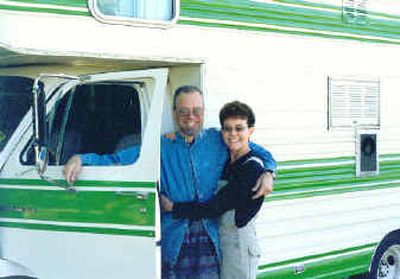 'It's the Art Hog," said Ken Yuhasz of the 1976 Brougham parked at the curb next to his home in north Spokane.
Ken owns Acme Glass Works, a design studio where he produces neon signs and art.
He and his wife, Patt Earley, bought the 19-foot class C motor home in the summer of 2000 just before Ken had a neon art show in Las Vegas.
"I realized I had so much stuff to get to Vegas," he said.
Shipping his fragile, neon-embellished sculptures was not an option. He was thinking about renting a U-Haul truck when Patt suggested renting an RV instead.
Patt figured she would take her two-week vacation and they could stop by Bryce, Zion and Canyonlands National Parks on the way back from the art opening in Las Vegas.
They investigated the costs of renting a class C motor home for the two-week trip.
"After doing the math," said Ken, "we figured it would be at least $2,500. That made up our minds to look into buying a used unit."
Ken and Patt drove about a dozen rigs before finding the '76 Brougham. "The layout inside was really important," said Patt.
"When we saw this one," said Ken, "we knew it was the one because it was exceptionally clean. The owners had put a lot of care and money into reupholstering everything."
Ken admits that they probably paid top dollar for it ($5,000) but the odometer had only 69,000 miles.
"Other than a fuel pump and a water heater going out," said Ken, "we haven't had a lick of trouble with it in four years."
And they have covered a lot of miles in that time.
In addition to numerous short trips around the Pacific Northwest, they've driven to Southern California twice, once to New Mexico and again to Nevada.
"It's our preferred way of traveling," said Patt, an administrator with the Community Colleges of Spokane.
"I love it. It is just like a little cocoon," she said. "You have everything you want — your own bed, your own pillow, your own coffee and your own music. It's just perfect."
They approach each trip as a new adventure.
"Whenever we get in the RV and start heading down the road, we are both just tickled," said Patt.
While they generally have a destination in mind, they prefer taking the two-lane blue-line highways to get there. Once they arrive, they like exploring the local area on their tandem bicycle.
"After spending the night at a campground," said Patt, "we frequently get up in the morning, ride the tandem into town, look around, stop for a cup of coffee and pedal back in the RV."
As with most older rigs, the gas mileage on the Brougham isn't very good.
"It gets terrible mileage," said Ken. "What can you expect? It's old tech, has no overdrive, weighs 8,800 pounds and has the aerodynamics of my house. When you push that much mass through air it comes out at about 10 miles per gallon."
For more information
You can reach Ken Yuhasz through Acme Glass Works at 328-5233. His next neon art show is June 25 to July 26 at the Tinman Artworks, 811 W. Garland Ave. An artist's reception is June 25 from 5 to 9 p.m.
Favorite local RV destinations
In response to last week's question about where to go camping within four hours of Spokane, Jenny Johnson sent in this e-mail.
"As avid campers we spend most of our summers camping within four hours of Spokane. Since the grandchildren won't let us go without taking them, we try to find places that are 'kid friendly.' Here are a few of our favorite places:
"The grandchildren's favorite place to go is Hawley's Landing at Heyburn State Park on Lake Chatcolet, just outside Plummer, Idaho.
"There are lots of trails they can hike on and a bike trail. They can attend programs set up by the park and become Junior Rangers. They learned about animals, stars and plants. They made plaster animal tracks and watched a demonstration on how Lewis and Clark would have built an oar for their boats. Most of these programs are geared for children, however, the nightly programs are for both adults and children. There is a boat ride up the St. Joe River and a great place to swim. It is approximately 45 minutes to an hour's drive from Spokane.
"Another one of our favorite places is Farragut State Park. If you are handicapped or don't have a tent, there are cabins you can rent. There are trails along the shoreline of the lake, nightly programs and movies, and beaches where you can swim. This also is about an hour's drive from Spokane.
"Beauty Bay Forest Service Camp on Lake Coeur d'Alene is where we will spend Memorial Day. We have camped in this park for the past eight years. While there are no programs, there are lots of things to do. There is a hiking trail to the top of Mineral Ridge and also another trail to the top of Mount Coeur d'Alene. There are only a few sites here and it is on a first-come first-served basis, but it is a great place and with today's gas prices it is really close. We can leave the Spokane Valley and be there in half hour or so. Take the Wolf Lodge exit and follow the shoreline of the lake.
"We also like a private campground called Mirror Lake at Sagle, Idaho. There are rowboats you can rent from the owner and it is well stocked with trout and kokanee. This is about an-hour-and-a-half away.
"When we can get away by ourselves, we like to go to Two Rivers RV Park at Davenport, Wash. They have a very nice park and it is reasonable."
Wheel question
I'm researching "workcamping." What questions would you like answered about RVing and working along the way?
Local journalism is essential.
Give directly to The Spokesman-Review's Northwest Passages community forums series -- which helps to offset the costs of several reporter and editor positions at the newspaper -- by using the easy options below. Gifts processed in this system are not tax deductible, but are predominately used to help meet the local financial requirements needed to receive national matching-grant funds.
Subscribe to the Coronavirus newsletter
Get the day's latest Coronavirus news delivered to your inbox by subscribing to our newsletter.
---