Sports
Flames stay on even keel
Mon., May 31, 2004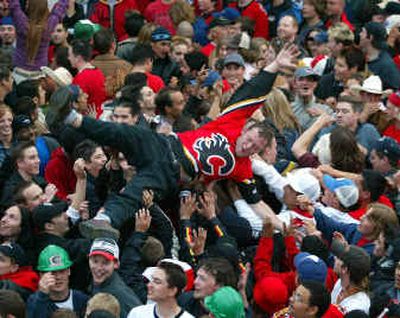 CALGARY, Alberta – Horns had honked until the wee hours. Tens of thousands of fans had poured onto the Red Mile, 17th Avenue SW, for hours of partying.
But here the Calgary Flames were at noontime Sunday, hours after moving halfway to their dream of hoisting the Stanley Cup by taking a 2-1 series lead over the Tampa Bay Lightning, and you never would have known it.
"It's as steady as she goes with this group," coach and general manager Darryl Sutter said. "You go into the room after the game, you can't tell if they have won or lost. That's how they handle it. They are remarkable like that. We have some great strengths that don't show up on paper. They are the toughest mental group I have ever been associated with."
The Flames were far from satisfied with their 3-0 victory over the Lightning on Saturday night. They spent Sunday searching for ways to improve for tonight's Game 4.
Jarome Iginla is the Flames' captain, but he's more of a quiet leader. Martin Gelinas, who won a Cup with Edmonton and went to the Cup Finals with Vancouver and Carolina, and Rhett Warrener, who went to the Cup Finals with Florida and Buffalo, have been credited for keeping the Flames on an even keel.
"That's probably the biggest thing, where our leaders have come in and really taken charge, guys like Gelly and Rhett and our coaches," defenseman Andrew Ference said. "They've really been stepping up and making sure we're not satisfied until the end.
"We've had tiny celebrations after every series win where we've enjoyed it for a couple hours, and the next day at practice it was back to business. By not getting too excited after a first, second and third win in those series is probably why we're handling the pressure now."
On Saturday the Flames, who have gotten more defensive as the series has matured, nullified Tampa Bay's dangerous forwards by hitting them at every chance. But they seemed to take a different approach with Lightning star Martin St. Louis, the league's 5-foot-9 MVP front-runner.
They didn't just check St. Louis. They jumped on him. They face-washed him. They clung after making contact. The strategy clearly was to try to tire the small forward by the third period.
It seemed to work, at least in Game 3.
"The thing with St. Louis," center Craig Conroy said, "he's just a very crafty, skilled forward that if you give him time and space, he's going to create and make plays. So we're trying to stay as close as possible, not giving him a lot of room. We're trying to take him out and finish checks on him any chance we get, to get a body on him.
"We have to because if you just let him skate around and do what he wants, he's going to be very effective."
St. Louis said he has to fight through it.
"It's a lot tougher for me to play when they're hitting me every shift and every chance they get, but I get back up and I keep working," he said. "I'm not going to make that an excuse because I've faced that all year long and I've faced that every round. It's nothing new. I have to bounce back and I expect myself to.
"I have to be more opportunistic when I get chances and I have to go to the holes and go where I score goals, and that's in front of the net."
The Lightning have alternated wins and losses the past 10 games, so the Flames know they can't let up tonight or the series could return to Tampa tied.
"We have to be a team that outworks the other team," Warrener said. "We don't do it, we don't win. The only reason we won any games all year is we outwork other teams. It doesn't change for us now. That's part of our hard work."
Local journalism is essential.
Give directly to The Spokesman-Review's Northwest Passages community forums series -- which helps to offset the costs of several reporter and editor positions at the newspaper -- by using the easy options below. Gifts processed in this system are not tax deductible, but are predominately used to help meet the local financial requirements needed to receive national matching-grant funds.
Subscribe to the sports newsletter
Get the day's top sports headlines and breaking news delivered to your inbox by subscribing here.
---