News > Idaho
Deeply divided North Idaho voters united in their anxiety
Thu., Nov. 4, 2004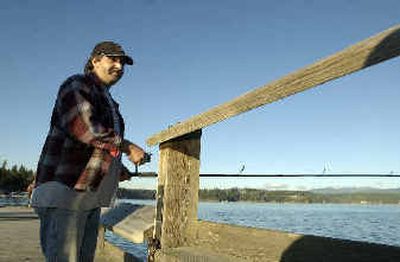 The mood was positively bipolar Wednesday.
For most Idaho voters – namely the 68 percent who backed President George W. Bush – the morning dawned brighter than ever. But the rare, perfect fall day was lost on a good number of others, who saw only darkness following the Republican sweep.
Here is a glimpse of what went through some voters' minds the day after the election.
"I'm absolutely delighted," said Coeur d'Alene retiree Ron Snyder, moments before eating a cheeseburger and french fries at a local cafe. "I woke up this morning, had a cup of coffee and said, 'This is the way it's supposed to be.' You need to know that I believe in a higher power."
According to exit polls, a fifth of voters said morals guided their election decision. Those who listed morals as a top priority voted 4 to 1 in favor of Bush. This includes Snyder and his wife, Glenda.
"Those of us who believe in morality have sat back and haven't said nothing for too long," she said.
Ron Snyder, a Vietnam veteran, said the nation's division goes deeper than electoral politics. "It's divided by the coasts of this country and in-between. The core of this country is still a moral country. The immorality of this country is on the coasts."
Many other voters expressed less certainty in the current leader or his unsuccessful challenger, Sen. John Kerry.
Hayden resident Jim Opsal stayed awake until 4 a.m. hoping the numbers for Ohio would suddenly reverse in Kerry's direction. Opsal liked Kerry's ideas for allowing the buying of prescription drugs from Canada. He disliked Bush's handling of Iraq.
"I wish Kerry would've won, but what do you do?" Opsal said.
Opsal needed an outlet for his disappointment. Wednesday afternoon he went fishing on Hayden Lake.
"Just to get the stress out of me," he said, casting his bobber into the cold water. On the hillsides behind him, larch trees glowed yellow in the low November sun. "In Idaho, our vote didn't even count, really," he said.
Opsal's luck fishing was no better than his luck at the voting booth. "Not even a bite," he said.
Less than a mile away, a group of construction workers putting siding on a new store paused to discuss their happiness. Every worker but one was pro-Bush, said Jarret Thompson, a 20-something Coeur d'Alene resident.
"We were talking about it all day long," he said.
Although Thompson is happy about Bush's victory, his feelings for the president hardly constitute a strong endorsement. "I just didn't like Kerry," Thompson said. "I was hoping Bush would win. I didn't want Kerry to come in and mess things up. Bush is doing that enough. I'm really tossed up. I just hope someone pulls their head out … and gets us out of this war. It's pointless."
Sau Nguyen had a sleepless night Tuesday awaiting the outcome of the 2004 presidential race. When the news broke Wednesday morning that Kerry had conceded, "I like it so much. I am very happy," Nguyen said excitedly.
Nguyen came to the United States in 1990. He had little formal education in Vietnam, but seems to embody the pull-yourself-up-by-your-bootstraps version of the American dream. Now, at 74, he's still trim as a teenager and has energy to burn as he hustles around the kitchen of his Vietnamese restaurant, Pho Thahn, which opened last year on the northern edge of Coeur d'Alene's Midtown neighborhood.
He said he feels too old to apply for citizenship and so he can't vote. But if he could, he said, he'd vote for Bush. It's all about bootstraps.
"In 14 years I haven't gone back to Vietnam. Life is good here. I have family. Lots of grandchildren. I have a job."
Jerking his thumb over his shoulder in the parking lot behind the restaurant, Nguyen laughed and pointed out a car: "I'm an old man. I drive a Lexus!"
Oscar Anderson of Anderson Logging in Bonners Ferry didn't get much sleep either, having stayed up late to wait for a winner, said his wife, Shirley Anderson.
Oscar Anderson, who took over the North Idaho logging firm founded by his dad in 1969, voted for Bush. Here's why:
In recent years, timber contracts have grown scarcer, the logs are spindlier; more outfits are bidding on contracts and fewer folks are making money in the timber industry. And then there's the trucks hauling Canadian lumber rolling right through town.
So the Andersons, who used to quarry granite just as a side business on land they own, turned the company inside out. Now granite work is their primary industry and logging is what they do on the side, and only if the contracts pencil out.
"In the last two months our contract logging has ended. I'm not kidding – it's scary. It's increasingly difficult to make the type of living you want to have," by logging, Anderson said.
Anderson said she sees Bush and other Republicans as friendlier to the timber industry and hopes "there will be regulations that are easier to live with. We're not going to see the type of logging that happened 50 years ago – nor should we – but I think the concept is there will be more realistic safeguards put on our industry.
If it brings 37 good jobs back to Boundary County, she said, a vote for Bush will be worth it.
Nearly every voter mentioned a desire to look forward and never again utter the words swift boat veterans, provisional ballots or key battleground states.
"People are sick of it," said Harrison resident Mary Japenga, as she shopped at Wal-Mart in Post Falls Wednesday morning. "I'm just glad it's over."
Japenga declined to say how she voted. When she learned Ohio went to Bush, she said her reaction was simply, "Oh well.'"
With Idaho's outcome almost predetermined to favor Bush, North Idaho College student Paula Lang said she didn't feel her vote mattered. Plus, she didn't like either candidate. The 35-year-old decided against voting Tuesday.
"It didn't make a difference whether I voted or not. The popular vote doesn't count," Lang said, as she smoked a cigarette in front of the college's library. "I couldn't see voting for the lesser of two evils."
At Nosworthys Hall of Fame bar and restaurant in Coeur d'Alene, retiree Bill Hosford sipped glass of beer and said voters need to relax a bit.
"There isn't anybody that's going to turn this world around overnight," said Hosford, who voted for Bush. "I'd really like to see a third party come in that's behind the working man that built this country. I'm just glad this election's over."
The bartender stood nearby and said she would ask for the day off after the next presidential election. "I've never had such a headache," she said.
Local journalism is essential.
Give directly to The Spokesman-Review's Northwest Passages community forums series -- which helps to offset the costs of several reporter and editor positions at the newspaper -- by using the easy options below. Gifts processed in this system are not tax deductible, but are predominately used to help meet the local financial requirements needed to receive national matching-grant funds.
Subscribe now to get breaking news alerts in your email inbox
Get breaking news delivered to your inbox as it happens.
---