News > Idaho
NIC class takes part in math night at Skyway
Sat., Nov. 6, 2004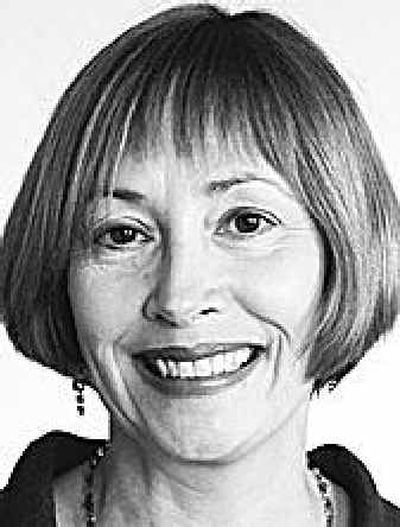 Elementary education majors from Cheryl Cunnington's math for elementary school Teachers class at North Idaho College had a chance to try out their teaching skills and help out Skyway Elementary students with their math skills, at Family Math Night on Oct. 27.
There were 13 different activities available for the Skyway third- through fifth-graders to participate in, spread throughout the school.
In "bean bag arithmetic," the kids tossed bean bags into numbered baskets and then were given a problem to solve using those numbers. The problem was based on their grade level. Sandra Curry, a senior who is dual enrolled with NIC and the University of Idaho, and Tia Banderob, also an NIC/UI student, who is focusing on special education, led Jordan Volkenand and Brandon Ratcliff, both Skyway third-graders, through a series of problems while Chris Fraser, a Skyway fourth-grader did the tossing.
"It's a win-win situation for the kids and the NIC students," said Anastazia Volkenand, Jordan's mom.
In the "operation hop," NIC/UI students Danielle Boyd and Jaylene Reasor would tell the kids a number, then they had to figure out how to come up with that number using a series of operations to include addition, subtraction and multiplication. Fourth-grader Rachel Grubbs and fifth-grader Jordan McRoberts were quite creative with the problems, coming up with the right answer each time.
NIC/UI junior Greg Fargen came up with balloon rockets from a Web site he found. The kids launched a balloon along a string track while Fargen timed how long it took to hit the wall.
"The rate is the measure of distance divided by time," Fargen said. "The distance of each one of these tracks is a given, 15 feet."
"Fraction-action" used puzzle blocks to introduce fractions. For example, six triangles would complete a hexagon. Hailey Cunnington and Dayna Carmen, both Skyway third-graders, were deeply engrossed while Michele Tafuri and Amanda Wick worked with them.
"Supermarket sweep" was a huge hit with the kids. The youngsters had a shopping list of groceries to buy, and coupons to use toward their purchases. They had to figure out their total minus their coupons, and then check out at the register using fake money. After checkout, they were rewarded with a piece of candy.
"Check your calendars" was an introduction to algebra that didn't draw the crowd that the supermarket sweep did but had brother and sister Kyler and Hailey Little engrossed.
"They're best friends," said their mom, Tara Little. Tiffeny Thomas and Heidi Gardner from NIC were helping them out with this challenging task. What was particularly humbling was that Kyler is a second-grader, and his sister is in the third grade. Algebra already? Yikes!
This was the first year that Cunnington has played host to Family Math Night, and she hopes to make it a tradition.
'Moose' proceeds announced
The final figures are in for the "No Moose Left Behind" project. The EXCEL Foundation announced that the net proceeds from the public art project are $410,000, securing the endowment fund for grant allocations into the future.
Another big event is already in the planning stages for 2005, which will be called "A Hula Happening." Watch for more information on EXCEL's next project.
PF Student of the Month
The Post Falls Rotary is pleased to honor Robby Mueller as the Rotary Student of the Month for October.
A senior at Post Falls High School, Robby is a club soccer coach, a church choir accompanist, a member of Healthy Foods and Choices Too, and PEAK. He is on the honor roll with a 4.0 grade-point average, holds an academic and varsity soccer letter, is ASB vice president and varsity soccer captain, was voted best offense player in soccer, most valuable player in freshman baseball, was among junior class royalty and is an Eagle Scout.
Mueller plans to attend North Idaho College and complete pre-med studies at the University of Idaho.
Hunger awareness week at LHS
Lakeland School District will participate in St. Vincent De Paul's annual week of events for National Hunger and Homelessness Awareness Week by collecting winter coats, hats, gloves, scarves and socks. The items will be collected on Nov. 18.
Coeur d'Alene High School students have planned an overnight event where students who choose to will sleep on the football field in cardboard boxes to experience what it is like to be homeless.
Local journalism is essential.
Give directly to The Spokesman-Review's Northwest Passages community forums series -- which helps to offset the costs of several reporter and editor positions at the newspaper -- by using the easy options below. Gifts processed in this system are not tax deductible, but are predominately used to help meet the local financial requirements needed to receive national matching-grant funds.
Subscribe now to get breaking news alerts in your email inbox
Get breaking news delivered to your inbox as it happens.
---