News > Nation/World
U.S. takes fight to Fallujah's heart
Tue., Nov. 9, 2004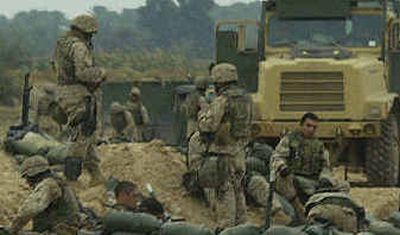 FALLUJAH, Iraq – American-led forces bombed and fought their way into the heart of Fallujah on Monday, while insurgents fought back with mortar rounds, machine guns and hidden explosives.
Guerrilla fighters also retaliated with attacks across a swath of Iraq. Explosions shook Baghdad as fighters attacked bridges, churches and a hospital.
In Fallujah, U.S. airstrikes and artillery barrages turned the night sky fiery red. Rain turned the ground to mud as soldiers of the Army's 1st Infantry Division punched into the city in armored vehicles. They advanced along routes cleared of roadside bombs and behind a smoke screen.
The assault by 15,000 U.S. and Iraqi troops on the mostly Sunni Muslim city prompted the Iraqi Islamic Party, Iraq's most powerful Sunni party, to threaten to withdraw from government posts and boycott elections scheduled for January.
Retaking Fallujah is vital to preventing insurgents from blocking Iraq's Sunni minority from voting, Iraqi and U.S. officials have said. But an offensive that kills many civilians could widen the chasm between the U.S.-backed government and an outraged electorate. And even if the Fallujah offensive succeeds, insurgents can sow disorder elsewhere.
U.S. and Iraqi forces fought block by block, house by house. The sides of many homes caved in, leaving rubble-littered streets. Soldiers pushed through the darkness, their progress interrupted by enemy sniper fire and machine-gun rounds.
Soldiers fired illumination rounds into the sky to signal areas they had cleared.
"You know we're going to destroy this town," said Capt. Travis Barreto, 22, as he and other soldiers advanced in an armored vehicle.
"I hope so," replied the soldier sitting next to him.
At one point, soldiers found a building that apparently was booby-trapped with a battery and wires leading to a nearby propane tank. A tank was called in to destroy the building before the convoy could progress.
U.S. Marines pushed down the west and center of the battle's front, moving toward the neighborhoods of Jolan and Askari, thought to be sanctuaries for foreign fighters. The foreigners and former Iraqi military leaders have commanded Fallujah for the last six months.
Overhead, fighter jets unleashed a barrage of airstrikes. At least six Iraqi civilians were killed and more than 16 were wounded, according to hospital officials in Fallujah.
To the east, armored units from the 1st Infantry Division cut off the main road into town. Tanks from the 1st Cavalry Division set up defense lines in a circle around Fallujah to block fighters trying to flee along alleyways, tunnels and dirt paths.
"We don't want them to leave Fallujah," said 1st Infantry Lt. Col. Pete Newell. "We want to kill them here."
The military said 42 insurgents were killed and at least four foreign fighters were captured as American and Iraqi forces fought their way across two bridges and seized the city's main hospital overnight. Two Marines died Monday when their bulldozer overturned and plunged them into the Euphrates River during the early hours of the operation.
The U.S. military had been calling the attack on Fallujah Phantom Fury, but the Iraqi government renamed it al-Fajr, Operation New Dawn.
Barely an hour after Iraqi Prime Minister Iyad Allawi signaled the start of the Fallujah offensive Monday by declaring that "the time of action has begun," retaliatory attacks began across the country.
Insurgents launched mortar volleys, coordinated car bombings, detonated roadside explosives and initiated small-arms attacks, killing an American soldier, a British soldier and at least 15 Iraqi civilians. Dozens more were wounded in attacks that stretched from the northern city of Mosul to villages south of Baghdad.
Allawi imposed a round-the-clock curfew on Fallujah and its sister city of Ramadi, sealed Iraq's borders with Syria and Jordan, closed highways and government buildings near the battle and shut down the Baghdad airport for 48 hours. The prime minister said he had hoped to prevent the violent takeover of Fallujah, but on Monday he had "reached the conclusion that the terrorist groups don't want a peace agreement."
An American soldier died of gunshot wounds Monday after his patrol came under fire in eastern Baghdad, the military announced. A British soldier was killed and two others injured in a roadside bomb at their new post south of Baghdad. Members of the British Black Watch regiment were moved north from their safer southern positions to free up American troops for the Fallujah fight.
Insurgents bombed bridges and a main hospital in Baghdad, while fierce gunbattles erupted along the city's notoriously dangerous Haifa Street.
After sundown, two car bombs detonated within minutes of each other outside Christian churches in southern Baghdad, killing at least three Iraqis and wounding 52, church and medical officials said.
Two drivers died when their Turkish fuel trucks were attacked in the northwest city of Samarra. In addition to the church attacks, another rash of car bombings killed at least six Iraqis and wounded more than 12 in Baghdad, Ramadi and Mosul. Large explosions continued to rock Baghdad late into the night.
Guerrillas reached by cell phone in Fallujah said the mayhem in Baghdad and other cities was planned payback for the offensive on Fallujah. Mohammed Salman, the 34-year-old leader of a cell he wouldn't identify, said he called allies in Baghdad and urged them "to work to repay their debts. Retaliation will start tomorrow."
American warplanes bombed a makeshift cemetery in a soccer field in central Fallujah with strikes so forceful they unearthed the dead and scattered bodies throughout the area, several residents said. They told a Knight Ridder correspondent that American forces had seized a railway station and damaged three popular mosques in airstrikes and gunbattles.
Residents on the west side of the city said they could see Iraqi army troops in the distance.
Hassan Mahmoud, a 28-year-old fighter, said he saw his comrades shooting at U.S. surveillance planes. He reported seeing "lots of injured militants being taken to houses" for medical treatment.
The main road leading into Fallujah from the east was packed with hidden explosives, with row after row of black cables leading into roadside ditches. Fighters said even grocery stores were booby-trapped.
Local journalism is essential.
Give directly to The Spokesman-Review's Northwest Passages community forums series -- which helps to offset the costs of several reporter and editor positions at the newspaper -- by using the easy options below. Gifts processed in this system are not tax deductible, but are predominately used to help meet the local financial requirements needed to receive national matching-grant funds.
Subscribe now to get breaking news alerts in your email inbox
Get breaking news delivered to your inbox as it happens.
---