Sports
Thomas leaves no doubts in win over Idaho
Sun., Nov. 14, 2004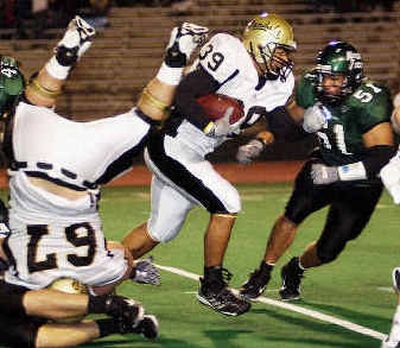 DENTON, Texas — Jamario Thomas ran for 291 yards and tied an NCAA mark with his fifth straight 200-yard game as North Texas won its fourth consecutive Sun Belt Conference title and a spot in the New Orleans Bowl with a 51-29 victory over Idaho on Saturday night.
Thomas, the nation's leading rusher entering the game at 177.3 yards a game, also scored four TDs and extended his NCAA freshman record with his sixth 200-yard game as UNT (6-4, 6-0 Sun Belt) won its 24th straight conference game.
The Mean Green will play a Conference USA team in the New Orleans Bowl on Dec. 14.
The Vandals (3-8, 2-5) played their final game in the Sun Belt and will move to the Western Athletic Conference next season.
Thomas broke the North Texas and Sun Belt single-game rushing mark for the third time this season, surpassing the 258 he gained Oct. 23 against New Mexico State. It was also his fifth straight game of more than 200 yards, tying the NCAA record shared by Marcus Allen (USC, 1981) and Barry Sanders (Oklahoma State, 1988).
"He's a great running back," said Idaho linebacker Cole Snyder. "He'd turn that corner and there was no stopping him."
Thomas has 1,709 yards this season, breaking the Sun Belt and UNT single-season rushing record. The record was 1,680 set by Patrick Cobbs last season.
He broke a 70-yard run for a touchdown on the game's third play. On the next series he also scored on the third play, going 31 yards to put UNT up 13-0. After four carries he had 107 yards. His final touchdown, a 15-yard run, put North Texas ahead 37-22 with 8:58 remaining.
Idaho pulled within 37-29 with 6:12 left when Michael Harrington threw a 6-yard touchdown pass to Luke Smith-Anderson.
But Scott Hall connected on a 2-yard touchdown pass to Johnny Quinn with 1:40 remaining to put the Mean Green up 44-29.
UNT added one more score when Maurice Holman returned an interception to the Idaho 35, then fumbled. Teammate Walter Priestley picked up the ball and scored.
Idaho also lost freshmen running backs Jayson Bird (knee) and Rolly Lumbala (shoulder) to injuries. Bird, who entered the game as the fourth-leading rusher in the conference, left the game after his first carry with a sprained knee.
That left fullback Willie Sipoloa to handle the running chores. Junior college transfer Antwaun Sherman didn't make the trip to Denton because of a leg injury sustained during practice.
Sipoloa finished with 15 carries for 53 yards and one touchdown.
Idaho's biggest problem may have been penalties, which stalled repeated forays into the red zone.
"A lot of stuff was working but we killed ourselves with penalties," said Harrington, who hit 24 of 42 passes for 328 yards and two touchdowns.
The game wasn't completely without positives. The Vandals showed a resilience that kept UNT on its toes until the final whistle. Freshman receiver Desmond Belton finished with eight catches for 156 yards and Bobby Bernal-Wood had 12 for 137.
"I'm really proud of the offense," said Idaho coach Nick Holt.
Idaho's first possession showed promise before back-to-back sacks pushed the Vandals back from the UNT 15 to the UNT 31.
An 8-yard run by Lumbala put the ball at the 24 but Mike Barrow's 41-yard field-goal attempt missed.
Penalties were the culprits in the Vandals' second possession, which also wound up a missed field goal. UI advanced to the UNT 2 after a 31-yard Harrington-to-Belton pickup and a roughing-the-passer call.
But a false start and a low block backed up the Vandals to the UNT 22. An incompletion and a no-gain by Lumbala left Barrow with a 39-yard field-goal attempt that drifted wide to the left.
The Vandals scored for the first time when Harrington found Bernal-Wood with a 4-yard pass with 2:28 left in the half to cap the seven-play, 51-yard drive. Harrington then hooked up with Luke Smith-Anderson for the two-point conversion.
By then, however, the Vandals were without any of their regular running backs.
Local journalism is essential.
Give directly to The Spokesman-Review's Northwest Passages community forums series -- which helps to offset the costs of several reporter and editor positions at the newspaper -- by using the easy options below. Gifts processed in this system are not tax deductible, but are predominately used to help meet the local financial requirements needed to receive national matching-grant funds.
Subscribe to the sports newsletter
Get the day's top sports headlines and breaking news delivered to your inbox by subscribing here.
---