News > Spokane
Man gets four life terms for killing family
Tue., Nov. 16, 2004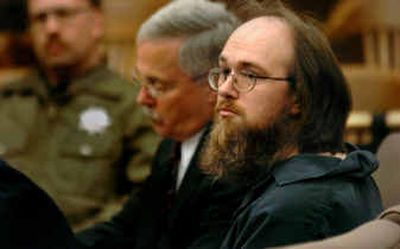 TILLAMOOK, Ore. – Edward Morris, who killed his pregnant wife and three children and left their bodies in a snowy forest two years ago, was sentenced to four consecutive life terms in prison on Monday.
Morris, 39, avoided a possible death sentence by promising not to appeal the life terms in a plea agreement reached in September.
Morris, with long hair and a full beard, listened quietly as Tillamook County Circuit Judge David Hantke reminded him there will be no parole and no mitigation of sentence of any kind.
As he left the courthouse, Morris said only that it would cost taxpayers $40 million to keep him locked up for the rest of his life.
Defense attorney Charles Fryer said three relatives submitted a letter to the court saying Morris "was a person who deserves to rot in jail."
Fryer, a veteran of murder trials in Oregon, said Morris did not appear to have the evil intent of some other recently convicted killers – "but he was within percentage points."
"Human beings are sometimes like the forces of Nature," Fryer said. "I have not discerned any motive that made any sense."
The court hearing Monday formally ended the case against Morris, one of three men who killed their families in Oregon in just over a year. Criminologists say there are only about 50 such family killings in the entire nation each year.
The bodies of Morris' wife, Renee, 31, and their children, Bryant, 10, Alexis, 8, and Jonathan, 4, were found Dec. 21, 2002, in the snow near a logging road about 30 miles east of Tillamook by elk hunters and police.
An autopsy revealed that the daughter, Alexis, had been stabbed at least 18 times. The others were shot.
Hantke questioned Morris' mental fitness for trial and ordered him evaluated at the Oregon State Hospital in March.
The judge's order came after Morris attempted suicide, volunteered for the death penalty and announced that he would represent himself with God as his co-counsel.
He underwent several evaluations and was ruled fit to stand trial in July. He attempted at least one escape from the Tillamook County Jail.
Morris originally had been charged with seven counts of aggravated murder, one for each victim and one for each of his three victims under the age of 14. Hantke convicted him of four counts after Morris pleaded guilty in exchange for the sentencing agreement.
He was arrested in February 2003 in Baker City after fleeing to Arizona and Nevada. Police have not said why he returned to Oregon.
The spate of family killings started in December 2001 when the bodies of Christian Longo's wife and three small children were found in two coastal bays in Newport and Waldport.
Longo, then 29, was arrested in Mexico and admitted killing his wife, MaryJane, and their youngest daughter, Madison, 2. A jury convicted him of killing their other two children, Zachery, 4, and Sadie, 3, and sentenced him to death.
In February 2002, at a small house in the hills outside McMinnville, Ore., Robert Bryant, losing an uphill battle to provide for his wife and four children, killed them and himself with a shotgun. The incident was not discovered for several days.
Crime experts say there is little likelihood that the Morris and Bryant cases were "copycat" killings of the Longo case. Copycat cases, they say, are more common in hate crimes, arson and vandalism.
But the killings had common threads.
Longo and Bryant were Jehovah's Witnesses. The Morris family's life centered largely on the conservative St. Johns Wesleyan Weslyan Church and all three men were deeply involved in religion.
They were under financial pressure and questioned their ability to provide for their families.
Bryant, Longo and Morris all had suffered business failures. Just before Christmas of 2001, Bryant told a sister that the family had food for two months and "after that we're all going to starve."
Local journalism is essential.
Give directly to The Spokesman-Review's Northwest Passages community forums series -- which helps to offset the costs of several reporter and editor positions at the newspaper -- by using the easy options below. Gifts processed in this system are not tax deductible, but are predominately used to help meet the local financial requirements needed to receive national matching-grant funds.
Subscribe now to get breaking news alerts in your email inbox
Get breaking news delivered to your inbox as it happens.
---