Sports
All pieces fit for GU women
Thu., Nov. 18, 2004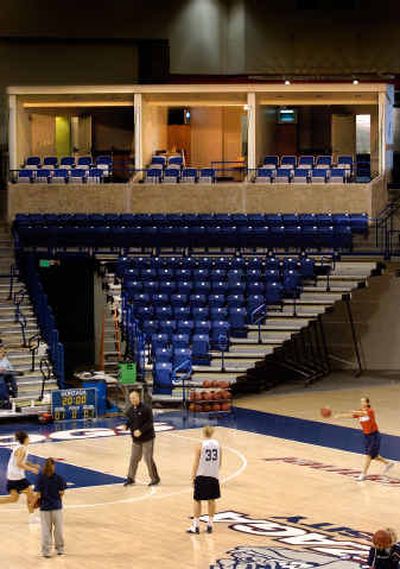 When Gonzaga University women's basketball coach Kelly Graves first got wind of the school's desire to build a basketball arena, he was skeptical.
Not because he was worried about his women getting short-changed during the arena planning process, but because he had heard similar rumors during his brief, three-year tenure as the head women's coach at Saint Mary's College in Moraga, Calif.
"When I first went there, they told me they were going to build a new arena," recalled Graves, who ended up winning 66 games and taking the Gaels to both the NCAA Tournament and WNIT before bolting for Gonzaga. "We went through the plans, we had a say in what it was going to be like, and we were all real excited about it.
"But every year, it was the same old thing – 'We're going to build a new arena' – and nothing ever happened. I heard the same thing for three years."
So when GU announced it was planning to erect a new arena shortly after Graves took over the Bulldogs' women's program in April of 2000, he couldn't help but think back to those days of broken promises at Saint Mary's.
"I probably went home and said something stupid to my wife at the very start of it – something like, 'I'll believe it when I see it.' Well, now I see it, and it's just fantastic."
Indeed, there is little to not like about GU's new $25 million, 6,000-seat McCarthey Athletic Center, whether you're part of Mark Few's men's program, which has been to six consecutive NCAA Tournaments, or Graves' vastly improved women's program, which is still trying to leave its own imprint on the West Coast Conference and, perhaps, the country.
Except for a little more space in the coaches' office areas, the women's amenities in the new arena are equal to the men's. The circular locker rooms, with their maple hardwood lockers and padded seats, are almost identical, as are the adjoining players' lounges, which feature new leather furniture and 50-inch plasma television screens.
And Graves' office, like Few's, has a large window that looks out over the lower tier of seats onto the glistening maple floor that will serve as the home court for both the men and women.
"It's amazing!" senior guard Shannon Mathews said of her team's new digs. "It's by far the best facility in our conference, and probably one of the best on the entire West Coast. The locker room is the best locker room I've ever been in.
"There is nothing you could want that's not in here. It's just a great facility, and I'm excited to actually get in here and play and get some fans in here to see if it's got that same atmosphere as the old Kennel."
The timing for the move could hardly be better for the GU women, who are favored to win the West Coast Conference title after finishing 18-12 and advancing to the WNIT last winter.
"It's perfect to have this new facility and then to have the best team we've ever had, with all of these high expectations," Mathews added. "Hopefully, we can meet those expectations, get all that done and then just go on from there."
Still, neither Mathews nor Graves is naïve enough to think they had anything to do with helping the new arena become a reality.
"I'm smart enough to realize who built this," Graves said. "We've been quite a beneficiary of the men's success. But I'm also smart enough to know that we can really take advantage of it.
"It's already helping us, I think, in recruiting. We've just been able to attract this fall, already, far better recruits. They come in and say, 'Great, I want to be a part of this.' So, yeah, we're really excited about being a tenant here, as well."
Mathews insists she was never worried about the women's team being treated as second-class citizens once the arena became reality.
"I was pretty confident they would do it right," she said, "because our athletic director, Mike Roth, would never let something like that happen. He believes in our program, too. He believes in Kelly, and he knows that we we're coming up.
"Our goal is to eventually rise to the standards our men have set, and to be equal to them in publicity, fan support and all that good stuff. But we know we're just reaping the benefits of what our men have done. We get the opportunity to make ourselves better because they're here. Their success has only done good things for us."
Graves said he, too, was confident the university would do things right as far as gender equity is concerned.
"They realize that our players deserve to play in an arena like this, too," he explained.
And now Graves is hoping his program can take that next step by winning a WCC championship and capturing the interest of local fans.
"Relatively speaking, this is a girls' basketball area; a hotbed as far as the high school talent in the region goes," Graves said. "And I've always felt that if we market it the right way and build a good team, people are going to come – especially to this place."
And as part of his own personal marketing efforts, Graves offers this intriguing proposal to any would-be fans of his women's team.
"If you want to see the new arena but you can't get into a guys' game, come see one of ours. You'll not only get in the building, but you can get a great seat and see a really good product, as well."
Local journalism is essential.
Give directly to The Spokesman-Review's Northwest Passages community forums series -- which helps to offset the costs of several reporter and editor positions at the newspaper -- by using the easy options below. Gifts processed in this system are not tax deductible, but are predominately used to help meet the local financial requirements needed to receive national matching-grant funds.
Subscribe to the sports newsletter
Get the day's top sports headlines and breaking news delivered to your inbox by subscribing here.
---