News > Idaho
1,100 receive flu shots at clinic
Sat., Nov. 20, 2004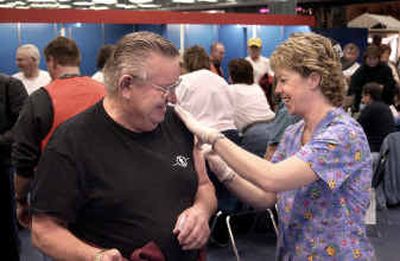 Shirley Lee, a diabetic with heart problems, woke well before sunrise Friday and drove 50 miles from Wallace, Idaho, to wait in line for a flu shot at Coeur d'Alene's Silver Lake Mall.
After a two-hour wait, she got the shot and exhaled with relief.
"I'm very thankful," Lee said, walking past a long line of other vaccine-seekers.
The Panhandle Health District expected to have only 300 doses for the clinic, but an extra shipment arrived earlier in the week, spokeswoman Susan Cuff said. The agency gave out 1,100 shots Friday. Another 700 doses remain, but plans have not yet been announced for their distribution, Cuff said. Other North Idaho counties served by the Panhandle Health District received 700 doses from the recent shipment.
The health district originally ordered 7,500 doses of the vaccine, but two-thirds of the order went to Chiron Corp., which was unable to ship any vaccine this year because of contamination problems. The recently arrived additional flu shots came from Aventis Pasteur, Cuff said.
The health district has now received its full order and was able to expand its eligibility pool to inoculate pregnant women, health care workers in direct contact with patients and adult caregivers of babies younger than 6 months old. Still, there might not be enough vaccine this year.
"The shortage definitely created an increased demand," Cuff said.
At least one case of the flu has been confirmed in North Idaho, Cuff said. "So far, the season is very typical, very normal."
The line for the flu shot snaked through the mall, past two jewelry stores, three mobile phone dealerships and a variety of shoe and clothing shops. Some waited two hours or more, but few complained. Last month, hundreds of seniors waited hours in a cold rain for a flu shot outside the health district headquarters in Coeur d'Alene.
Silver Lake Mall donated a vacant store space for Friday's clinic, mall manager John Shasky said.
"We had the space," he said. "It was just an opportunity that presented itself."
Many of those waiting in line were grateful for a shot at the shot. Influenza, a contagious respiratory illness, is blamed for 36,000 deaths each year in the United States, according to the Centers for Disease Control and Prevention.
"I was beginning to think we weren't going to get one," said Joyce Ulrich, of Hayden.
Her husband, Fritz, had backup plans, however. "Lots of vitamin C," he said.
Retired biology teacher Robert Imperatice decided to wait in line for a flu shot even though his health is good. The 75-year-old Coeur d'Alene resident said he beat cancer and an early heart attack in recent years, thanks to his emphasis on regular checkups and preventive medicine.
"I'm alive because of it," Imperatice said. "It's the smart ones who come to get this."
Local journalism is essential.
Give directly to The Spokesman-Review's Northwest Passages community forums series -- which helps to offset the costs of several reporter and editor positions at the newspaper -- by using the easy options below. Gifts processed in this system are not tax deductible, but are predominately used to help meet the local financial requirements needed to receive national matching-grant funds.
Subscribe now to get breaking news alerts in your email inbox
Get breaking news delivered to your inbox as it happens.
---