News > Voices
Frank Demaray left legacy of helping family, others
Thu., Oct. 7, 2004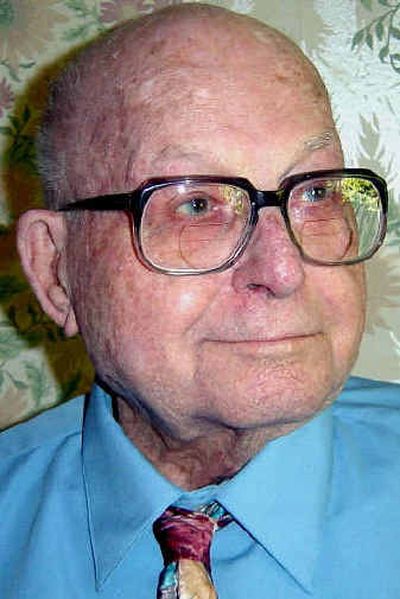 The only visible difference between Frank Demaray and his identical twin, Ed, was their height.
"My grandfather used to say that he made up for being born second by being a little bit taller than his brother," said Marcia Charlton, Frank's granddaughter.
Other than that, their lives were remarkably parallel.
They both married the same year, began working for Pacific Northwest Telephone and Telegraph on the same day, and 45 years later retired from the phone company on the same day.
Frank Demaray died Sept. 7. He was 100.
Demaray was born on a farm near Rock Valley, Iowa, 15 minutes later than his brother. In their early lives they moved frequently around the Midwest and Canada, and both the boys left school in eighth grade to help support the family.
They worked at various tasks, from hauling manure to herding cows through town to be milked. When Demaray was 12, he took horses to a winter range and stayed with them in a lean-to with a tiny potbellied stove that he carried on horseback.
"Who would do that now?" said his daughter, Lorraine Clacy. "But it was a matter of adding to the income of the family.
"If you had a buck, and they earned like a few cents a day to a dollar a week, it all went to feeding the family. It was an ingrained philosophy of 'This is what you do.' You take care of your family. It's a matter of survival."
The family eventually moved to Spokane in 1922, and Frank and Ed began working for the phone company, earning 28 cents an hour. They started by running telephone wire.
"My grandfather always said that he had climbed every other telephone pole between Montana and Wenatchee," Charlton said. Demaray worked his way up through the company, retiring in 1967 in safety management.
He married Lucile Burnham in 1929, and she traveled with him while he was working. In 1936 he built their home on the South Hill in his spare time and remained in that home until 1965, when he and his wife moved to Spokane Valley. He stayed there after his wife's death in 1994, then he moved to Redmond, Wash., in 2002 to be closer to his daughter.
Demaray also helped build the Christian education wing of Manito Presbyterian Church.
His fix-it skills came in handy once Clacy had her own home years later.
"For most of my childhood my mother was raising five kids by herself, and thank God my grandfather could fix anything, because that's what kept our house standing," Charlton said. "It didn't matter what it was, whether it was the furnace or the car.
"He could paint, he could reroof, he could pour concrete – whatever had to be done, he could do it."
He was such a tinkerer that he installed a bathroom in his garage shop so he didn't have to leave his shop for any reason.
But what stood out most about Demaray was his willingness to help anybody, Charlton said.
A few days before his funeral, Clacy received a note at the funeral home from a man she'd never met, asking her to call him. When Clacy called, he recounted a story she'd never heard her father tell.
The man said he and his wife and family were driving from Pullman to Spokane when they had a car accident. The man's wife was thrown from the vehicle, and Demaray, who happened to be driving by, ran down the embankment and tried to stop her bleeding. It took a while for the ambulance to come, but Demaray stayed the whole time.
The woman ultimately died.
"But this man, who is 80 or something years old, was so moved by that he made the effort to call my mom and tell her this story about how he was so appreciative," Charlton said. "He told my mom, 'I'll never forget how your father worked and worked and worked to try to stop the bleeding.' "
Clacy admired that quality in her father. He was always helping his family or his neighbors, she said.
"My dad definitely lived up to the Golden Rule as far as doing unto others, and remembering thy neighbor," Clacy said.
Family was also important to Demaray, and he and his brother remained close throughout the years, talking almost every day.
"There was probably not a day that went by that they didn't talk to each other," Charlton said.
Ed died in 1995.
"I think he took his brother's death harder than he took my grandmother's," Charlton said. "He lost his best friend when his brother passed away."
Local journalism is essential.
Give directly to The Spokesman-Review's Northwest Passages community forums series -- which helps to offset the costs of several reporter and editor positions at the newspaper -- by using the easy options below. Gifts processed in this system are not tax deductible, but are predominately used to help meet the local financial requirements needed to receive national matching-grant funds.
Subscribe now to get breaking news alerts in your email inbox
Get breaking news delivered to your inbox as it happens.
---