News > Idaho
Athol soldier recovering from wounds
Tue., Oct. 12, 2004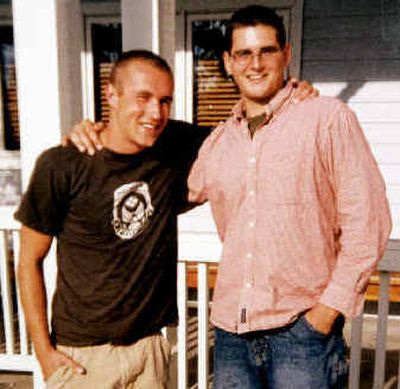 After being injured by a roadside bomb in Iraq three weeks ago, Athol resident Spc. Ryan Rickel has returned to Fort Lewis, Wash., and is recovering quickly from his wounds, said his father, Randy Rickel.
The 2002 Lakeland High School graduate was seriously injured when four pieces of shrapnel pierced his body armor and a fifth went through his arm. The concussion of the bomb blast was strong enough that Rickel's lungs collapsed, his father said.
Rickel, a U.S. Army Ranger, was riding in the gunner's seat of a Humvee in an Iraqi city – the location could not be disclosed, his father said, and official incident reports are also vague – when the bomb went off Sept. 21.
Another soldier, Pfc. Nathan Stahl, was killed in the attack.
As of Friday, 7,739 U.S. military personnel have been wounded in Iraq and 1,064 soldiers killed, according to information posted on the Department of Defense's Web site.
Rickel, 20, was only two weeks from ending his second tour of duty in Iraq. His grandmother was the first to learn about the injuries. She received a call on her mobile phone while at the grocery store. Rickel's father was in north-central Idaho, away from a phone.
"They couldn't give her details until they notified me," Randy Rickel said. "We were on pins and needles for two to three days trying to get information."
About a week after being wounded, Rickel returned to the United States, where he hopscotched across the country to a variety of medical facilities before ending up at Fort Lewis. Randy Rickel visited his son last week.
Ryan Rickel has since been released from Madigan Army Medical Center in Tacoma and is staying at the home of an uncle while he awaits skin grafts.
Rickel has three silver dollar-sized holes on his back, including one directly below the talons of a tattooed eagle and U.S. flag on his shoulder blade.
Rickel is one of four Lakeland High School seniors who enlisted in the military following the attacks on 9/11, said his father, who supports military actions in Iraq. Rickel's chances for a full recovery are high.
"We think it's 100 percent," Randy Rickel said, adding that doctors continue to work on his son's left arm.
Although Rickel must still complete his current term of enlistment, he is considering eventually enrolling at the University of Washington, his father said. For now, his biggest plans are recovering and buying a "hot rod pickup truck," Randy Rickel said. "He's just a young kid."
Local journalism is essential.
Give directly to The Spokesman-Review's Northwest Passages community forums series -- which helps to offset the costs of several reporter and editor positions at the newspaper -- by using the easy options below. Gifts processed in this system are not tax deductible, but are predominately used to help meet the local financial requirements needed to receive national matching-grant funds.
Subscribe now to get breaking news alerts in your email inbox
Get breaking news delivered to your inbox as it happens.
---