News > Features
Thanks to crunk, Ciara's been able to deliver the 'Goodies'
Mon., Oct. 18, 2004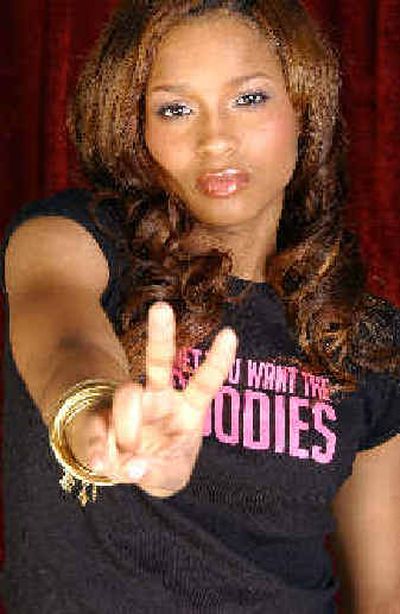 First there was cheerleading and cross-country running. Then there was a three-girl group.
Now Ciara Harris is getting a chance to shine as a solo artist.
The 18-year-old from Atlanta has a No. 1 single with "Goodies," featuring Petey Pablo. She's capitalizing on the "crunk" hip-hop phenomenon by combining it with R&B, like Usher did with his smash "Yeah!"
Three years ago, when Ciara decide to try singing, she joined a girl group called Heresay. The trio was close to a record deal, but the girls didn't get along and the deal fell apart.
The group's manager, however, brought Ciara to Atlanta producer Jazze Pha (pronounced Jazzy Fay), who has worked with stars like Aaliyah, Angie Stone and Ruben Studdard, and she was signed by La Face/Zomba records.
Ciara recently sat for an interview:
Q: How'd you know you wanted to do music?
A: I saw Destiny's Child perform and I knew that's what I wanted to do. They were so rockin' and beautiful and powerful.
Q: 'Crunk & B' … what is it?
A: It's when you take R&B and mix with crunk music. Crunk is a whole lot of energy. I call it the heavy metal of hip-hop, and it came from Atlanta so you know it has an energy about it that's special.
Q: How'd you end up doing this kind of music?
A: Jazze Pha, my producer, came up with some of the beats, and we worked together. Lil Jon, the crunkmaster, produced 'Goodies.' I co-wrote a lot of the songs. When the beat goes on I let it hit me and then I think about what I want to say, and there it is.
Q: You're dressed pretty slinky on the inside cover photo. Do you have to be sexy now to be a popular artist?
A: I think image is a big part of your career. It's very important. I don't think it should be the main focus though. I think the music industry as a whole is really focused on appearance. A lot of times people can be very talented, but if you don't have the right image, you're not going to get the deal. There's so much more involved than being able to sing.
Q: So do you feel like you have to maintain an image?
A: Well, even before I signed the deal I always tried to carry myself a certain way, and keep myself together. I'd say 'I can't eat too much' or 'I'm not going to wear that,' and that's the way I want to look after myself.
Q: Do you feel like you got lucky?
A: I'm most definitely blessed, but I think this was a path ordained for me. I think it was a step ordained for Ciara from God.
Q: Are you religious?
A: I definitely believe in God. But I'm not religious like, 'You can't do this or that.' But I definitely believe in Him. And I praise Him.
Q: You're from Atlanta, but you moved around a lot.
A: I'm a military brat. I've lived in Germany, New York, California and lots of other places. My mom was in the Air Force, and my dad was in the Army.
Q: Do you guys talk politics ever?
A: Well, they tell me his stories from wars and stuff, but we don't really get into stuff like that. When I come off the road, we all catch up, and it's great.
The birthday bunch
Singer-guitarist Chuck Berry is 78. Actor Peter Boyle ("Everybody Loves Raymond") is 69. Actress Pam Dawber is 53. Actor Jean-Claude Van Damme is 44. Jazz trumpeter Wynton Marsalis is 43. Actress Erin Moran ("Happy Days") is 43. Actor Vincent Spano is 42. Bassist Tim Cross (Sponge) is 38. Singer Nonchalant is 31. Guitarist Peter Svensson (The Cardigans) is 30.
Local journalism is essential.
Give directly to The Spokesman-Review's Northwest Passages community forums series -- which helps to offset the costs of several reporter and editor positions at the newspaper -- by using the easy options below. Gifts processed in this system are not tax deductible, but are predominately used to help meet the local financial requirements needed to receive national matching-grant funds.
Subscribe to the Coronavirus newsletter
Get the day's latest Coronavirus news delivered to your inbox by subscribing to our newsletter.
---