A&E > Entertainment
WSU hosts Presidents
Fri., Oct. 22, 2004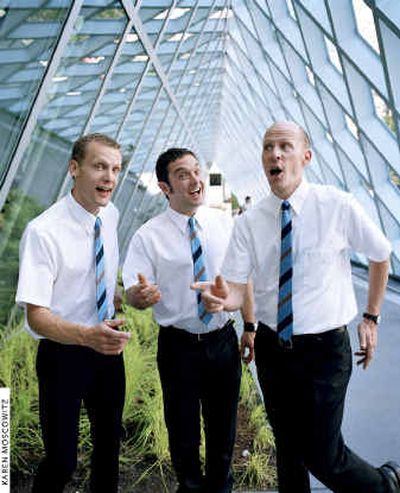 Voter registration drives seem to be at an all-time high this election season.
The next focus is on the only part more important than registering: actually marking the ballot.
"There has been this big push to register students. Now the push is to fill out those forms and vote," said Joyce Mealey, a member of the Washington State University Student Entertainment Board.
With so many college students voting absentee, the SEB aims to get students motivated to vote through an event called Rock The Future Get Out And Vote, highlighted by a free and fitting concert by Seattle's The Presidents of the United States of America.
The event is Thursday at WSU's Compton Union Building at 7 p.m. The Presidents play at 8 p.m. in the CUB Ballroom.
But in order to get into the show, you have to get a ticket by first visiting the spread of booths in the CUB where students will have the chance to discuss their issues with candidates and representatives from the College Democrats, Young Republicans, Whitman County Democrats, Whitman County Republicans and the Washington Students Lobby, as well as student organizations such as Students Against Apathy.
"This is a chance for students to get involved in the process, go see a candidate and take the oppor-
`tunity to see a great rock show at the same time," said Nur Farnik, director of the SEB.
Currently on its reunion run, The Presidents of the United States is touring its new album, "Love Everybody," and with a fitting band name during this election season, the timing was perfect to pick up PUSA for the show.
The quirky alternative happy-punk trio reunited last year after taking time off in 1997 to pursue individual and group side projects.
"Love Everybody" finds The Presidents comfortably spinning absurdist fun-rock that recalls its super-successful 1995 self-titled debut.
While singles such as "Peaches," "Lump" and Kitty" are etched into pop-culture consciousness, The Presidents caught a nasty case of sophomoritis with "II," and barely even registered on the radio radar with 2000's "Freaked Out and Small," recorded for Internet startup Musicblitz.com.
After flirting with various pickup groups including The Gentlemen, Chris and Tad, and Subset featuring "Baby Got Back" mackdaddy Sir Mix-A-Lot, The Presidents did not perform publicly for five years.
The trio has plans to re-release on Election Day its debut along with a DVD including hit videos, live performances and interview footage.
Local journalism is essential.
Give directly to The Spokesman-Review's Northwest Passages community forums series -- which helps to offset the costs of several reporter and editor positions at the newspaper -- by using the easy options below. Gifts processed in this system are not tax deductible, but are predominately used to help meet the local financial requirements needed to receive national matching-grant funds.
Subscribe to the Spokane7 email newsletter
Get the day's top entertainment headlines delivered to your inbox every morning.
---