News > Idaho
Sherrild Mills recalled as upbeat, wonderful guy
Sat., Oct. 23, 2004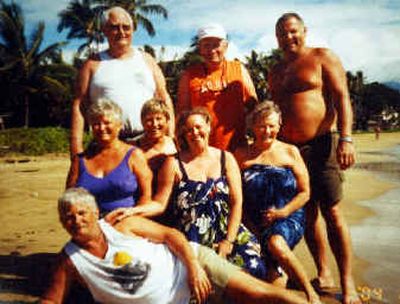 Sherrild Mills, 65, had a four-year illness but kept an upbeat attitude until his death Sept. 7. He was a Christian and told his grandchildren that death was the ultimate healing because there would be no more sickness or sorrow. Up until the end he cared more about others than himself, according to Angie, his wife of 48 years.
Angie and Sherrild were married in Coeur d'Alene in 1957 at the First Christian Church at Fourth and Garden.
"I always jokingly say that we met in the sixth grade and got married shortly after," Angie said. "I was 15 when we married."
Angie had moved to the area from North Dakota at age 8 and Sherrild was born in Coeur d'Alene at Bessy Oslund Maternity Home, the second of four children.
Their first daughter, Sheri, was born in 1958, followed by Jeanni in 1959 and Greg in 1962. In 1969 the family moved to Mica Flats. In 1970 Sherrild revived the Mica Grange dances, because he thought the folks in the area needed a place to socialize and he also wanted to bring life back to his and Angie's old courting grounds. They used to go to the Mica Grange on dates.
Sherrild worked for the Idaho Department of Transportation for 38 years, starting out plowing snow, moving to foreman of road maintenance and then foreman of bridges at the end of his service. He retired at age 55.
"I didn't realize how much enthusiasm he had for life until he was gone," Angie said.
The Millses were very involved with the First Christian Church. In Sherrild's years of retirement they did mission work for Roving Volunteers in Christ's Service, an independent ministry, which involved doing maintenance and work on church camps and schools.
"You do this in winter and follow the sun," Angie said. "We went to Hawaii and to Texas."
The Mills' home was always open to kids of any age or any reason according to Angie. They wanted to know where their kids were and who they were with, so their home became everybody's home. Greg said his father loved kids and that one boy who didn't have anywhere else to go stayed for eight years.
Sherrild was also one of the people to organize the Mica-Kidd Island Fire Association and was involved in the fund-raising for its first fire engine.
"We'd had a really bad year (1978) for fires," Greg said.
Sherrild and his friend Don Sausser and some of the folks at the grange decided something had to be done to organize a fire protection association. A farmer, Fred Mooney, brought an ad for a 1956 International fire engine for sale near Colfax to their attention. They didn't have any money, but they were able to procure the firetruck on time. It sat in Sherrild's shop, the temporary fire station, for four years. Don and Sherrild would drive around the neighborhood blowing the siren for the neighbors to come and look. Sherrild was the "mouthpiece" and Don was the bookkeeper. The fire district was born.
"What's interesting is that that engine is still in service today," Don said.
Don saw Sherrild three weeks before he died. He said that Sherrild knew what was going on but enjoyed every minute of his life.
Sherrild was involved with the Kootenai County Draft Horse Association at the Kootenai County Fair, judging at the draft horse pull.
Sherrild got involved in the draft horses when he and Greg, with the assistance of a veterinarian, nursed a sick horse back to health. Greg and his wife Lynda own two of the horses, buying their first in 1990. They still have Doc, which they purchased in 1992, and Doc's son, Jon.
"He used to do night watch at the fair, and we did the Mica Flats hamburger booth," Angie said.
Greg said that this year was the first time in 49 years that his dad did not attend the fair.
Sherrild's friend of 15 years, Cy Thompson, was a superintendent who worked with the draft horses at the fair along with Sherrild. Cy said that Sherrild requested that the pallbearers at his funeral wear T-shirts and that he be buried in a T-shirt and shorts. Then he requested that his granddaughter, Kaitlyn, 16, drive Doc and Jon to his gravesite, pulling his casket on a wagon for his burial, which she did.
"He told Kaitlyn that she could do anything she set out her mind to do," Cy said. "He was a wonderful man, a wonderful upbeat guy. Unlike socks, his face and actions always matched. I'd say he's the best friend I had."
Local journalism is essential.
Give directly to The Spokesman-Review's Northwest Passages community forums series -- which helps to offset the costs of several reporter and editor positions at the newspaper -- by using the easy options below. Gifts processed in this system are not tax deductible, but are predominately used to help meet the local financial requirements needed to receive national matching-grant funds.
Subscribe now to get breaking news alerts in your email inbox
Get breaking news delivered to your inbox as it happens.
---