News > Idaho
Sick of waiting
Sat., Oct. 23, 2004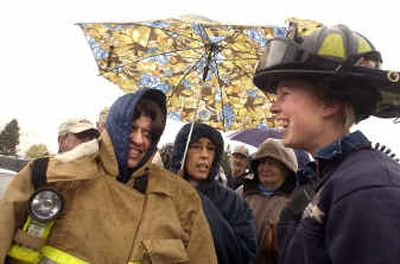 Hundreds of senior citizens, many using walkers or wheelchairs, waited hours in a cold rain Friday morning in Coeur d'Alene for a last chance at a flu shot.
"We're out here trading pneumonia for the flu shot," said a shivering Carl Grisier, of Coeur d'Alene, after waiting in line for two hours outside the Panhandle Health District office.
Some of the elderly arrived at 2:30 a.m. – more than six hours before the clinic was scheduled to open. Others arrived an hour early and were stunned to see the line already snaking around the building. The Interstate 90 exit leading to the clinic was backed up for at least a half-hour as the clinic opened.
Ambulances stood by and firefighters walked up and down the line keeping a close watch on the frailest vaccine-seekers. The firefighters wore T-shirts soaked with rain – they had all loaned their jackets to those in line. An employee at a nearby Holiday gas station distributed dozens of cups of free hot coffee.
"We didn't realize the extent of what was going to be here," firefighter Mandy Jacques said, crossing her arms to stay warm.
The Panhandle Health District hoped to have at least 10,000 doses available, said spokeswoman Susan Cuff. But with half the nation's vaccine supply unusable because of contamination, only 1,200 doses made it to Coeur d'Alene. The supply lasted through the day and no one was turned away, Cuff said. No more vaccine is expected to be available in Coeur d'Alene or at any other Panhandle Health District offices in the five counties of North Idaho.
"We are out," Cuff said. "We don't have any indication we're going to get more."
Apart from a woman feeling faint, there were no reports of aggravated medical problems for those waiting in line, Cuff said.
A flu shot clinic Thursday in Kellogg, Idaho, ran out of vaccine after 120 doses were given. Dozens were turned away. Paul Friend, of Wallace, was one of those unable to receive a vaccination. Friend, a partially blind diabetic with heart trouble, said he would have risked his health if he had waited in line.
"I didn't feel like standing out in the rain," he said.
Others, including Bernie Hague of Coeur d'Alene, have driven to Canada for a shot. The Canadian government purchases large quantities of the vaccine from various sources to ensure adequate supply. On Wednesday, Hague and two companions traveled to a pharmacy just north of the border in Creston, B.C.
"It was very pleasant," he said. "No line. Right behind us was a couple from Spokane."
Mike Ramaradhya, a pharmacist at the Pharmasave in Creston, said the business is no longer able to meet the demand of non-residents.
"We've had doctors calling and inquiring if they could buy 10 vials for their sickest patients," Ramaradhya said. "Most of our vials are already spoken for. This is not a situation we've encountered before."
Vaccine is in short supply across the United States and the issue is now infecting an already contentious presidential campaign. Those waiting in line Friday in Coeur d'Alene were divided and deeply passionate about whether President George W. Bush should bear some of the blame for the shortage.
"I'm very unhappy about it. Someone up the line should be held responsible," said 79-year-old Lois Lehrer, of Coeur d'Alene. Lehrer stood behind her walker in the rain for two hours waiting for the shot. She believes the government has a duty to ensure an adequate supply of the vaccine, including providing incentives so pharmaceutical companies need not risk profits by producing the vaccine.
Many others scoffed at the notion the president could have improved the situation. "If the sun doesn't come up, they blame it on Bush," said Kathleen Grisier, who believes the nation's love of lawsuits has scared vaccine manufacturers out of the marketplace.
Dwayne Jordan, a 71-year-old Fernwood, Idaho, resident, said his generation came from a time when there was no protection against the flu. Even a few vaccines are better than none, he said. "I don't think it has anything to do with politics, but we should have a backup system."
A clear tube sprayed oxygen into his nose. "I've got emphysema real bad," he explained. "But my wife is recovering from a stroke. She really needed the shot."
Despite the steady rain and near-freezing temperatures, most people in line did their best to avoid political arguments and keep their spirits high. Bea Doneth, of Hayden, had her fellow line waiters laughing as she threatened to create a "rumble" should supplies run dry. "I told them if they run out, we're going to have a senior citizens riot," she said, wearing a fireman's jacket to stay warm.
After receiving their shots, one couple walked out of the office pumping their fists in the air and smiling. "Hey! We made it! We made it!" they said.
Erwin Duperault, 87, of Post Falls, said influenza nearly killed his father in 1917 at the beginning of a devastating flu pandemic that killed millions worldwide. "He was give-or-take for a few days," Duperault said.
The notion of a widespread flu outbreak concerned many waiting in line. Bill Davidson, an 81-year-old World War II veteran from Coeur d'Alene, waited nearly two hours for the vaccine. He also devoted time Thursday night to preventive medicine.
"We had a prayer meeting last night. We prayed we wouldn't have an epidemic," he said. "I'll just trust in the Lord."
Local journalism is essential.
Give directly to The Spokesman-Review's Northwest Passages community forums series -- which helps to offset the costs of several reporter and editor positions at the newspaper -- by using the easy options below. Gifts processed in this system are not tax deductible, but are predominately used to help meet the local financial requirements needed to receive national matching-grant funds.
Subscribe now to get breaking news alerts in your email inbox
Get breaking news delivered to your inbox as it happens.
---