News > Idaho
Activists dispute Forest Service old-growth count
Tue., Oct. 26, 2004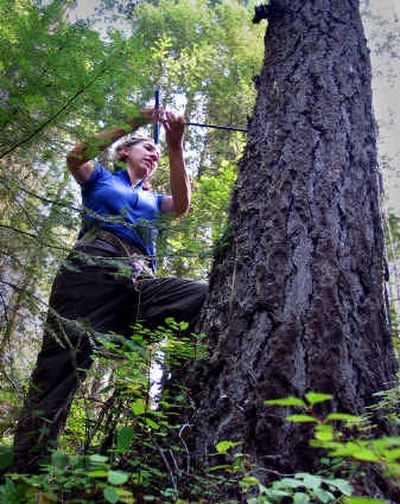 CLARKIA, Idaho — On a dewy late-summer morning, a group of hikers set off to visit a wooded hillside in a remote North Idaho valley.
They carried a measuring tape and a government map that claimed their destination was covered by 40 acres of old-growth forest. What the hikers found was a handful of stout, old trees, but even more stumps and hundreds of young, spindly trees. And even though some of the trees were large — a few had trunks 18 inches across — the specimens didn't meet the U.S. Forest Service criteria for old growth.
"I look older than anything they've got in here," said one of the hikers, 77-year-old Arthur Partridge, of Moscow, Idaho, as he ambled up the slope using his cane. "How in the hell can they even think of calling this old growth?"
Partridge, a retired forestry professor from the University of Idaho, and his companions weren't trekking for pleasure. Their journey was part of an exhaustive "ground-truthing" campaign aimed at double-checking the Forest Service's promise of keeping at least 10 percent of North Idaho's federal forest covered with old growth.
The survey was fueling their suspicions that far fewer old-growth trees exist than what the Forest Service claims.
"We've inventoried about 4,000 acres. About 70 percent of those do not meet the Forest Service's own criteria" for old growth, said Ellen Picken, a forest activist with the Spokane-based Lands Council. The nonprofit group led the survey effort and Picken did most of the groundwork, spending day after day hiking the forest with detailed maps, a global positioning unit and a measuring tape. The findings will be published next month in a report, which will be distributed to policymakers and environmentalists across the region.
Forest Service officials dispute claims of an inflated old-growth inventory and say the Lands Council's methods are not scientific enough to paint an accurate picture.
For much of North Idaho, the official government definition of old growth is land with at least 10 150-year-old trees per acre, each with a diameter of 21 inches or more. Picken said many tracts on record as old growth turned out to be crisscrossed by roads and had less than half the number of required big trees. The 40-acre tract surveyed in August near Clarkia averaged two old-growth trees per acre.
Picken and volunteers surveyed the forests by studying a single one-third-acre plot for every five to seven acres of land listed as old-growth forest. The plots were randomly selected using detailed topographic maps and located using a handheld global positioning unit. Each large tree on the plot is measured and recorded. The results are designed to hold up to the scrutiny of other scientists — or lawyers.
"We want to hold the government accountable," Picken said.
Meanwhile, the Forest Service has been conducting its own surveys to verify old-growth records, said Dave O'Brien, spokesman for the Idaho Panhandle National Forests. For the past three summers, the agency has devoted $300,000 and thousands of hours conducting exhaustive examinations. O'Brien is doubtful the Lands Council could verify the records by taking random one-third-acre snapshots.
"This is really problematic for us," he said. "For the Lands Council to do a truly scientific analysis of our old growth would require at least 500 to 600 field crew days. We want to have the most current information, too. We spent the money, had the field crews out there. We are very confident we exceed the forest plan standard. We have the scientific data to prove it. It's not just an unscientific survey to prove a political point."
The Forest Service disputes the Lands Council's claim and stands by its records, which show 12 percent of North Idaho's national forest is old growth. Since 1987, the agency's own standards require at least 10 percent of the forest to be old growth, O'Brien said.
"We are meeting the Forest Service standards and we are actively monitoring to be sure that we are," he said. "We understand how important old growth is. We care about old growth. We want to see more old growth in the Idaho Panhandle."
The Forest Service stopped cutting old-growth timber at least six years ago, O'Brien said. Much of the agency's money and manpower today is aimed at protecting these tracts of forest, which contain vital habitat for threatened and endangered species such as caribou, grizzly and bull trout. The clear standard for preserving 10 percent of the forest as old growth was aimed at improving forest management, but environmental groups have increasingly turned the regulations against the Forest Service in legal battles.
"Any numerical standard tends to get litigated," O'Brien said.
The Lands Council has been a leading critic of the Idaho Panhandle National Forests. The group recently prevailed in a U.S. 9th Circuit Court of Appeals case that halted many of the agency's projects in North Idaho.
Across the border in Washington, the Colville National Forest is rarely in environmental groups' legal crosshairs. Lands Council employees say the Colville National Forest has worked hard to include environmentalists in planning discussions.
O'Brien, with the Idaho Panhandle National Forests, said it's difficult to discuss forest management with a group that openly advocates an end to all commercial timber harvest on national forests. "That's a huge sticking point," he said.
A significant lack of trust has fueled the Lands Council's efforts to double-check the Forest Service's old-growth records in North Idaho. The agency has a history of cooking its books to show "phantom forests," notably in the late 1980s in Montana's Kootenai National Forest, said Karen Lindholdt, an attorney for the Lands Council. So long as the records show at least 10 percent of the trees are old growth, the agency has more flexibility in where and what to cut. "They're basically saying, 'We've got enough old growth, we can continue cutting old trees,' " Lindholdt said.
Lindholdt participated in some of the old-growth surveys, which began in April. "It's just shocking," she said. "I can't believe what little is left."
Although the two sides dispute the amount of remaining old growth, there's widespread agreement on the importance of ancient forest. Partridge, the retired forestry professor and expert witness for the Lands Council, is convinced the lack of old-growth forest will soon become one of the planet's most pressing problems. The trees serve as important buffers against global warming and the rich soils and the thick layer of duff on the forest floor are vital for purifying water.
Partridge believes at least a quarter of Idaho's national forest should be maintained as old growth. Filling in the gaps might require 250 years of patience, but ignoring the issue will be costly for future generations. "It's too expensive to wreck the woods," Partridge said. "It's going to be a helluva lot worse to recover our environment in the future. … It's going to cost them a small fortune."
Even before the arrival of the chain saw or the first metal ax, North Idaho was never fully blanketed by old-growth forest. Historical records, including the journals of botanist John Leiberg, show about 22 percent of the region's forest would have qualified as old growth under the current Forest Service standard, said Art Zack, forest ecologist for the Idaho Panhandle National Forests.
Fire regularly raked and renewed the forests, Zack said. The regular fires were also vital to the survival of some old-growth groves. Mature ponderosa pine and larch trees have fire resistant bark and depend on fires to periodically burn young saplings competing for moisture. With wildfire largely removed from the landscape, some tracts of forest will not likely ever mature into old growth. Some scientists compare the overly thick forests to a carrot patch — unless some of the young carrots are thinned, other carrots will not be able to develop deep, stout roots.
Many of the Forest Service's projects — including the proposed Rising Cougar project east of Sandpoint — are now aimed at thinning portions of the forest to increase the odds of old growth. In fact, the agency has acquired additional old growth from private land owners through land exchanges, including a large tract near Upper Priest Lake that holds the largest piece of intact primeval cedar forest in the interior West, Zack said.
"We want more of it on the landscape," Zack said. "We're trying to manage for the full range of diversity. We're trying to keep all the pieces."
Fires will probably never again run free in North Idaho. The hands-off approach to forest management pushed by many environmental groups will lead only to spindly, sickly and overgrown forests, Zack said. "Forests are living things. They're not museum pieces. They're changing all the time."
Zack was part of a team of scientists that developed the old-growth standards for the Idaho Panhandle National Forests. The definitions fill 60 pages and vary according to forest type. Zack shook his head after learning about the accusation of the Forest Service inflating its old-growth acreage. "We're trying to find everything that's out there," he said. "I don't see how (the agency) could be that far off."
Local journalism is essential.
Give directly to The Spokesman-Review's Northwest Passages community forums series -- which helps to offset the costs of several reporter and editor positions at the newspaper -- by using the easy options below. Gifts processed in this system are not tax deductible, but are predominately used to help meet the local financial requirements needed to receive national matching-grant funds.
Subscribe now to get breaking news alerts in your email inbox
Get breaking news delivered to your inbox as it happens.
---