News > Spokane
Slain girl's uncle accused in flap over bench ads
Thu., Sept. 2, 2004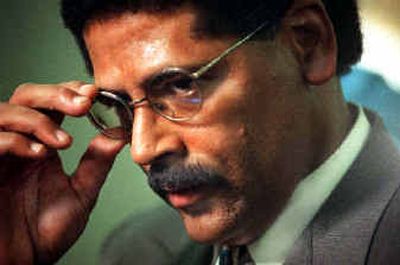 The uncle of a slain Spokane Valley girl, Valiree Jackson, is being accused of using her name to bilk Spokane and Coeur d'Alene businesses out of advertising money.
The Spokane Better Business Bureau has investigated five claims from business owners – three in the Spokane area and two from Coeur d'Alene – who say they paid as much as $1,800 to advertise on benches but got nothing in return from the Rev. John Stone.
Stone says that the benches are still coming, and that the BBB has jumped the gun and damaged his reputation.
Nine-year-old Valiree disappeared from her Spokane Valley home on Oct. 18, 1999. Her father, Brad Jackson, initially made pleas for help from the community in finding his daughter. But he was later charged with smothering her with a pillow and burying her body.
Spokane County sheriff's investigators linked Jackson to the crime by placing global positioning devices on Jackson's cars. They followed him into Stevens County, where Jackson led them to Valiree's body, buried in a shallow grave.
Brad Jackson, now 37, is serving a 56-year sentence in state prison for killing Valiree. During the investigation and later trial, John Stone regularly traveled from his home in Glendale, Ariz., and served as the family spokesman.
Four years ago, Stone launched the Valiree Jackson Charitable Foundation and pursued the idea of using benches at area stores to display the pictures of missing children.
Mike Connolley, who operates Leak Seekers Inc., said Stone approached him earlier this year and Connolley agreed to pay $1,000 up front. As part of the deal, three-quarters of the bench would be used to advertise his business and the rest would show pictures of missing children.
"He pushed the fact that he was Valiree Jackson's uncle. She was murdered. That's the only reason I wanted to do it," Connolley said.
Stone e-mailed Connolley a copy of what his bench advertisement would look like. But after dozens of phone calls, broken promises and excuses, the bench never materialized, Connolley said.
"I don't care about $1,000, but her name has been trashed so bad," Connolley said of Valiree. "It's just miserable. I wish I could bring that girl back. Now her uncle is throwing her name in the dirt."
Stone blames the Better Business Bureau for intervening before he could deliver the benches. He threatened to bring criminal charges against that organization and a local television station for "extortion, blackmail, racism, fomenting a hate group, hate crimes and humanitarian causes," he said.
"We will do everything we can do to make sure everything is fulfilled," Stone said. "But it's for the kids. We are not doing it so they can get rich. But that's what they want."
Stone blamed the BBB for ruining his name. The attention has generated racist threats and made him reluctant to return to Spokane, he said.
"If you are a black man in America and having threats from the Aryan Nations capital of the world, what would you do?" he asked.
Dale Koohns, who owns Dale Koohns Painting, said Stone can easily solve the issue by delivering what he promised.
Stone approached Koohns two months ago with a deal similar to the one he gave Connolley. Koohns agreed to pay $420 to advertise on half of a bench.
"I thought that was a win-win situation. I help the community and my business," Koohns said. "I thought it was a good concept. I'm not sure what happened.
"It was becoming obvious that it was a fraud situation because he kept promising and not delivering."
The last time Koohns talked with Stone was Saturday, after the BBB had already sent letters of the complaints to the Washington Attorney General's Office. Stone "said he was going to send me my money. But then I never heard anything else," Koohns said.
Zan Deery, who works with communications investigations with the BBB, said Connolley and Koohns were two of five business people who have complained in the last three months. A woman who works for GMAC Real Estate in Coeur d'Alene filed a complaint after she paid $1,800 for a bench that never was received.
"To us, that is a significant number of calls to come to us all of the sudden," Deery said. "That's our issue. They paid up front with nondelivery of goods. We don't know if there are a lot more victims out there."
Deery said the BBB has set up meetings with Stone, but he hasn't shown up for them.
Connolley said Stone told him that the Valiree Jackson Charitable Foundation was a nonprofit organization. But Stone never filed the proper paperwork with the state, Deery said.
"Frankly, we wouldn't be able to know if he has profited from this," she said. "We can't really put our fingers on it."
Stone blamed the BBB – which he repeatedly called the KKK – for creating doubt about his business practices. He directed a reporter to his Web site, www.theexposure.com, where he calls for the citizen's arrest of President Bush, Attorney General John Ashcroft, judges and other government officials for alleged racketeering.
"Every single bench would be up if Zan and her group of misfits wouldn't have done what they did," Stone said. "What we are going to try to do is get the benches up where they are supposed to go. But I've already been advised – one was a judge – to not come back into Spokane because they've formed a hate group."
Connolley said he doesn't want excuses, he wants $1,000 worth of bench advertising.
"I don't think I'll see my money again," Connolley said. "I'll do whatever I have to do to let people know to watch out for this guy."
Local journalism is essential.
Give directly to The Spokesman-Review's Northwest Passages community forums series -- which helps to offset the costs of several reporter and editor positions at the newspaper -- by using the easy options below. Gifts processed in this system are not tax deductible, but are predominately used to help meet the local financial requirements needed to receive national matching-grant funds.
Subscribe to the Coronavirus newsletter
Get the day's latest Coronavirus news delivered to your inbox by subscribing to our newsletter.
---