News > Idaho
Bette Donovan leaves legacy of creativity
Sat., Sept. 4, 2004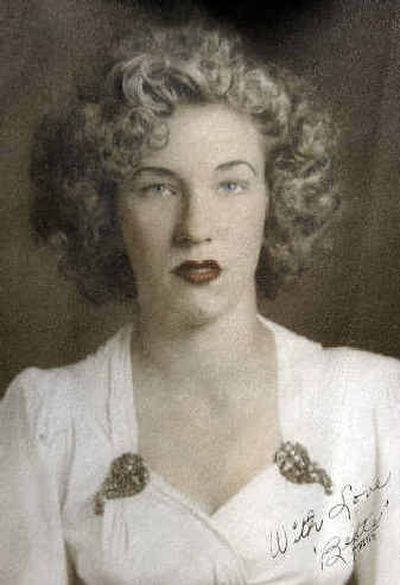 Bette Donovan, who died last month at 80, lived a quiet life for the last 25 years, with her husband, Robert, in Hayden Lake. Their life before that is another story, filled with hard work, celebrity clientele and national acclaim for their incredible stained-glass creations. In the '70s, Donovan Stained Glass Studio Inc. was the largest company of its kind in the United States.
Bette and Robert met in Oakland, Calif., in 1948. They were both working in a drive-in restaurant, Andy's restaurant, at 19th and Harrison in Oakland. Robert was a soda-pop man who also worked the register, and Bette was a car-hop. Both of their families had moved to Oakland during the Depression looking for better opportunity. Bette lost her mother when she was very young and was in an orphanage for a time before the move to California.
Robert was going with the sister of another car-hop and Bette was dating the actor Robert Stack.
"Then she saw him," said Bette's daughter Carol Kelly, of her father. The couple married in 1949.
Carol and her sister Deatra Yatman of Beverly Hills were both born in Oakland. Their brother Robert Jr. of Hayden was born in Los Angeles.
"My brother was born in Los Angeles on the corner of Coldwater and Ventura in a gas station," Carol said. "It was a Shell gas station."
Bette couldn't make it to the hospital, so Robert delivered their only son.
The stained-glass business evolved out of necessity. After Robert got out of the service, there weren't a lot of jobs around. One day in Oakland, he saw a man repairing a stained-glass church window.
"I stood and watched him all day long," Robert said. "I helped him, handing him tools and things, and the next day he left town. He was a traveling stained-glass repairman."
That day Robert learned to do stained-glass repair. He found a Catholic church that needed some repair, and got the job. The priest was satisfied and wrote a letter of recommendation, and Robert became a traveling stained-glass repairman. Bette, whose mother was an artist, soon joined forces with her husband, designing the windows. It came naturally to her.
For cash flow, they had a regular glass business, Pacoima Glass Co., in Los Angeles, with a contractor's license to do glass glazing.
"I just got bigger and bigger and bigger and the old guys died off, and pretty soon I was the only big guy left," Robert said. Bette was still doing the artwork for the stained-glass jobs.
Things changed for the Donovans the morning of the 1965 Watts riots in Los Angeles. A man was shot in front of their shop for looting. Robert and Bette decided to pack it up and move to Burbank, Calif., and at that point they devoted most of their time to stained-glass work. Before too long they had 28 employees in Burbank. They had many commercial clients, including Shakey's Pizza parlors, Bob's Big Boy, several Playboy clubs, Rococo's and many, many more.
"If there was any stained-glass work in any restaurant, it was from us," Robert said. "I was the only one big enough to make it fast enough."
The couple did crests for actor Raymond Burr's front and back doors, etched glass doors for the men's and women's rooms at the MGM Grand in Las Vegas, as well as stained glass in the homes of Dan Blocker (Hoss on "Bonanza"), Roy Disney Jr., director Paul Henning, dancer Juliet Prowse and singer Nancy Sinatra, to name a few. Their work also graces many fine hotels including the Hilo Hotel in Hawaii and the Stardust in Las Vegas, several churches in California and the St. Thomas More Church in north Spokane.
"We started the trend of putting leaded glass in furniture," Carol said.
Carol worked in the family business taking care of the office. Although this was a creative business, it was big business. Their masterpiece is their glass work at the Beverly Stauffer Chapel at Pepperdine University in Malibu, Calif.
Beverly Stauffer, the wife of John Stauffer of the Stauffer Chemical Co. was working with an architect to design a chapel for the campus. She knew of the Donovans and their portfolio so they were contracted to do the job.
Bette was in charge of a crew of 28 workers on the project. She supervised and participated in the cutting of the glass, and designed the project. Thousands of pieces of glass were cut from more than 125 colors of hand-blown glass from the Blenko Glass Co. in Milton, W.Va. According to an article in the Spring 1995 Pepperdine People by Joyce Hutchison, "Bette would take measurements of the chapel and then stand on the roof of their Burbank studio. From that vantage point, she could use a loud speaker to direct the drawing of the designs onto large sheets of paper laid out in the parking lot. Once the design was completed, the drawings were cut into puzzle-sized pieces and used as guides in assembling the sections of the stained glass."
On Nov. 4, 1973, 13 months after the project was started, the chapel was dedicated. In 1994 Robert and Bette went back to the chapel to sign their masterpiece. They didn't often sign their work, but felt they needed to do so, on this one especially.
"My mother was a very, very creative lady," Carol said. "She came up with the artwork, and he (Robert) came up with how to do it."
The side windows all have a biblical symbol in them. Carol said her mother was phenomenal on doing biblical research, and put in exactly what was needed.
"If you would tell her a Bible verse she'd know exactly what to put in there," Carol said. "If you went to a window and it had a Bible verse written on it, and the window was broken and all you had was four legs, she could tell you if that was a lamb or a deer or whatever it was because she researched everything."
The Donovans made three large mirrors etched with a hunting scene, which were for a restaurant in Minneapolis. They did sign these.
"The guy called my mother up and chewed her out something terrible, saying 'How dare you sign these, I didn't pay you to sign these, how dare you.' Mom told him it was a work of art, that she had the right to sign them," Carol said. "Three weeks later he sent her three dozen roses with an apology."
Robert said many big restaurant chains didn't appreciate the art aspect of the glass. When Bette was putting the finishing touches on the ceiling of a huge work at a Playboy club, a lady asked the owner where the ceiling came from and he said it was imported from France, within earshot of Bette.
"He said there was a lady that came from France who painted it all by hand," Carol said. "My mother just glared at him and didn't say a word. Everything that's good has to be imported."
After moving to Idaho, Bette and Robert taught more than 800 students in the Coeur d'Alene area how to do stained glass, including Mayor Sandi Bloem. They did work in a few homes in Coeur d'Alene, and their work can still be seen at the old Henry's Restaurant on Sherman Avenue, which was a Bob's Big Boy before they moved here.
They slowed down eventually, spending time touring around in their motor home, visiting flea markets and antiquing, something Bette really enjoyed.
Local journalism is essential.
Give directly to The Spokesman-Review's Northwest Passages community forums series -- which helps to offset the costs of several reporter and editor positions at the newspaper -- by using the easy options below. Gifts processed in this system are not tax deductible, but are predominately used to help meet the local financial requirements needed to receive national matching-grant funds.
Subscribe now to get breaking news alerts in your email inbox
Get breaking news delivered to your inbox as it happens.
---