Sports
Maddux piles up milestones
Fri., Sept. 24, 2004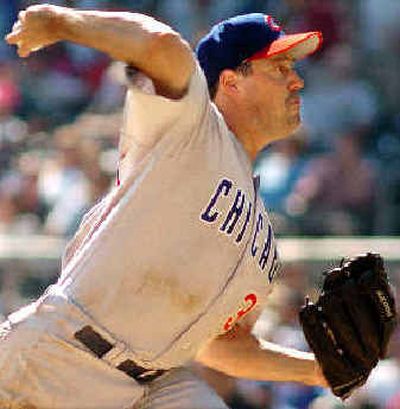 Greg Maddux reached 15 wins for a record 17th consecutive season. Getting to 200 innings made him just as happy,
"You always have your goals," Maddux said Thursday after leading the Chicago Cubs over the Pittsburgh Pirates 6-3 at Pittsburgh. "One of them is always to win 20, but you always have a goal to pitch 200 innings. If you can go out there and get your 200 innings, you have to be doing something right."
Maddux also hit a two-run single in a four-run second inning for the Cubs, who completed their third series sweep of the Pirates this year. Maddux raised his total to 2012/3 innings, reaching 200 for the 16th time in 17 years — he missed by two-thirds of an inning in 2002.
Unless Maddux pitches a combined 400 innings or more in 2004 and 2005, the Cubs have the right to void his $9 million salary in 2006.
"I think 200 innings for me personally means more than the wins," Maddux said, "because you can't control the wins and losses as much as you can control showing up every fifth day and getting your 200 innings.
Chicago, which began the day a half-game behind San Francisco in the N.L. wild-card race, is 7-2 on its trip following the three victories in Pittsburgh. Chicago has won 12 of 15.
The Cubs headed to New York for a three-game series against the Mets, then finish the season at home with four games against Cincinnati and three against Atlanta.
Maddux (15-10) improved to 3-1 against Pittsburgh this season, allowing three runs and seven hits in six innings with no walks and six strikeouts. Maddux, 20th on the career wins list with 304, last year surpassed Cy Young's 15 consecutive 15-win seasons.
"It's unbelievable," Cubs manger Dusty Baker said. "He's been great for us, and I'm glad we have him here."
Expos ever-closer to D.C. move
Major league baseball will attempt to finalize negotiations within a week to move the Montreal Expos to Washington next year, a high-ranking baseball official said after a meeting of the sport's executive council.
The council met for three hours in Milwaukee at the offices of baseball commissioner Bud Selig and heard a presentation from the relocation committee. While no formal recommendation was made, the preference of the committee for the downtown Washington group was evident, the baseball official said, speaking on the condition of anonymity.
Selig told the council he would move forward to conclude a deal as quickly as possible, the baseball official said, and left a clear impression with the council members that it would be with the group from the nation's capital, which has been competing with a rival offer from Northern Virginia.
Baltimore Orioles owner Peter Angelos, a member of the eight-owner council, reiterated during the meeting that he opposes having a team relocate to downtown Washington, about 40 miles from Baltimore's Camden Yards' ballpark, saying it would take away fans and revenue from his franchise.
Green plans to play tonight, sit out Saturday's game
Los Angeles Dodgers slugger Shawn Green will sit out Saturday afternoon's game against the San Francisco Giants in observance of Yom Kippur.
The first baseman-outfielder said he will play tonight when the Dodgers and Giants, battling for the N.L. West lead, play the opener of a three-game series in San Francisco.
"Everyone approaches their worship in their own way and goes about it differently," Green said before the slumping Dodgers played the San Diego Padres on Thursday night. "Playing one of the two is the most consistent with my beliefs as a Jewish person."
When asked to explain, Green said: "I'm not orthodox. I am Jewish and I respect the customs, and I feel like this is the most consistent way for me to celebrate the holiday."
Asked why he picked today as the day to play instead of Saturday, Green said: "I just feel like personally that's the best way I can respect the holiday and the way that I'm going to do it."
"It's a personal decision, and it's his decision to make," Dodgers owner Frank McCourt said.
Local journalism is essential.
Give directly to The Spokesman-Review's Northwest Passages community forums series -- which helps to offset the costs of several reporter and editor positions at the newspaper -- by using the easy options below. Gifts processed in this system are not tax deductible, but are predominately used to help meet the local financial requirements needed to receive national matching-grant funds.
Subscribe to the sports newsletter
Get the day's top sports headlines and breaking news delivered to your inbox by subscribing here.
---