News > Idaho
Bob Eagan's personality brought joy to many
Sat., Sept. 25, 2004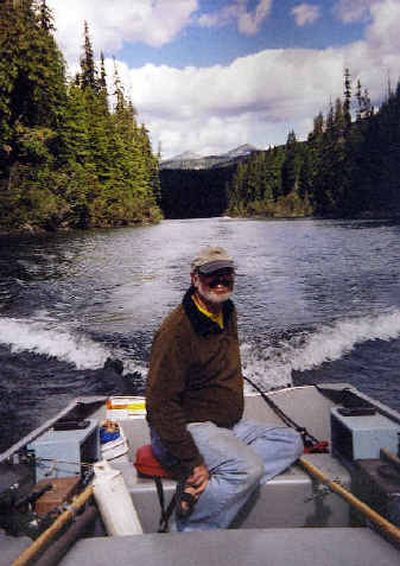 Bob Eagan "really filled a room when he came in," says his wife, Dorothy Dahlgren. She thought he was a little "strange" when she first met him. His larger-than-life personality brought joy to many people in Coeur d'Alene.
Bob died of a heart attack Sept. 8. He was 54. He was in great spirits that day, Dorothy says, and had just finished a short walk on his beloved Tubbs Hill.
Bob worked for more than 10 years with the Tubbs Hill Committee, serving as both its treasurer and president at different times. An avid mountain biker, he was passionate about the preservation of the hill and continued to work with the committee even though mountain biking never became an approved use of Tubbs Hill trails.
Dorothy says Bob just wanted to take a quick walk and check something out on the hill that day. She waited but became concerned when he didn't come back after a while. When Bob returned, he told her his chest hurt. When they got home, he said he was feeling better, but then he had the heart attack.
"He exercised, played racquetball twice a week, rode mountain bikes really strenuously, like up Canfield Hill and places like that," Dorothy says. "He always said you can let your diet kind of slide, as long as you exercise, and you'll be OK. That wasn't the case."
Nils Rosdahl served on the Tubbs Hill Committee with Bob since its formation.
"Bob always leaned toward the naturalness of the park, never toward an advantage to a certain business or individual," Rosdahl says. "He always thought of the good of the people. You could always count on Bob to raise a question not considered before. His views gave great balance to our cause."
Dorothy says that Bob's priority was property acquisition on Tubbs Hill.
Russ and Doreen Kruger went fishing with Bob and Dorothy over the Labor Day weekend. Russ met Bob through their love of mountain biking almost 20 years ago. Russ said they were pioneers in the local mountain biking scene, along with some others.
"Whenever we decided to do something, he'd add a special twist to it," Kruger says.
As an example, on the Labor Day fishing trip, Bob decided that he had to have a parabolic canopy for their shelter. He was really excited about it, and he managed to prop it up in 40 mph winds. Kruger says Bob wasn't in to the latest and greatest, that he was just a straight-shooter.
Bob was also a beloved veterinarian. Growing up in Deerfield, Ill., not far from Chicago, his world was animals. His father wouldn't let him have a dog or cat, but he could have reptiles, fish and mice. When he was 15 or 16, on his own, Bob conducted a genetic experiment on his two white mice. He bred them and crossbred their offspring over four years until they produced two black mice. He donated 200 mice from his experiment to Mount Prospect High School for its science lab.
He graduated from Iowa State University in three years with a 3.8 grade-point average and went on to veterinarian school at the University of Illinois. Bob's neighbor was the sister of a physician who had moved to Coeur d'Alene, and he reported back about how beautiful it was, and that it was utopia for anyone who loved the outdoors.
When Bob was in vet school, he picked Coeur d'Alene as the place to do his senior project, and that brought him out West. He took his state boards in Boise and turned a Government Way garage into Kootenai Animal Clinic, later changing the name to Triple A Animal Clinic. He was a single practitioner, caring for Coeur d'Alene pets from 1977 until he died. Dorothy says she is going to sell the practice. Bob's "patients" are being cared for by Dr. Bob Erickson in Hayden until the practice is sold.
Jim Landers, a Coeur d'Alene dentist, met Bob at Iowa State. They had mutual friends at college but never really connected until they both ended up in Coeur d'Alene. They were racquetball partners, playing doubles for the past five years on opposing sides. They mountain biked, fished, camped and did family activities together. Jim's youngest son, Paul, graduated from Lake City High School with Ivan, Bob and Dorothy's only son, just last spring.
"He was a unique person. He ran his vet business different than all the rest," Landers says. "He'd forgo the glitter. If the sun was out and it was nice, he'd close up and go fishing. He did what the rest of us didn't have the guts to do."
That also meant taking time to attend activities that Ivan was involved in. He and Ivan would fish together, and Bob taught him firearm safety and how to shoot. They also developed carpentry skills together, as they brought life back to the 1910 home the family occupied.
When Bob and Dorothy met in 1983, he was dating Dorothy's friend, Linda Swanson. Dorothy was a graduate of the University of Idaho and was working then, as she does still, at the Museum of North Idaho.
"He came to Linda's house, and I was sitting on Linda's couch waiting for her to get dressed; we were going to go out," Dorothy says. "Bob comes in and said, 'Who are you, what are doing here, where's Linda?' and he just kept bantering me with all these questions, and I turned around and I said, 'Who put a nickel in you?' That shut him right up."
They would have friendly banter back and forth, first becoming friends who went to the movies each week for the discount night. She would meet him there because she didn't want to tell him where she lived.
"I really did think he was a little odd," Dorothy says. "He had a sense of humor and was kind of loud."
They married in the back yard of their friends Pat and Kay Power's home in 1985, and Bob insisted that the tune "Bad to the Bone" be played during the recessional. Swanson's new boyfriend, who was a baker, provided the cake as a wedding gift.
Two pets grace the family home. Rex, the cat, is an Abyssinian, a breed that originated in Egypt or Ethiopia. Cookie, the dog, is an old yellow Lab with allergies. The cat was often a subject of friendly banter.
"Bob wanted this cat," Dorothy said. "I said I am not going to spend money on a cat; can't we just go to the Humane Society? I just wanted a fur ball that will sit in my lap. He had two of them right before I met him, and they died mysteriously, so all these years he'd wanted to get another one."
He also loved to hunt upland birds and at one time he had English pointers that he would hunt with.
Halloween was Bob's favorite holiday. He would try to pick things that were topical in the news and went as the anthrax post office man one year, wearing a letter carrier's jacket and white powder all over his shoulders. In an older photo, Bob was the Tin Man from "The Wizard of Oz," in a very elaborate costume he made himself. He often was the prize winner at Halloween parties. One Halloween, while on a cruise with five of their friends, they did a parody of "Snow White and the Seven Dwarfs," with Kruger as Snow White. Dorothy said that Bob made latex noses for all of them to best resemble their respective characters.
Up until about six years ago, Bob was sporting a ponytail that Dorothy didn't care for. At a Super Bowl party they were hosting, he agreed to let the winner of the pool chop it off, and being the good sport that he was, the ponytail was history.
He was a man of his word.
Local journalism is essential.
Give directly to The Spokesman-Review's Northwest Passages community forums series -- which helps to offset the costs of several reporter and editor positions at the newspaper -- by using the easy options below. Gifts processed in this system are not tax deductible, but are predominately used to help meet the local financial requirements needed to receive national matching-grant funds.
Subscribe now to get breaking news alerts in your email inbox
Get breaking news delivered to your inbox as it happens.
---