Sports
Titans' McNair released from hospital
Wed., Sept. 29, 2004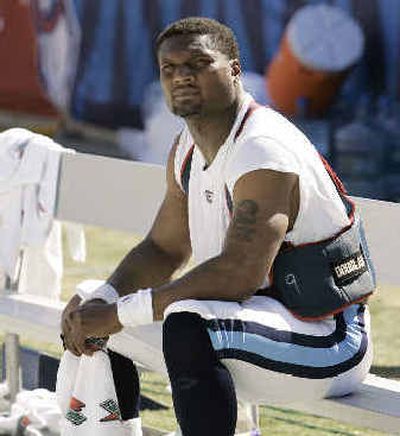 Tennessee Titans quarterback Steve McNair was released from the hospital Tuesday morning after a two-night stay with a bruised sternum.
McNair was injured late in the Titans' 15-12 loss to Jacksonville on Sunday. A team spokesman said McNair was resting at home.
The 2003 co-MVP got hurt at the end of a 5-yard run when he dove forward looking for more yardage. As he went down, 312-pound Jaguars defensive tackle Marcus Stroud came down on McNair's back.
Coach Jeff Fisher said McNair will be listed as questionable for Sunday's game against the San Diego Chargers. Tuesday was an off-day for the Titans, who return to practice today.
If McNair can't play, backup Billy Volek would make his first start since rupturing his spleen in a 28-26 victory over Buffalo last December.
McNair had the same injury in 2000 and spent two nights in the hospital, but he had a bye week to heal. When he came back, he played in only the final minutes of the game.
Fisher hopes McNair can make a speedy recovery.
"What you don't want to do is put him back out there, subject him to a big hit and have him set back again," Fisher said.
Browns' Winslow out for season
Cleveland Browns rookie tight end Kellen Winslow Jr. needs a second operation on his right leg and will miss the remainder of this season.
Winslow, who broke his fibula during a loss on Sept. 19 in Dallas and had it operated on last week, will have surgery today to stabilize ligaments.
Winslow, the No. 6 overall pick in this year's draft, was initially expected to be out for at least eight to 10 weeks but will now need longer to recover.
"Our No. 1 concern is Kellen's health and his long-term contribution to the Cleveland Browns," coach Butch Davis said. "We know he will approach his rehabilitation with the same determination that he shows on the football field and look forward to his return for the 2005 season."
•Browns running back Lee Suggs, inactive for Cleveland's first three games with a neck stinger, has been granted medical clearance to practice at full speed this week.
As long as there are no setbacks, the speedy second-year back from Virginia Tech expects to make his season debut Sunday against the Washington Redskins.
Suggs was injured during practice a few days before the Browns' final exhibition game. The team expected Suggs to return much sooner, but he hasn't had enough strength to satisfy team doctors to let him play.
Bears sign Hutchinson
The Chicago Bears signed former Dallas quarterback Chad Hutchinson to a two-year contract as insurance after Rex Grossman was lost for the season with a knee injury.
Hutchinson passed a physical and will practice today. A former St. Louis Cardinals baseball prospect, the 6-foot-5 Hutchinson started nine games as a rookie with Dallas in 2002.
Jonathan Quinn will start Sunday against unbeaten Philadelphia at Soldier Field after the loss of Grossman, who tore his anterior cruciate ligament in Sunday's loss at Minnesota.
Candlestick now Monster Park
Some fans think 44-year-old Candlestick Park is already a dinosaur. Now the San Francisco 49ers' home stadium has the name to match.
The team announced a four-year agreement with Monster Cable Products Inc. that will change the stadium's name to Monster Park.
Many of the signs around the stadium will be updated in time for Sunday night's home game against the St. Louis Rams.
Monster Cable is based in the Bay area city of Brisbane and is best known for its high-performance stereo speaker cables. It beat out Oracle, Virgin USA, Wells Fargo, Macromedia and Organic Inc. among companies seeking the naming rights.
Local journalism is essential.
Give directly to The Spokesman-Review's Northwest Passages community forums series -- which helps to offset the costs of several reporter and editor positions at the newspaper -- by using the easy options below. Gifts processed in this system are not tax deductible, but are predominately used to help meet the local financial requirements needed to receive national matching-grant funds.
Subscribe to the sports newsletter
Get the day's top sports headlines and breaking news delivered to your inbox by subscribing here.
---