News > Spokane
Last big contingent of 81st Brigade is home
Fri., April 1, 2005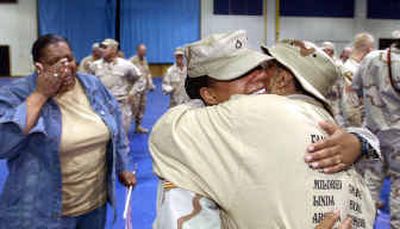 SEATTLE – The last major group of Washington National Guard soldiers assigned to the 81st Brigade returned to Fort Lewis on Thursday after a yearlong deployment in Iraq.
About 107 supply and maintenance soldiers with the 81st Brigade Combat Team flew into McChord Air Force Base, then in the afternoon were treated to a welcome home ceremony at the adjacent Army post 45 miles south of Seattle.
The soldiers are assigned to the brigade's Headquarters and Headquarters Company. While other units have been returning since February, these soldiers remained in Iraq to prepare heavy equipment such as trucks and tanks for transport back to the United States, Master Sgt. Jeff Clayton said.
The group spent the last few weeks draining fuel from vehicles, clearing them of all sensitive items – including radios and ammunition – and disassembling weapons.
"It's a real process," said Clayton, a National Guard spokesman. "I've had to do it a few times and boy, it just takes forever."
Soldiers who returned Thursday, most of whom live in the Puget Sound area, will have four days off, but before returning to full-time civilian life they'll have to undergo standard medical and records checks, Clayton said.
A rear detachment of 15 to 20 soldiers is still in Kuwait, but is scheduled to return next week, Clayton said.
More than 300 state Guardsmen from other units are still deployed in Iraq, Afghanistan, and other locations overseas, and 200 more are on active duty throughout the United States.
In February 2004, a massive ceremony was held at the Tacoma Dome for thousands of soldiers with the brigade who were placed on active duty as part of the continued buildup of U.S. military personnel in Iraq.
Of the roughly 4,000 soldiers, about 3,200 were from Washington state; the rest came from units in California and Minnesota.
It was the largest call-up of state National Guard soldiers since World War II.
The brigade includes two tank battalions, a mechanized infantry battalion, engineers, support troops, artillery and an intelligence company.
Stationed throughout Iraq, including Baghdad, Balad and Mosul, soldiers with the brigade conducted more than 9,000 patrols, and were involved in at least 160 combat actions.
Nine 81st Brigade soldiers died during the deployment.
Local journalism is essential.
Give directly to The Spokesman-Review's Northwest Passages community forums series -- which helps to offset the costs of several reporter and editor positions at the newspaper -- by using the easy options below. Gifts processed in this system are not tax deductible, but are predominately used to help meet the local financial requirements needed to receive national matching-grant funds.
Subscribe now to get breaking news alerts in your email inbox
Get breaking news delivered to your inbox as it happens.
---