News > Idaho
Scott Hague had great faith, touched many lives
Sat., April 2, 2005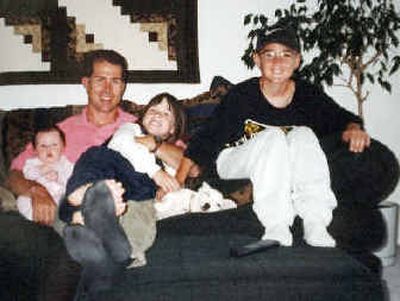 Scott Hague touched the lives of many people in his 40-year life. More than 1,000 people attended his funeral service on March 5 at St. Pius Catholic Church. There are more than 100 postings expressing warm thoughts and memories of Scott on the Yates Funeral Home Web site.
Scott died March 1 after an 11-month battle with melanoma. He leaves behind his wife Brandi, and three children, Mathew, 17, Breanna, 14, and Mikinzie, 7. By all accounts he was a wonderful father to his children.
He was diagnosed with the disease April 28, 2004. His father, Denny Hague, said that he was in excellent shape. Nothing seemed suspicious at first; where the cancer started was never determined, according to the family.
"He was always very nonjudgmental of other people, very, very kind to other people," Denny said. "We've received several letters since Scott's illness and his passing with folks saying how he had impacted their lives."
Scott worked in the insurance business with Denny. Denny said Scott would always follow-up with his clients; he was genuinely concerned about their well-being and how they were feeling. He was also a man of great faith.
Scott and his three siblings were all raised in Coeur d'Alene. His parents and older brother, Michael Hague, older sister, Melissa Bloom and youner sister, Kristin Gorringe all still live in Coeur d'Alene.
Scott's father went into the Air Force six days after graduating from the University of Idaho, and Scott was just 2 years old when his dad got out of the Air Force and the family moved back to Coeur d'Alene.
Scott went to elementary school at Harding, which is now a family center, Lakes Middle School and Coeur d'Alene High, where he was an all-star football player his senior year. He graduated in 1982.
"Scott turned out for sports when he was a freshman and sophomore but he was so slender and little they really didn't pay any attention to him," Denny said.
He worked out, got himself in shape, turned out as a senior and was a defensive back. He trained for and completed two Coeur d'Alene triathlons. Later in life he coached soccer and junior tackle football. His wife said he was a great role model for kids.
Scott graduated from North Idaho College in 1987 with an associate degree in electronics, but went into banking before settling into insurance. Because Scott was so involved in the community, the NIC Foundation has established the Scott Hague Memorial Scholarship in his honor.
Scott's father has been involved with NIC for 20 years, and has been on the board of trustees for the past three years. The foundation office asked him how he would feel if they established the scholarship in Scott's name.
"I told them I would be absolutely honored, and I know he would," Denny said. "He was very loyal to the college. He was in their booster club and did quite a few things for them." Before he became ill, Scott could be seen at all NIC basketball games.
In addition to the scholarship, the family has established a fund to contribute enhancements to the family area, called the Circle of Life, in the oncology department at Kootenai Medical Center.
The NIC Foundation hopes that community contributions will help the scholarship grow to the endowment level, a minimum of $5,000, so that the scholarship will live in perpetuity.
"Scott had literally hundreds and hundreds of friends," said his sister, Melissa. "He's got a group of friends that he graduated with (from high school), six of them, and they're still all very, very close friends."
His wife said that through his many business contacts and his membership in Leadership Coeur d'Alene, a professional organization, he had met and befriended many people.
As brothers go, Scott was wonderful, according to his sisters.
"He took me right under his wing," Kristin said. She wrote him a letter while he was hospitalized thanking him for teaching her to water-ski, reading to her and showing her the ropes of high school.
"He was an amazing uncle and brother," Melissa said. "We were Air Force brats, a little, growing up, so we learned how to play army."
The family spoke fondly about Scott's passion for cars. His father said Scott was always working on cars with his son, Matt. Scott loved to ride motorcycles, "to the tune of a broken collar bone" his dad said, and he loved to wheel-and-deal cars and boats or anything with wheels.
"It was his hobby. He'd buy a car, fix it up and sell it," Denny said. "He just knew how to do it."
Brandi said Scott was notorious for upkeep of his cars, and that he was adventurous, willing to try anything. The last trip they took together was the best she said. They went to the Sturgis Motorcycle Rally in Sturgis, S.D., in August 2003 on their motorcycle. Scott was so taken with the Harley-Davidsons that were there, that he bought one two days after they returned to Coeur d'Alene. When he got sick, he sold the Harley and bought Brandi a new Volkswagen Beetle convertible.
"He really had his hands in everything," Brandi said. "He wanted to play guitar, so we got a guitar. He was very much spur of the moment. I think that's why our relationship worked so well. I always encouraged him to do it … if you want to do it, do it. I look back on it now, and I'm so glad we did the things that we did."
It was not until after Scott became ill that the family learned how much he really touched the lives of others. While he was in the hospital he shared his faith with other cancer patients who could barely get out of bed.
"He had a strength some people don't have on the best of days, on the worst of days," Melissa said. "His faith was very important to him; it kept him going through this whole thing. It was an inspiration to those people around him and a lot of people turned their lives around because of his faith."
"He challenged us," Kristin said. "When we knew where this disease was headed, how it was going to end, all of us who loved him so dearly were just fighting to find a way to control it. He stayed the course of faith and put it into God's hands. He raised the bar. You would think it would be us ministering to him, but he was ministering to us."
Local journalism is essential.
Give directly to The Spokesman-Review's Northwest Passages community forums series -- which helps to offset the costs of several reporter and editor positions at the newspaper -- by using the easy options below. Gifts processed in this system are not tax deductible, but are predominately used to help meet the local financial requirements needed to receive national matching-grant funds.
Subscribe now to get breaking news alerts in your email inbox
Get breaking news delivered to your inbox as it happens.
---