News > Spokane
Clichés bounce off every wall at Statehouse
Sun., April 3, 2005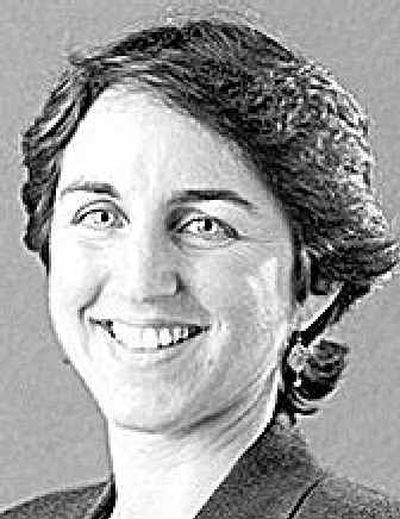 Somehow, when legislators go through long debates in the House and Senate, they tend to come up with the same words over and over – handy legislative clichés, many of which return year after year.
Chief among the clichés this year is that old standby, the "slippery slope." It seems that practically every legislator in both houses has used this one this year. Sen. Skip Brandt, R-Kooskia, gets extra points on this one for declaring that the Nez Perce water rights agreement was not a slippery slope, but a cliff.
"Heartburn" seems to be excessively popular this year, with senators and representatives alike declaring that a bill or a provision "gives me heartburn," which in the Statehouse seems to mean they don't really like it, but they might vote for it anyway. Rep. Dick Harwood, R-St. Maries, once commented on a bill this year, saying only that it gave him heartburn.
"Sideboards" are still popular, meaning limits written into bills, giving us all the picture of legislation as an overflowing dump-truck load that's spilling over the sides, for lack of those sideboards.
Coming in last among this year's most-popular phrases is a legislative classic that lawmakers seem to think is very persuasive and often use in debate: "This is a good bill." Convinced?
An honor, of sorts
The Idaho Senate unanimously adopted a proclamation honoring Bob Fick, the longtime Associated Press correspondent in Boise who covered Idaho government, politics and news for 21 years before leaving this year for a job at the state Department of Commerce and Labor.
Several senators praised Fick's diligent coverage of the Joint Finance-Appropriations Committee, which generally meets daily at 8 a.m. during the legislative session.
Sen. Patti Anne Lodge, R-Huston, said she was used to seeing Fick at the committee. "I thought he was a permanent fixture in that seat in the front row," she said, noting that he often worked crossword puzzles as he monitored the committee action. "Now that Mr. Fick is a state employee, I hope he is not doing those crossword puzzles on state time," she said to laughter.
Sen. Hal Bunderson, R-Meridian, looked up to where Fick was sitting in the gallery, and said, "I now understand, Bob, why you didn't talk about term limits much – that's what happens when you're here a long time."
The proclamation, SP 101, notes that during his two decades covering Idaho news, Fick saw everything from political upsets to disasters to tax increases and cuts, and adds, "Mr. Fick quite sickly thought this was entertaining."
The ties are out
There's a tradition among Statehouse reporters, started by the famed Fick, that when the legislative session has dragged on long enough, reporters start wearing hideously ugly ties, in an effort to prompt lawmakers to wrap it up – so they can stop looking at the unsightly things. The nasty-looking neckwear was out on display last week.
Reporters Corey Taule, of the Idaho Falls Post Register, and Wayne Hoffman, of the Idaho Statesman, are among those who sported '70s-era ties that have been moldering in the Statehouse basement for years. Some legislative pages and at least one legislator also got into the act.
Gates of Heaven
With the turmoil in the state Capitol, one wouldn't expect to hear peaceful sounds, but the House floor Friday morning was filled with beautiful, delicate harp music, thanks to House page Hannah Alexander, of Kuna.
Hannah's harp was set up right in front of the speaker's desk as lawmakers milled around and enjoyed the soothing music. Someone had taped up a handwritten, pink sign over the main entrance to the House chambers saying, "Gates of Heaven."
Local journalism is essential.
Give directly to The Spokesman-Review's Northwest Passages community forums series -- which helps to offset the costs of several reporter and editor positions at the newspaper -- by using the easy options below. Gifts processed in this system are not tax deductible, but are predominately used to help meet the local financial requirements needed to receive national matching-grant funds.
Subscribe now to get breaking news alerts in your email inbox
Get breaking news delivered to your inbox as it happens.
---