Sports
Spokane sports iconoclast Diedrick Sr. passes away
Sun., April 3, 2005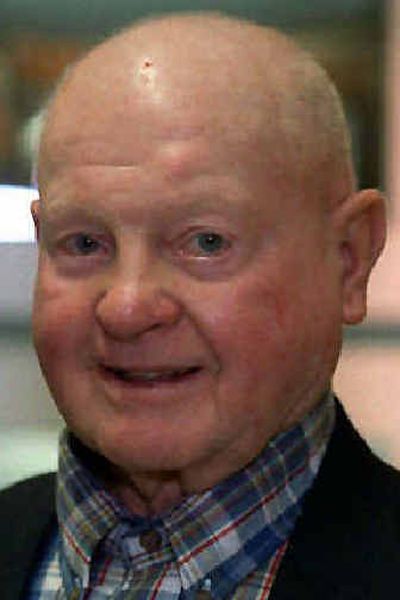 Bill Diedrick, Jr., always knew his father had touched a lot of lives during his long and successful career as a coach and athletic trainer. But it wasn't until William Matthew Diedrick, Sr., passed away early Saturday morning from complications from pneumonia that his oldest son learned the true depth of his father's popularity.
"It amazed me today, just the number of people who called or had come back to see him in the hospital," Bill, Jr., said Saturday evening. "It's been a little overwhelming."
Diedrick, who was hospitalized on Wednesday with respiratory problems, died at the age of 87 and will be remembered as one of Spokane's most well-liked and admired coaching figures.
He was a three-sport star at Rogers High School, where he was a member of the Pirates' first graduating class in 1935, and Eastern Washington State College, where he earned his education degree in 1941. He began his coaching career at Reardan High School in 1947 and moved the following year to North Central High School, where he coached various sports, including football, baseball, wrestling and swimming for the next 25 years.
While on the NC staff, he was approached by Gonzaga University officials about starting up a wrestling program, which he did in 1964. Diedrick served as GU's wrestling coach for the next six years, while continuing his coaching obligations at North Central.
After retiring from NC in 1973, he returned to GU as the Bulldogs' head trainer and equipment manager, a position he held until 1970. Diedrick later served as special teams and kicking coach on the University of Idaho football staff alongside Bill, Jr., the oldest of four children born to him and his wife of 59 years, Lillian, who was at her husband's bedside when he passed away on Saturday.
"Some of my fondest memories of him are from when we both coached together at Idaho from 1986 to '89," recalled Bill, Jr., who was the Vandals' offensive coordinator under Keith Gilbertson at the time and went to coach at Washington State, Washington, Stanford and Notre Dame.
After leaving Idaho, Bill, Jr., said he would often talk to his father on the phone and receive suggestions on certain plays to run.
"There were always a number of his plays we would work into our openers at the start of a game," he explained. "If he saw the game on TV, he could usually pick them out. It was nice, because they were always kind of within what we wanted to do anyway. And if they didn't work, it gave me a chance to critique him a little."
Diedrick was elected to the Washington State Football Coaches' Hall of Fame in 1979 and was honored with a Bulldogs Club Service Award by Gonzaga University in 1990.
Steve Hertz, who played and coached baseball at GU, first met Diedrick shortly after he had become the Bulldogs' athletic trainer.
"It just seems like we've been buddies forever," he said. "He was kind of like my dad here at Gonzaga, and there are a lot of people who could say the same thing about him. I can't tell you how many people, when you mention him, say, 'Well I was all but raised by Bill and Lillian, too.' He was an icon."
Former NC football coach Art Bauer, who had Diedrick on his Indians staff for several years, recalled him as a "great motivator, who just loved being around kids and other coaches."
"Some people thought he coached every sport," Bauer added, "because he was more or less the school's trainer, and he taped everyone. It seemed like he was always there. I don't think he ever went home."
Diedrick, who was born in Sandpoint in 1917, had been a Spokane resident since he was seven. Along with his wife and oldest son, he is survived by his daughters Andy Hansen and Carol Magnuson. His youngest son, Chuck, died from a ruptured brain aneurisms four years ago at the age of 46.
Diedrick, who suffered from diabetes and had his left leg partially amputated last summer because of complications with the disease, had been in failing health in recent years, but, according to family members and friends, remained mentally sharp right up until his passing.
According to Bill, Jr., his father was presented with a plaque in his hospital room on Friday for having spent 60 years in the American Legion.
"The gentleman who brought the plaque looked at the name on it and asked Dad if he had any relatives that had coached in Reardan. Dad told him he had been his coach (back in 1947) and even remembered his name."
Rosary services will be held for Diedrick Tuesday night at 7 at Hennessey Smith Funeral Home, 2203 No. Division. Funeral services will take place Wednesday morning at 10 at St. Aloysius Church, 330 E. Boone.
Local journalism is essential.
Give directly to The Spokesman-Review's Northwest Passages community forums series -- which helps to offset the costs of several reporter and editor positions at the newspaper -- by using the easy options below. Gifts processed in this system are not tax deductible, but are predominately used to help meet the local financial requirements needed to receive national matching-grant funds.
Subscribe to the sports newsletter
Get the day's top sports headlines and breaking news delivered to your inbox by subscribing here.
---