News > Spokane
Amtrak train derails in Columbia Gorge
Mon., April 4, 2005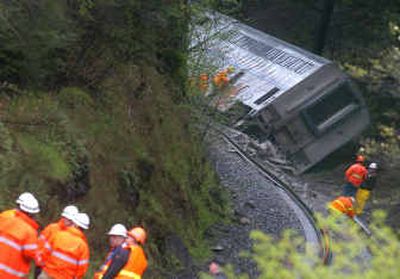 An Amtrak passenger-train derailment Sunday morning in the Columbia River Gorge injured several passengers and cut train service between Spokane and Portland for the foreseeable future.
The derailment stranded 115 Portland-bound passengers in White Salmon, Wash., the train's last Washington stop before reaching Portland some 65 miles farther west.
At least 26 riders were taken to local hospitals. Most were treated and released, but a pregnant woman in her second trimester was hospitalized in Hood River, Ore., after complaining of abdominal pains.
Bruises and scrapes were the most common injuries and several passengers were treated onsite instead of at emergency rooms.
One passenger with undisclosed injuries was airlifted to a Portland hospital. Local car traffic was rerouted for four hours while emergency crews raced to and from the accident.
The Amtrak locomotive and four passenger cars left the tracks around 9:30 a.m., roughly 20 minutes after stopping at the Bingen-White Salmon rail station and nearly six hours after leaving Spokane.
The seven-plus hour train ride from Spokane to Portland, the last stretch of a trans-America run known as the "Empire Builder" beginning in Chicago, will be replaced by a long bus ride until the investigators and track repair crews reopen the line.
"We're most likely going to be busing passengers between Portland and Spokane," said Marcia Golgoski, Amtrak spokeswoman. "The passengers who were traveling today have received bus transportation to Portland."
School buses were deployed Sunday so passengers could complete their journey. The next round of passengers affected was Portland-bound from Spokane at 2:45 a.m. today. Rail service is expected to resume Tuesday.
The track's owner, BNSF Railway Co., quickly dispatched crews to the derailment, intending to clear the wreckage by nightfall, said Gus Melonas, BNSF spokesman.
The locomotive and derailed cars came to rest at a sharp angle against an earthen wall beside the track.
"We're making progress," Melonas said.
"We brought in cranes, bulldozers with booms to move the cars. We expect to have it open sometime Monday."
Melonas said the stretch of track where the derailment happened is on relatively flat ground and leads into a curve. He wouldn't speculate whether the train was traveling too fast to make the corner, but described the condition of the track as safe and well used.
It was rare for Amtrak to have problems with the section where the accident took place, Melonas said. Likewise, BNSF sends more than 40 trains through the area daily without incident.
Until the track is repaired, BNSF will reroute its freight through Stampede Pass near Pasco and Stevens Pass between Wenatchee and Seattle.
BNSF freight shipments might be late as a result of the derailment, Melonas said, but they will arrive.
At least seven freight trains were affected.
When the track reopens however, depends on National Transportation and Safety Board investigators, who have control of the scene at least until they're confident an answer for the derailment can be found.
NTSB investigations can take months, though tracks typically close for only a short time so onsite evidence can be gathered.
The NTSB did not respond to interview requests Sunday.
The Empire Builder train that derailed Sunday left Chicago April 1 with passengers bound for Portland and Seattle, Golgoski said.
In Spokane, the Builder's journey forks and some of the cars are routed to Seattle, some to Portland.
Seattle-bound passengers will not be affected by the derailment, Golgoski said, but riders between Portland and Spokane will likely be bused at least through today.
Amtrak planned to contact affected passengers individually to schedule bus rides. Passengers not contacted were advised to call Amtrak at (800) USA-RAIL.
Local journalism is essential.
Give directly to The Spokesman-Review's Northwest Passages community forums series -- which helps to offset the costs of several reporter and editor positions at the newspaper -- by using the easy options below. Gifts processed in this system are not tax deductible, but are predominately used to help meet the local financial requirements needed to receive national matching-grant funds.
Subscribe now to get breaking news alerts in your email inbox
Get breaking news delivered to your inbox as it happens.
---