Sports
Doba encourages both QB candidates
Wed., April 6, 2005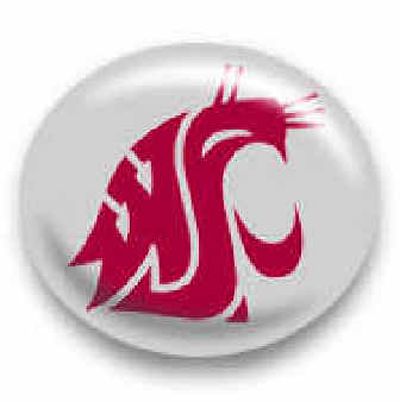 PULLMAN — The position still belongs to Josh Swogger, and it will when the Cougars check out of spring ball after next week and even when they check back in for fall camp in August.
But head coach Bill Doba said Tuesday he's not willing to make a decision on whether Swogger will remain his starting quarterback or Alex Brink will take over the job. He even joked that the final call could run all the way up to Washington State University's first game on Sept. 1 against Idaho.
"Probably, yes, when we can get both guys with people coming at them," Doba said when asked if the decision would be made in fall camp. "I mean, the first snap of the fall is going to be Josh Swogger. He's the guy that was the starter, earned the spot before he was injured. He earned the spot and is going to get snaps and we'll go from there.
"Alex improved just the last five weeks of the season. You could see improvement there and you can see continued improvement during the spring. I don't know what else I can say. We'll probably pick it out right before we play."
Swogger, who will be a junior in the 2005 season, began last season as the starter and Brink took the reins for the last five games after Swogger went down with a broken foot. Swogger remains sidelined in contact drills, and it is because of that more than any other factor that Doba is waiting to make a choice.
With Swogger out for scrimmages and 11-on-11 drills at the end of practices, Brink has been running the first-team offense and appears not only more relaxed but also far more assertive compared to the sometimes timid demeanor he exhibited as a freshman in 2004.
"I didn't have that mentality in the fall that I wanted to take it," Brink said. "That's something that I really have to show this spring, that I do want to take it and I do want to be the guy.
"I am technically the underdog so I have to have that bravado, be around and act like the guy. Show that I can play at this level."
Both Doba and quarterbacks coach Timm Rosenbach said it's difficult to read how well Swogger is performing without the pressure of a defense up against him. Swogger does participate in 9-on-7 rushing drills and skeleton work with no front seven on defense.
"I think he looks good," Doba said. "His arm is strong. He's delivering the ball on time a little bit better. I think if he had a fault last year it was just a little late in his delivery and wasn't getting the ball there, wasn't throwing it when the cut was made. This year, he's getting better at that."
But without the extra evidence to be certain, it appears that WSU feels safer waiting for now and making a call in the fall.
"What (Josh) is doing is limited, so you take what he does and just try to look for improvement in that area," Rosenbach said. "You have to look at what's there and go off of that."
Notes
Cougars coach Bill Doba said the team would vote on captains today, but added that the results may not be released right away. Last season, Josh Swogger was elected a captain on offense and Will Derting is a returning captain on defense as well. … Riley Fitt-Chappell, a long snapper and a guard in the mix for playing time, has a left arch sprain and is out for 1-2 weeks. … Freshman cornerback Ian Bell, who has shown promise but has dealt with a growing list of injuries, is out for the week with a left ankle sprain. … Wide receiver Marty Martin (quadriceps) and fullback Brandon Asuega-Stark (ankle) both returned to practice. … Reserve defensive lineman Jon Conlin sustained a small fracture in his left shoulder and will miss the rest of the spring. Reserve offensive lineman Robbie Hyslop is also out for the rest of spring practices with a bulging disc in his neck. Reserve receiver Blake Ferguson is also out for the spring with an ankle injury. … Freshman defensive end Jason Roberts participated in his first practice of the spring after recovering from a hamstring injury.
Local journalism is essential.
Give directly to The Spokesman-Review's Northwest Passages community forums series -- which helps to offset the costs of several reporter and editor positions at the newspaper -- by using the easy options below. Gifts processed in this system are not tax deductible, but are predominately used to help meet the local financial requirements needed to receive national matching-grant funds.
Subscribe to the sports newsletter
Get the day's top sports headlines and breaking news delivered to your inbox by subscribing here.
---