News > Spokane
Feds look into claim of race bias
Fri., April 8, 2005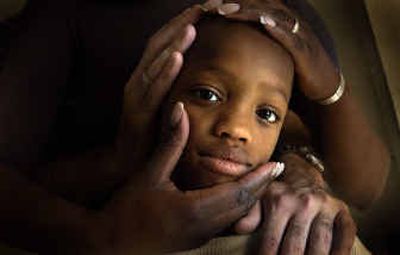 Kitara McClure, a former U.S. Army sergeant who's now a college student in Spokane, has sparked a federal investigation into her claims of race discrimination and retaliation by the Davenport School District against her 10-year-old son.
It's the second race discrimination complaint to be investigated in the region this year by the U.S. Department of Education's Office of Civil Rights.
McClure, 26, says her son Terrence McKinney was called racial slurs by other students in September and February and the district did not adequately address the matter. McClure and her son are African American. She said the district's response was an offer for her son to give cultural presentations to other classes. She declined.
"Why does integration fall on the shoulders of a 10-year-old?" McClure said.
After she had contacted the school with her concerns, McClure said her son started receiving swift discipline from officials who didn't verify claims of her son's actions before he was punished. She said the district is increasingly finding her son at fault for misconduct, although his teacher had earlier described him as a model student.
McClure also claims the district failed to investigate a Feb. 18 death threat made by a student on a school bus who said he'd like to cut off her son's head, according to the investigator's letter.
The Lincoln County Sheriff's Office investigated after McClure reported the incident. A deputy referred the case to the Davenport Grade School, according to a Sheriff's Office report supplied by McClure.
Davenport's superintendent, Gary Greene, said his district will fully cooperate with the federal investigation.
"I think we attempted to address these issues as they came up. It was a frustration that we got to this point," Greene said. "Our goal is to provide every documentation that (the Office of Civil Rights) is looking for. I feel comfortable that we've done what we're supposed to do."
He said he didn't think it would be appropriate to comment on details of the case.
The case is the second civil rights investigation opened in the region this year by the Education Department's civil rights office. In Washington state, about 39 percent of all complaints made became full-fledged investigations from Oct. 1, 2002, to April 7. During that time, 174 out of 445 state complaints regarding students were investigated.
During the same time, 14 complaints were made by Spokane residents. Five have been closed, and eight are being evaluated. Still under investigation are allegations against Spokane Public Schools that an African American girl was repeatedly called racial slurs by a special-education student and that officials at Sacajawea told the parents nothing could be done to stop the insults.
McClure, who's from Chicago, moved to Davenport in the fall with her four children and husband, Ross McClure, a veteran of the Iraq war. The inexpensive housing made her husband's hometown a perfect choice at the time, McClure said. She has considered moving, but the additional support of having her husband's family kept them in the Lincoln County town of about 1,700.
Now, she said, the conflict has her wondering what to do next.
"I've met with the principal and the superintendent, and nothing has changed," McClure said.
McClure said Terrence is beginning to chew on the skin on his hands because of the pressure and pain he feels from school. He's seeing a counselor to help him cope with the stress.
Greene said he's committed to keeping his school district a place that's accepting of diverse cultures.
"I have three grandkids in the (Davenport) school system. They're interracial kids," Greene said. "There's no reason in the world I would let this happen in the school system."
Local journalism is essential.
Give directly to The Spokesman-Review's Northwest Passages community forums series -- which helps to offset the costs of several reporter and editor positions at the newspaper -- by using the easy options below. Gifts processed in this system are not tax deductible, but are predominately used to help meet the local financial requirements needed to receive national matching-grant funds.
Subscribe now to get breaking news alerts in your email inbox
Get breaking news delivered to your inbox as it happens.
---