A&E > Entertainment
PlayStation gets a break in lawsuit over vibrations
Fri., April 8, 2005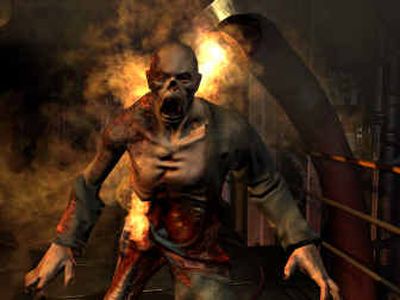 Could the PlayStation consoles be banned from U.S. stores?
There was a close call last week. A federal court in Oakland, Calif., ordered Sony Computer Entertainment to stop selling the PlayStation and PlayStation 2 and 47 Sony games because they violate a patent for touch feedback – that is, the technology that makes game controllers vibrate so players feel the action on screen.
But U.S. District Judge Claudia Wilken granted Sony an immediate stay of the order, pending the company's expected appeal.
Wilken also ordered Sony to pay $90.7 million to Immersion Corp., holder of the patent for force- feedback technology. Immersion sued Sony and Microsoft a few years back for patent violation, eventually leading to Microsoft licensing its technology in 2003.
Sony opted to continue fighting the battle in court. So far, it's losing.
Phones will be 'doomed'
John Carmack, one of the fathers of the ultra-popular series of "Doom" shoot-'em-ups, announced last week that he's working on a role-playing game set in the "Doom" universe. The twist? It's going to be designed for mobile phones.
Surveys show that almost half of those who game also play on their phones, so A-list developers are thinking about getting into the small-screen business.
So far, most of the big names on mobile phones have been licenses, where the company that made the original hit gives the rights to a mobile game company to create a version for phones. Typically, the quality has been enough to keep you entertained for a few minutes.
The growing number of first-rate publishers who have expressed an interest in designing directly for phones gives us some hope that terrific, best-selling titles might get better treatment.
Senator wants to study games
Sen. Hillary Clinton said last week she will ask Congress to start a $90 million investigation into the effects of video games on children. She pointed to the "Grand Theft Auto" series as an example of games that pose what she called a "major threat" to moral health. The study would focus on how video games affect critical thinking and social and emotional development in kids.
If the results are negative, expect another push by Congress to legislate the ratings on games or enforce age rules for retailers. Both types of laws have been struck down by courts in the past.
New maps for 'Halo 2'
"Halo 2" players can get nine new maps for multiplayer fights and two new videos starting June 28, Microsoft says. The expected street price is $19.99, but two of the maps will be available for free, thanks to a Mountain Dew promotion.
Xbox Live users can test four of the maps this month.
New dungeon for 'Warcraft'
"World of Warcraft" released a patch for its online world customers recently with a new dungeon, two new monsters designed for 40-player raids and refinements to one of the geographic zones that was previously unfinished. The expansion included Dire Maul, a dungeon filled with walking trees, surly ogres and some fairly vicious undead and elemental opponents.
Recent rumors that an expansion pack will open up a third faction (right now players choose between Alliance and Horde races) are incorrect, representatives for the game say. But Blizzard has said repeatedly to expect expansion packs of some sort, and the speculation is now that details will be discussed at May's Electronic Entertainment Expo.
Local journalism is essential.
Give directly to The Spokesman-Review's Northwest Passages community forums series -- which helps to offset the costs of several reporter and editor positions at the newspaper -- by using the easy options below. Gifts processed in this system are not tax deductible, but are predominately used to help meet the local financial requirements needed to receive national matching-grant funds.
Subscribe to the Spokane7 email newsletter
Get the day's top entertainment headlines delivered to your inbox every morning.
---