News > Idaho
Trevino, logs helped inspire floating green
Mon., April 11, 2005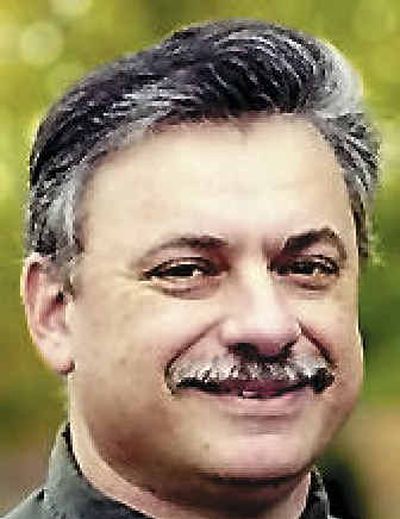 The numbers 18, 104, 15,000 and 14 are magical to Oregonian sports scribe Bob Robinson – 18 holes in one, 104 concrete blocks that serve as pontoons, 15,000 square feet of surface, and hole No. 14. In a column Wednesday, Robinson makes no excuses for being smitten by the source of those numbers: the floating green on Duane Hagadone's 6,757-yard Coeur d'Alene Resort Golf Course. Quoth: "You've read about it and you've seen pictures, but none of that prepares you for seeing the famed floating green in person for the first time." Then, he wrote something I didn't know about the green. A day after seeing Lee Trevino score a hole-in-one on the island green of the PGA West Stadium Course in La Quinta, Calif., Hagadone was sitting on a stump at the future golf course site watching a tugboat pull a round boom of logs when the idea hit him for the floating green. And the rest is local history. The only things I get from sitting on stumps are splinters.
Bustin' buttons
Bob Hamilton, retired J-school instructor from Sandpoint High, gets a chill up his spine when he realizes a former student, Cindy Wooden of the Catholic News Service, has been covering the biggest news story in the world this month – Pope John Paul II's death and succession. Did Bob ever think something like this would happen? No way. "My dreams back then rarely imagined anything further down the line than, 'Are these idiot children going to make deadline or not?' It never occurred to me at the time that any of my students might have any further association with newspapers than perhaps thumbing through one now and then." Bob begat Marianne Love, another Sandpoint High J-instructor extraordinaire, and Marianne begat Erin Daniels, the current adviser of the award-winning Cedar Post – and Bob's granddaughter.
Poet's corner
"Buds ablooming,/Birds asinging,/Lord almighty/Spring's aspringing" – The Bard of Sherman Avenue ("April") … "Property tax relief was the plea/From Post Falls to Bonners Ferry/But lawmakers said/ "Let's help Micron instead/And then form another committee" – Betsy Russell/Eye on Boise ("The Year of Corporate Tax Incentives") … While watching a program about dinosaurs, Phil Corless' son learned about carnivores, herbivores and omnivores – and then declared himself a candyvore. If that doesn't make you go, "aw," a coupla days later Phil's little daughter asked for some "Cop porn."
Huckleberries
Separated at birth? Wacky Colorado prof Ward Churchill and (drum roll, puh-LEEZ) – Penny Marshall? Would you believe Lurch from the Addams Family? Or a '60s version of Gloria Steinem? Or the current Ozzy Osbourne? The Huckleberries Online gang had too much fun with this one last week … HBOnline question: "Why do all the photographs of criminals being arrested show the bad guys with their shirts off?" Answer, from Kootenai County Undersheriff Gary Cuff: "CS gas makes you want to disrobe." Moral of the story: Don't do anything that makes you a target for CS gas, also known as tear gas … Bumpersnicker spotted by John Livingstone: "Trucks are like wives: If it ain't yours, don't touch" … "Spend your prom promenading, not procreating" – Sandpoint High senior Rebecca Fritz in the Cedar Post, discussing sex and high school proms.
Parting shot
In the old days, the Brooklyn Dodgers regularly lamented in the fall: Wait'll next year. Well, according to ESPN.com's Andy Katz, Zag fans can say the same, too. Already, he has 'em picked for No. 6 in the nation. Quoth: "Gonzaga coach Mark Few said this could be his best team since he has been head coach. We know what you're thinking: We've heard this before. Well, did you watch Adam Morrison lately? He's a lottery pick, and with three other starters returning, including J.P. Batista, a top-six ranking is warranted." Feel better about that Texas Tech game?
Local journalism is essential.
Give directly to The Spokesman-Review's Northwest Passages community forums series -- which helps to offset the costs of several reporter and editor positions at the newspaper -- by using the easy options below. Gifts processed in this system are not tax deductible, but are predominately used to help meet the local financial requirements needed to receive national matching-grant funds.
Subscribe now to get breaking news alerts in your email inbox
Get breaking news delivered to your inbox as it happens.
---