News > Spokane
Canadian makes race an annual tradition
Tue., April 12, 2005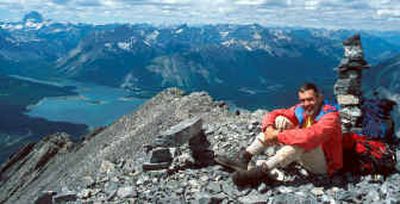 Jaroslav "Jerry" Skvaril remembers first hearing about it on the television news in his home in Elkford, British Columbia. Back then, he was better-connected to the Spokane media than to the Canadian channels.
The year was 1977, and Olympic marathoner Don Kardong was organizing a running event. Along with Kardong, who took fourth place in the 1976 Olympic marathon, runner Frank Shorter, who won the gold that year, would be on hand.
Skvaril, a surveyor, was always athletic but not an avid runner. Still, he decided to participate in the first running of Bloomsday in the hope of getting the Olympians' autographs so he could send them to his brother in Slovakia.
Skvaril, 61, hasn't stopped running Bloomsday since.
"All my friends know where to find me the first weekend in May," he said, his words coated in a warm Eastern European accent.
While many Inland Northwesterners hem and haw each year over whether they should participate in Bloomsday, Skvaril is one of 124 men and women – the so-called "perennials" – who have run it annually without interruption. Skvaril, who lives in Calgary now, travels the farthest among them, said Kardong, who serves as race director. The effort it takes for runners to take part each year isn't lost on Kardong, who is a perennial himself.
"You have to be healthy enough to do it, and we all run into problems that make it difficult," he said. "Then you have to watch your schedule. … Then, for somebody like (Skvaril), that lives a ways away, there's an expense as well."
Skvaril remembers his best time, 46 minutes 40 seconds in 1987, but one of his worst performances, 66 minutes, was during that first Bloomsday, a race for which he thought he'd prepared.
The run was to be eight miles long, so Skvaril tracked an eight-mile route in his car in Elkford and began training.
"I said, 'Oh, yes. I can do it,' " he said. "But I made a mistake. I measured seven miles."
Skvaril realized his error the hard way on race day.
Since the first running, Bloomsday has been trimmed back to 12 kilometers, or 7.46 miles.
Despite what he felt was a poor showing, Skvaril became hooked on running after the 1977 event. Bloomsday inspired him to take the sport seriously, and he went on to compete in several other races, including the 100th anniversary of the Boston Marathon in 1996.
"Bloomsday made me a runner," Skvaril said. "Before that I did things to keep me in shape, but I was aging and deteriorating. Bloomsday was an inspiration."
Not even colon cancer has deterred Skvaril. Although he underwent surgery to treat the disease in November 1999, followed by chemotherapy, Skvaril has a photo of himself crossing the Bloomsday finish line in 2000, his head high and his shoulders back.
Kardong said it's unusual for a run as old as Bloomsday to have so many perennials. For instance, the Peachtree Road Race in Atlanta, which draws a slightly larger crowd than Bloomsday, only has one participant who has run each race since it began in 1970, Kardong said.
Bloomsday's first-year turnout –1,198 people – gets some credit for creating a large enough group from which to draw, he said.
"The other events that are almost 30 years old typically started with 100 or 200 (runners)," Kardong said. "We were big out of the chute."
Some of the Bloomsday perennials were in junior high school when they first ran it, so Kardong predicts they'll be "the contenders who keep the streak alive" in the future.
Two knee operations are causing Kardong to jog with a limp right now, but he doesn't plan to eliminate himself from the perennial pool yet.
Neither does Skvaril. Out of respect for the race, he said, Bloomsday will be the last run he completes once his body tells him it's time to quit.
Until then, Skvaril will train for the event and prepare his car for the eight-hour drive to the starting line.
Local journalism is essential.
Give directly to The Spokesman-Review's Northwest Passages community forums series -- which helps to offset the costs of several reporter and editor positions at the newspaper -- by using the easy options below. Gifts processed in this system are not tax deductible, but are predominately used to help meet the local financial requirements needed to receive national matching-grant funds.
Subscribe now to get breaking news alerts in your email inbox
Get breaking news delivered to your inbox as it happens.
---