News > Spokane
CV schools to add more space
Tue., April 12, 2005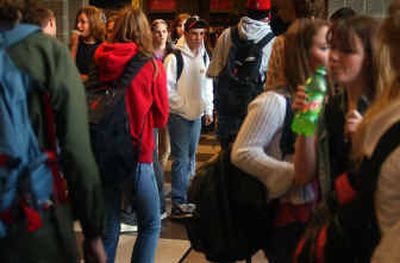 Several Central Valley schools will get additional space next year.
The district's board of directors voted Monday to place portable classrooms at University High School and at two elementary schools, instead of busing some elementary students away out of their neighborhoods and placing some U-Hi students in empty space at another elementary.
In addition, two permanent classrooms will be built on to Broadway Elementary School, to the tune of $444,600.
The decision was not without contention and emotion, with parents from several Central Valley schools packed the cafeteria at Evergreen Middle School for Monday night's meeting. Twice the crowd – which got its way, in the end – was asked to control its applause and outbursts.
"This is a business meeting," board president Ann Long said. "I would ask that you conduct yourselves accordingly."
Over the past several months the district has been considering a facilities concept, which includes building two new schools, updating and remodeling six others, and transitioning some schools with low enrollment numbers for other uses.
In November, the board voted to take that concept, first introduced in October, out to the community for comments before making a decision. A nine-member committee was put in charge of gathering input, and presented the community's comments to the board two weeks ago.
The board then decided to address the most immediate issues first. Those issues centered primarily on enrollment in schools in the eastern part of the district.
Liberty Lake Elementary School, which will get one of the portables, is expected to have nearly 800 students in the fall, 200 more than capacity. Greenacres Elementary, which also gets a portable classroom, will also be over-capacity, with more than 675 students.
In the western part of the district, U-Hi, which opened in 2002, exceeds its 1,800 capacity. Broadway would be over-capacity next year without the addition.
At U-Hi, district officials originally recommended that the district use empty space at nearby Chester Elementary School to temporarily house overflow from U-Hi, and that students from Greenacres and Liberty Lake be bused to schools with open classroom space.
Parents in the Chester community voiced concern over having their young children mixed with high-schoolers, and started a petition against that proposal.
"I think it creates a teaching and learning problem," said Marilyn Keller, co-president of the Chester Parent Teacher Association.
On Monday, Superintendent Mike Pearson recommended against housing the high school students at Chester. That recommendation was partly based on several messages he received from individuals in the Chester community, threatening to "monitor" the high school students closely if they were placed at the school and "bring legal action against them," should they act inappropriately.
"I find it deplorable that there are adults in this community that would treat our high school students that way," board member Cindy McMullen said. "It is just outrageous to me."
New board member Tom Dingus, who has a child at Chester, said he didn't think the message was representative of all the Chester parents.
"I don't like that being the official reason," for not putting the high school students there, Dingus said.
Liberty Lake parents vehemently opposed busing students away from their communities until a new school could be built.
McMullen was the only dissenting vote to placing portables at the three schools. She recommended closing the Summit school, a choice program for students in grades K-8 in the old Blake Elementary, and sending students who would go to the new elementary school there until a new school is built. The state would pay a portion of the cost of busing students away from their neighborhood schools.
"I just can't support this," McMullen said of portables. "I think we already have empty classroom space that we could be using."
Central Valley already owns three dry portable classrooms – those without plumbing or water – that house two classrooms each. It will cost the district about $30,000 to $33,000 to relocate each to the school where it's needed.
New portables cost between $80,000 and $100,000, including installation, Pearson said.
Costs for the construction of the new classrooms at Broadway will come out the capital fund. Construction could begin in May or June, and won't be complete until after the start of school year, likely in October, Pearson said.
Local journalism is essential.
Give directly to The Spokesman-Review's Northwest Passages community forums series -- which helps to offset the costs of several reporter and editor positions at the newspaper -- by using the easy options below. Gifts processed in this system are not tax deductible, but are predominately used to help meet the local financial requirements needed to receive national matching-grant funds.
Subscribe now to get breaking news alerts in your email inbox
Get breaking news delivered to your inbox as it happens.
---