News > Nation/World
Rumsfeld to visit Iraqi leaders
Tue., April 12, 2005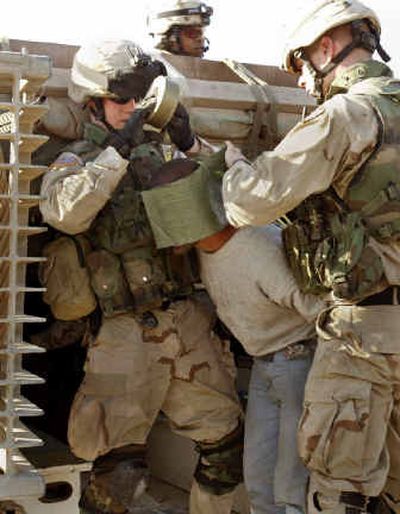 BAGHDAD, Iraq – A U.S. contractor was kidnapped Monday in the Baghdad area, the latest in a string of abductions that have forced many foreigners to work here under armed guard.
A pickup truck also exploded near a U.S. convoy as it patrolled a crowded market in the troubled city of Samarra, killing at least three people and injuring more than 20 others.
Three suicide bombers also hit a Marine outpost in western Iraq, wounding three Marines and three civilians in an attack claimed by Iraq's most-feared terror groups.
A U.S. Embassy spokesman said the American contractor, who was working on a reconstruction project, had been abducted around noon. He refused to release an identity or other details but said the contractor's family had been informed.
Defense Secretary Donald Rumsfeld arrived in the Iraqi capital before sunrise today aboard an Air Force C-17 cargo plane for his second visit in three months. The visit reflects a desire to push the political and military momentum that he believes has been growing since the Jan. 30 elections for a National Assembly.
Rumsfeld was to meet later today with interim President Jalal Talabani, the Kurdish former rebel leader, and Ibrahim al-Jaafari, the Shiite Muslim who was designated interim prime minister last week.
Once al-Jaafari has chosen his Cabinet ministers and they are approved by the National Assembly, he and Talabani are to lead Iraq's transition to a constitutionally elected government by December.
En route from Washington, Rumsfeld told reporters he will press the new Iraqi leadership to avoid delays on both the political and security fronts at a time when U.S. troops still are being killed or wounded and billions of U.S. taxpayer dollars are being invested in rebuilding the country.
"It's important that the new government be attentive to the competence of the people in the ministries and that they avoid unnecessary turbulence," Rumsfeld said.
In Samarra, a troubled city 60 miles north of Baghdad, a pickup truck blew up near a U.S. patrol, killing three civilians and wounding more than 20 others, including four U.S. soldiers, officials said. One soldier was evacuated for medical treatment, and the others were treated and returned to duty, the U.S. military said.
Loudspeakers urged residents to donate blood as the wounded poured into the hospital. Most of the injured were women and children, hospital official Abdul Nasir Hamid said. The incident was in the Sunni Triangle, a stronghold of the insurgency.
Early Monday, suicide bombers tried to crash two cars and a fire truck into Camp Gannon in the western desert, but "the drivers of the vehicles were stopped short of the camp by forces manning the checkpoints," a U.S. military statement said.
The vehicles exploded, wounding three Marines and three civilians and causing slight damage to the concrete barriers and a nearby mosque, U.S. officials said.
Insurgents also fired at the camp, which is in the town of Qaim near the Syrian border, and a U.S. attack helicopter destroyed a car carrying a gunman, officials said. It was unclear how many insurgents and suicide bombers were killed in the assault.
The attacks came nine days after dozens of heavily armed insurgents tried unsuccessfully to break into Abu Ghraib prison outside Baghdad. That battle wounded more than 40 U.S. soldiers and a dozen prisoners at a facility synonymous with the U.S. military's prison abuse scandal.
Al Qaeda in Iraq, which previously said 10 of its fighters were killed attacking Abu Ghraib, also claimed to have carried out Monday's suicide bombing in Qaim.
In Baghdad, about 500 members of Iraq's police and army swept through buildings in the central Rashid neighborhood along with some 200 American soldiers, Lt. Col. Clifford Kent of the U.S. Army's 3rd Infantry Division said. He said 65 suspected militants were detained.
Local journalism is essential.
Give directly to The Spokesman-Review's Northwest Passages community forums series -- which helps to offset the costs of several reporter and editor positions at the newspaper -- by using the easy options below. Gifts processed in this system are not tax deductible, but are predominately used to help meet the local financial requirements needed to receive national matching-grant funds.
Subscribe now to get breaking news alerts in your email inbox
Get breaking news delivered to your inbox as it happens.
---