News > Nation/World
Sudan needs food, Annan tells conference
Tue., April 12, 2005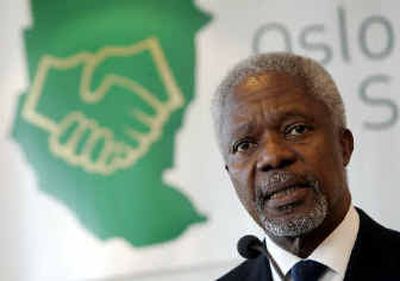 OSLO, Norway – U.N. Secretary-General Kofi Annan told a 60-nation donors conference Monday that cash is needed immediately to help Sudan recover from Africa's longest civil war.
Annan said $1 billion is needed just for the rest of this year, and "in the south, we will run out of food for 2 million people in a matter of weeks."
"If there was ever a time for donor countries to get off the fence, it is now," he said. "Pledges are good. Cash is better," he said.
A January peace agreement ended a separate conflict, the 21-year civil war in southern Sudan, opening the way for the country to receive badly needed funding for reconstruction.
Annan said $2.6 billion was needed over the next 2 1/2 years.
John Garang, a former rebel leader and now a first vice president in the transitional government, told delegates that "in southern Sudan we literally have to start from scratch."
Garang said they need roads, power, infrastructure for government, business development and basic essentials.
In the north-south war, Islamic-dominated Khartoum fought rebels seeking greater autonomy and a greater share of the country's wealth for the Christian and animist south. The conflict is blamed for more than 2 million deaths, primarily from war-induced famine and disease.
The conference has drawn representatives of the United States and Canada, as well as many European, Asian, African and Arab countries, plus the European Union, the World Bank and other organizations.
Annan also urged Sudan's government to take action in the separate conflict in its western Darfur region, namely to curb pro-government militia forces known as the Janjaweed.
Darfur has been torn by conflict since early 2003, when rebels of ethnic African tribes took up arms, complaining of discrimination by the Arab-dominated government in Khartoum. The pro-government Arab militia then launched its counterinsurgency.
The United Nations said the conflict has claimed 70,000 lives since March – mostly from disease and hunger – while 2 million people have been displaced.
Local journalism is essential.
Give directly to The Spokesman-Review's Northwest Passages community forums series -- which helps to offset the costs of several reporter and editor positions at the newspaper -- by using the easy options below. Gifts processed in this system are not tax deductible, but are predominately used to help meet the local financial requirements needed to receive national matching-grant funds.
Subscribe now to get breaking news alerts in your email inbox
Get breaking news delivered to your inbox as it happens.
---