News > Business
Vein of discontent
Tue., April 12, 2005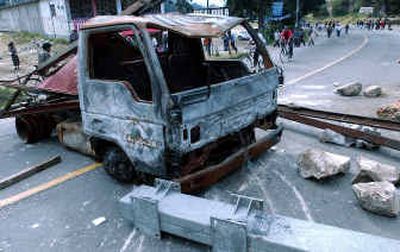 MEXICO CITY — A surge in world gold prices is attracting U.S. and Canadian companies eager for another crack at the Latin American lodes that once enriched the Old World. But their modern-day methods — strip mines and cyanide-based refining — are meeting fierce resistance.
"The indiscriminate exploitation of our mines and forests with no ethical commitment is placing at risk the very purpose of creation — human life and future generations," Cardinal Oscar Andres Rodriguez, Roman Catholic Archbishop of Tegucigalpa, Honduras, warned last month.
The battle has mobilized Indian groups, environmentalists, farmers and religious leaders, and sometimes has turned violent.
In January protesters fired shots, threw stones and put up barriers of burning tires to stop a truck bringing equipment to the Marlin strip mine, owned by Glamis Gold of California, in the western Guatemala town of Solola.
Police shot one man to death and seriously wounded about 16 others in breaking through the roadblocks. The government said it had to honor the mining concession, or risk a huge lawsuit by the company.
The attraction in Latin America is industry-friendly laws, says Mike Steeves, Glamis' vice president for investor relations — tax holidays and other incentives that amount to "a systematic decision to reform mining laws to encourage investment."
While Glamis is winding down its gold mine in California, where "it's hard to open any business, and mining is certainly included in that," it is operating or opening mines in Mexico and Guatemala, Steeves said.
Payat Sampal, of the anti-mining group Earthworks, says the new mines employ relatively few people and "generate large amounts of waste proportionate to metal created."
"The scale of these mines and the fact they're all above ground is unprecedented" in the region, Sampal added.
Foreign mining companies have been moving into Latin America since the 1990s and the recent surge in gold prices to more than $430 an ounce has sharpened their appetite.
But the Latin American colonies that flooded Europe with silver and gold from 1520 to 1820 dug tunnels that didn't alter the landscape as much as strip mines.
Nor did they use "heap leach" refining, which involves pouring a cyanide-laced solution over heaps of ore in containment ponds. Colonial mercury-based techniques left their own pollution problem, but mercury is more stable and tends to scare people less than cyanide.
Also, hills and mountains hold religious significance for some Andean societies.
"The open-pit mines damage nature and they pollute the groundwater," said Esteban Toc, mayor of Solola where the violence erupted in January. "Most of the people here are Mayas, who view nature as Mother Earth, and they don't want to destroy it."
Glamis still plans to start the Marlin mine this year, but Toc said the Guatemalan government has promised to grant no more mining concessions.
"If they try to start up other mine sites, there will be another confrontation," Toc vowed.
In November, a protester was killed in an attack on the La Zanja mining exploration site in the highlands of northern Peru; days earlier, the U.S.-based Newmont Mining Corp., which part-owns La Zanja, closed another exploration site near the Peruvian city of Cajamarca after protesters blocked roads.
It was the first time Newmont had closed a mine under pressure.
"We did not fully appreciate the level of concern in the community and given those concerns, we decided it (the mine) was not appropriate," said Newmont spokesman Doug Hock.
It was the latest in a string of victories for mine opponents.
In December, Costa Rica's highest court annulled a gold-mining concession held by a subsidiary of Canada's Vannessa Ventures Ltd., saying it would jeopardize the environment.
The government had declared a moratorium on mining in 2002, but it didn't cover earlier concessions.
Five months before the Vannessa ruling, Honduras canceled the concession of another Canadian company, SilverCrest Mines, Inc., ruling that its strip-mine operation intruded on a nature reserve.
Cerro de San Pedro, the latest front in the mining battle, is itself a 400-year-old Spanish mining town riddled with abandoned mine tunnels.
Modern technology, combined with high gold prices, has made even those old deposits worth mining again.
Activists fear the centuries-old church and former mining haciendas will be demolished or polluted under Metallica Resources Inc.'s proposal for a massive strip mine that would scoop away much of the San Pedro hill, which is depicted on the state shield.
Metallica said it would leave the buildings intact, but activists dispute that.
"They would leave this place like an atomic bomb went off, with mine tailings and waste left in the open air for miles around," said Alejandro Calvillo of Greenpeace Mexico.
Metallica spokesman Donald Hulse says Mexicans are being misinformed and that his company, like most open-pit miners, has adequate measures to prevent cyanide leakage.
Clearly, plenty of people welcome the jobs and revenues from the mines. However, Metallica has been entangled in legal battles. Opponents argue the land was not leased from the rightful owners and that it intrudes on a nature reserve.
In December, the Mexican Army canceled Metallica's explosives permit after residents complained about blasting. In January, cultural authorities filed a criminal complaint alleging damage to historic buildings near the mine site. Prosecutors have yet to act on the complaint.
The problem for activists in Mexico and Guatemala is that trade agreements allow investors to sue for damages if their operations are affected by changes in environmental rules.
A decade ago, opponents thwarted a U.S. company's plan to build a hazardous waste dump not far from Cerro de San Pedro. But the company, MetalClad, Inc., sued the Mexican government, and in 2001 won $15 million.
"There is a ghost behind the battle for the Cerro de San Pedro," Calvillo said, "and that ghost is MetalClad."
Local journalism is essential.
Give directly to The Spokesman-Review's Northwest Passages community forums series -- which helps to offset the costs of several reporter and editor positions at the newspaper -- by using the easy options below. Gifts processed in this system are not tax deductible, but are predominately used to help meet the local financial requirements needed to receive national matching-grant funds.
Subscribe now to get breaking news alerts in your email inbox
Get breaking news delivered to your inbox as it happens.
---