Sports
Yankees help Red Sox celebrate '04 pennant
Tue., April 12, 2005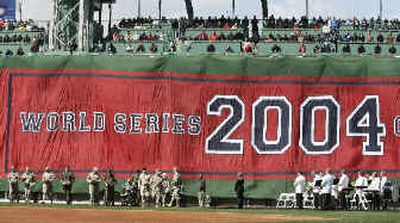 BOSTON – For 34 minutes, the cheers rang out in Fenway Park, from the old, from the young, from the true believers who never gave up hope and, yes, from the New York Yankees, too.
It was a day like no other in New England since 1919, a sun-splashed spectacle to celebrate 2004, the triumphant year many Boston Red Sox fans thought would never come. And it happened in front of the hated Yankees, who filled the third-base dugout to watch, like a conquered nation forced to view the rituals of their victorious tormentor.
Forty-seven rings were handed out Monday before Boston beat New York 8-1 in its home opener, the prize for overcoming a 3-0 deficit against the Yankees in the A.L. Championship Series and sweeping St. Louis in the World Series.
And then Johnny Pesky and an assortment of all those Red Sox who fell short joined the triumphant heroes for the walk out to center field, where they hoisted a red, navy and white World Series banner up the flag pole for the first time since an era few remember.
"I almost had tears in my eyes," said the 85-year-old Pesky, a special assignment instructor starting his 53rd season with the Red Sox. "It was a very emotional day."
In the roof seats above first base, the tears started flowing for some fans soon after the ceremony began. While members of the Boston Symphony Orchestra and Boston Pops in white dinner jackets behind second base played Strauss' "Also sprach Zarathustra," a huge banner proclaiming "World Series 2004 Champions" dropped from the top of the Green Monster and covered nearly all of the 37-foot-high wall.
And then members of the military, two of them missing parts of legs and in wheelchairs, two limping with canes, delivered the rings to a table in front of the Boston dugout, where Red Sox ownership handed them out to players and on-field staff. When Boston manager Terry Francona walked the red carpet to get his, even the Yankees applauded.
"After 86 years, I think they deserve to win one," New York closer Mariano Rivera said.
Wearing special gold-trimmed jerseys, players picked up their prizes one at a time as the scoreboard showed video highlights of the great comeback. On the front of each ring was a diamond-covered baseball diamond. Inscribed, along with each person's name, was "Greatest Comeback in History," "8 Straight Wins" and "4-0 Sweep." There was a picture of the World Series trophy, placed inside Fenway Park.
Yankees captain Derek Jeter and many of his teammates watched from the top step of the dugout.
"I've been on the other side of a few of them. I've never watched one," said Jeter, who has four rings.
Francona, back from a hospital stay last week, made a point of seeking out Yankees manager Joe Torre to thank him. Tim Wakefield, who went on to beat the Yankees, appreciated the unexpected audience.
"They could have easily just been in the clubhouse," he said, "but they came out and showed their respect."
Even players who have gone to other teams returned to receive their rings, including Derek Lowe and Dave Roberts. Pedro Martinez, now with the New York Mets, however, did not.
When Pesky picked up the final piece of jewelry, he saluted Torre, who in turn took off his cap and tipped it.
"Very, very classy," commissioner Bud Selig said.
Having fallen short so many times, losing Game 7 of the World Series in 1946, 1967, 1975 and 1986, the Red Sox made sure to include all the eras in the festivities. Wearing cream-colored vintage jerseys, distinguished from the current stars by their white hair and bald pates, all the ages milled together: Carl Yastrzemski, Jim Rice, Fred Lynn, Dwight Evans, Bruce Hurst, Luis Tiant, Jim Lonborg, Rico Petrocelli, Bobby Doerr and Dom DiMaggio were just a few.
Local journalism is essential.
Give directly to The Spokesman-Review's Northwest Passages community forums series -- which helps to offset the costs of several reporter and editor positions at the newspaper -- by using the easy options below. Gifts processed in this system are not tax deductible, but are predominately used to help meet the local financial requirements needed to receive national matching-grant funds.
Subscribe to the sports newsletter
Get the day's top sports headlines and breaking news delivered to your inbox by subscribing here.
---