News > Features
Modern-day Miss Marple brings refreshing twists
Thu., April 14, 2005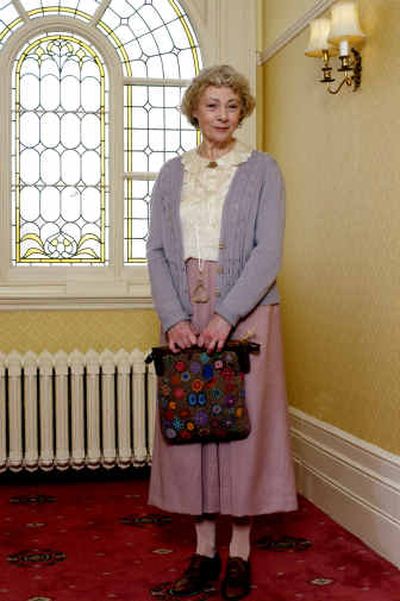 Geraldine McEwan knows that Miss Marple's sensible shoes and cardigans have been filled by such redoubtable actresses as Margaret Rutherford, Angela Lansbury and Joan Hickson.
But she wasn't "influenced or daunted" by them, says the veteran British actress who plays Jane Marple in a new series of the classic whodunits on PBS' "Mystery!" debuting Sunday.
"That doesn't mean to say that I don't think they were wonderful. I admired them enormously … but as an actor you can't be haunted by previous performances," McEwan says over tea and bites of chocolate at a theater on London's Portobello Road.
With permission from the Christie estate, the new series makes changes and takes risks – which stirred up some complaints in England, where it already has aired.
Some objected to the backstory of the new Miss Marple once being involved in a romance with a married man – and to a lesbian kiss between two conspirators in one of the murders.
But strong ratings have generated an order for additional episodes, eight of which will air on PBS next year.
McEwan doesn't think Miss Marple would be shocked by the new twists, and she hopes devotees will feel the same.
"I think Agatha Christie must have had quite a sense of humor to have written these stories," she says. "It must have amused her to have this elderly woman spend her whole life solving crimes and never being fazed by it."
Giving Miss Marple a past "humanizes her," McEwan adds. "That's important to me, because I've come to totally adore her. …
"She's very, very self-sufficient and, though she has her memories, she's kind of uncluttered and lives very actively within the moment."
Executive producer Rebecca Eaton says McEwan is "a much softer, more feminine, spacier Miss Marple" than her predecessors.
"I think she brings a lovely fey quality … so you have an understanding of why she might annoy the shoe leather cops, because she seems to be slightly distracted, and truly empathetic, and not paying attention to the right things," Eaton says.
"Yet at the end, she gets it absolutely right because she has been observing and using what she knows about human nature."
The new Marple episodes, set in the 1950s, are crammed with notable actors in supporting roles, including Derek Jacobi, Joanna Lumley, Simon Callow, Ian Richardson, John Hanna and Zoe Wanamaker.
And ample use is made of the English countryside, where constant death and deceit occur in or near Miss Marple's fictional village of St. Mary Mead.
McEwan's "approachable" Miss Marple has curly hair beneath her pert hat and, though she doesn't knit her own sweaters, she carries her knitting in a large carpet bag, along with sleuthing equipment and the mystery novels she likes to read.
"I also have a lovely magnifying glass in the shape of a heart that I wear round my neck wherever I go, even when I'm in evening dress," says McEwan, delighted by the style she's created.
"We wanted to try for a defined, iconic look," she says, "so that maybe if you made a cutout, you could look at its shape and recognize, 'Oh, yes, that's Miss Marple.' "
McEwan, who turns 73 on May 9, was "painfully shy" as a child, but the first time she stood on a stage to read a poem at age 9, "I honestly thought to myself, 'I have been given a pot of gold.' "
She made her stage debut as a teenager at the Theatre Royal in Windsor. Since then, she has played most of the great classic Shakespearean and Restoration comedy roles.
She also starred in the original production of Joe Orton's "Loot" and earned a Tony nomination in 1998 for "The Chairs." Her British TV successes have included "The Prime of Miss Jean Brody" and "Oranges Are Not the Only Fruit."
Her recent feature films include "The Magdalene Sisters," co-starring as a brutally stern nun.
McEwan is someone you totally believe when she says that, for her, acting has nothing to do with fame and fortune.
"I really and truly do it for the moment when I'm doing it," she says.
Local journalism is essential.
Give directly to The Spokesman-Review's Northwest Passages community forums series -- which helps to offset the costs of several reporter and editor positions at the newspaper -- by using the easy options below. Gifts processed in this system are not tax deductible, but are predominately used to help meet the local financial requirements needed to receive national matching-grant funds.
Subscribe now to get breaking news alerts in your email inbox
Get breaking news delivered to your inbox as it happens.
---