A&E > Entertainment
Nintendo plans New York retail megastore
Fri., April 15, 2005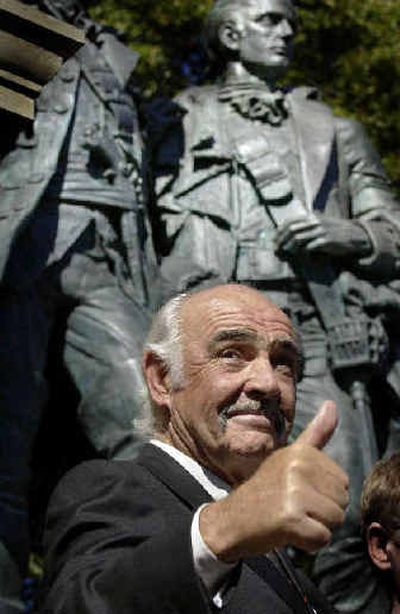 Imagine a store packed with nothing but Mario, Zelda, Donkey Kong and Pokemon wares. Sounds like heaven, yes?
Very soon it will be a reality. Nintendo announced last week that it's building a two-story megastore in New York's Rockefeller Center with just the game maker's products and licensed goods.
Called Nintendo World, the retail store will give shoppers a chance to test-drive the latest games and consoles. The shop also will be the new home of the Pokemon Center, the Big N's first retail shop venture.
Nintendo World is scheduled to open later this spring. For updates, visit www.nintendoworldstore.com.
Connery will be Bond again
Sean Connery is venturing back into the world of James Bond.
The 74-year-old actor is set to reprise his role as agent 007 in Electronic Arts' upcoming "From Russia with Love."
Game Informer magazine first broke the news earlier this month that Sir Sean will record new dialogue for the espionage-filled shooter, though the video will feature his likeness from the 1963 film.
"As an artist, I see this as another way to explore the creative process," Connery told the Hollywood Reporter.
New 'Sims' offers a nightclub
It's been a busy week at EA. In addition to announcing the new "Burnout" title, they also pulled the wraps off another expansion pack for the hit PC life simulator "The Sims 2."
"The Sims 2 Nightlife" brings all-new dating gameplay. You can make your own fantasy nightclub with more than 100 new objects, including a DJ booth, poker table and more accessories.
"Players will be able to take their Sims out of the suburbs and into the night while dating, hanging out on the town and staying up till dawn," said Tim LeTourneau, the game's senior producer.
"Nightlife" will have Sims rocking up their lives come September.
Local journalism is essential.
Give directly to The Spokesman-Review's Northwest Passages community forums series -- which helps to offset the costs of several reporter and editor positions at the newspaper -- by using the easy options below. Gifts processed in this system are not tax deductible, but are predominately used to help meet the local financial requirements needed to receive national matching-grant funds.
Subscribe to the Spokane7 email newsletter
Get the day's top entertainment headlines delivered to your inbox every morning.
---