News > Spokane
Night of arson attacks has changed victims" lives
Mon., April 18, 2005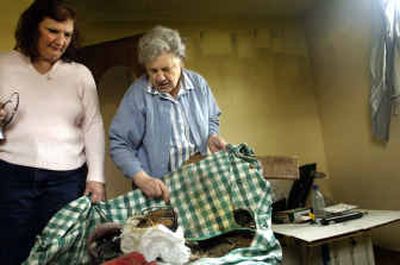 "Kids." That's the first thing Evelyn Van Horne thought of as she stared at the charred stack of patio chairs leaning against the back wall of her house and the refrigerator-size burn mark on her home's wooden siding.
Some kid had started a fire just a few feet to the left of her back door and it had gotten out of control, she concluded, probably while she was at church. Van Horne had just come home. It was Sunday, March 13, the day her sense of security on quiet Desmet Avenue changed.
She was home, the safest place in almost anyone's life, but suddenly, she was vulnerable. The grandmother pressed her hand against her burned home of 50 years, searching for heat, found none, then went inside to call authorities.
"It wasn't a kid. The fire investigator told me it was probably a man on a bicycle riding through the area setting fires," Van Horne said.
Four other homes and a church also had been set on fire. The locations were spread over three miles. In the aftermath, the victims searched for logical answers to an illogical crime.
Van Horne was wrong – the fire had been started sometime between 3 a.m. and 4 a.m. She'd been on the other side of the wall, sleeping, as the arsonist, who still hasn't been caught, brazenly worked beside her back door, which was illuminated with a floodlight. The flames burned themselves out before they really took hold.
Several blocks east on Mission Avenue, a woman we'll call Alicia because she's afraid to be identified, stared at a scorched spot on her apartment wall where someone had piled her garbage on top of a box of woodchips and started a fire. Whoever did it, Alicia said, must have seen her children's toys lying on the ground nearby. She looked up and realized that tenants in as many as six apartments in her complex could have looked down and watched the arsonist as he worked.
"At first I thought, 'Oh, my God, I put a cigarette out, or my neighbor did and started a fire.' Then, I realized my garbage had been moved," she said. "I think it was some wacko."
Her children are now asking why someone would light their apartment on fire. When they do, Alicia tells them they're moving – to Alaska.
The victim who got hit the worst, because her fire didn't go out on its own, was Velma Linerud, who lives five blocks away from Van Horne on Cataldo.
Flames from a fire on Linerud's deck burned through her back wall and into her kitchen. A smoke alarm woke Linerud, who sleeps soundly because of medication the woman in her 80s takes for diabetes. She didn't realize what was happening until she turned on a hall light and saw smoke. Even then, she went to investigate before fleeing in her bathrobe.
"I thought I left something on the kitchen stove," Linerud said. "Then I went to the basement and saw smoke coming up the stairway. I grabbed a robe, never thought about slippers until I was standing on the grass and saw smoke coming out of my garage. I thought my garage was on fire. You never think about someone setting your house on fire."
Linerud, too, had notions of who was responsible, especially after learning that a nearby church was on fire. She thought of the devil, which made sense to her because at the time she thought the burning church was the one she attends and the chance that her house and church would go up in flames on the same night seemed like more than a coincidence. But the church wasn't hers.
A neighbor walked Linerud across the street from the burning home and they watched from the window as the firefighters worked through sunrise.
"I would not feel secure like I used to if I was home now," Linerud said. Since the day of the fire she has lived with one of her daughters, who has three watchful dogs. But in a few weeks she will have to return home.
Van Horne, who never moved even though her children suggested she stay with them for a while, is on edge. She goes to the window at night whenever she hears a noise. Even the most distant sounds sometimes seem like they're in her back yard.
"You smell smoke where there isn't any," Van Horne said.
Local journalism is essential.
Give directly to The Spokesman-Review's Northwest Passages community forums series -- which helps to offset the costs of several reporter and editor positions at the newspaper -- by using the easy options below. Gifts processed in this system are not tax deductible, but are predominately used to help meet the local financial requirements needed to receive national matching-grant funds.
Subscribe now to get breaking news alerts in your email inbox
Get breaking news delivered to your inbox as it happens.
---