News > Nation/World
Iraqis seek insurgents but find no hostages
Tue., April 19, 2005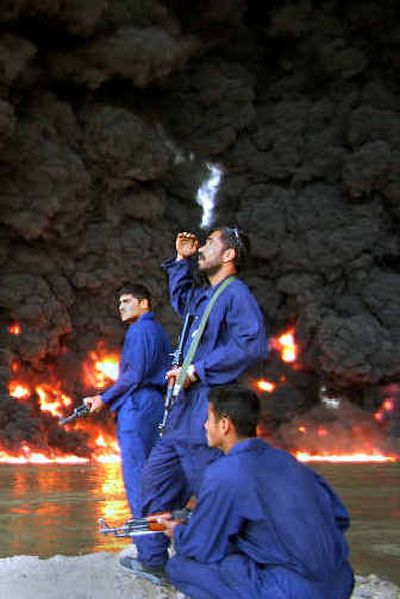 MADAIN, Iraq – Hundreds of Iraqi security forces launched an operation Monday to root out Sunni insurgents at the tip of Iraq's "Triangle of Death," finding weapons and car bombs but no hostages despite reports that up to 100 Shiites may have been seized.
In Baghdad, gunmen ambushed a senior Defense Ministry adviser as he drove home late Monday, killing him and his son, the Interior Ministry said. Officials identified the man as Maj. Gen. Adnan al-Qaraghulli.
Iraqi forces fanned through the dusty streets of Madain and took positions on rooftops in the town south of Baghdad, while Sunni leaders dismissed the reports of a hostage crisis as a hoax.
The U.S. military, whose forces only stood by in case they were needed, called the operation in Madain a significant step forward in the training of Iraqi forces, which is key to America's exit strategy in the two-year-old war.
Madain is an agricultural town of about 1,000 families, evenly divided between Shiites and Sunnis, located at the northern edge of a region considered a stronghold of the Sunni insurgency. When an AP photographer joined hundreds of police entering the town Monday, they met no resistance and found no hostages.
"The city is now under full control," interim Prime Minister Ayad Allawi's office said, adding that 10 suspected insurgents were arrested and large amounts of weapons seized.
National Security Minister Qassim Dawoud pledged Monday to "chase down terror everywhere" and said forces had discovered bomb-making equipment in Madain.
Local journalism is essential.
Give directly to The Spokesman-Review's Northwest Passages community forums series -- which helps to offset the costs of several reporter and editor positions at the newspaper -- by using the easy options below. Gifts processed in this system are not tax deductible, but are predominately used to help meet the local financial requirements needed to receive national matching-grant funds.
Subscribe now to get breaking news alerts in your email inbox
Get breaking news delivered to your inbox as it happens.
---