News > Business
Stewart gets radio deal
Tue., April 19, 2005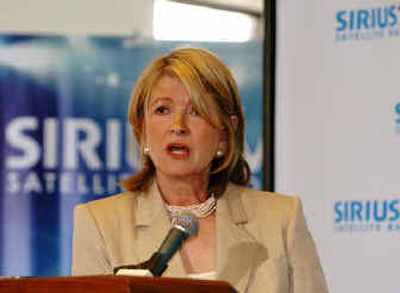 NEW YORK — Six weeks after being released from federal prison, Martha Stewart has reached a deal with Sirius Satellite Radio Inc. to create a 24-hour channel featuring cooking, gardening and entertaining programming for women.
Coming on the heels of separate deals to create a version of "The Apprentice" and a daily cooking show, the four-year agreement announced Monday with Sirius marks Stewart's latest move to rebuild her business after serving time for lying to the government about a stock sale.
Stewart, who has parlayed her success at homemaking advice into a magazine, TV show and merchandising empire, has dabbled in radio work before, making 90-second "Ask Martha" radio segments.
At a news conference to announce the venture, Stewart said her connection with radio stretched back to her childhood, when her family was the last in her neighborhood to get a television set.
"I don't know about you, but I was raised on the radio," Stewart said. "I'm very excited about this. … Of all the things that I have done in the last few years with Martha Stewart Living Omnimedia, radio is actually one of the most enjoyable."
For Sirius, the deal with Stewart is the most recent effort to compete with its much larger rival in the emerging satellite radio business, XM Satellite Radio Holdings Inc. Earlier this month XM reported that it had 3.8 million subscribers, while Sirius' most recent subscriber count was 1.2 million.
Both Sirius and XM are still suffering deep financial losses and are spending aggressively to lure customers to their services, which cost $12.95 a month and require the purchase of special receiver units, which can only receive either Sirius or XM signals. Both Sirius and XM offer dozens of commercial-free music channels as well as numerous talk channels, many of which carry advertising.
Stewart's channel will also carry advertising. The companies declined to provide other financial details other than to say the arrangement would last for four years.
The channel is expected to launch later this year, after a legal restriction on Stewart's ability to work is lifted. Following her release in March from five months in prison, Stewart is currently serving five months of house arrest at her sprawling Westchester County estate, north of New York City.
Last week a judge declined Stewart's bid to be allowed to leave home 80 hours per week for business. Under the original sentence, she is allowed 48 hours per week.
The companies did say that Stewart herself would also appear on the channel, which was expected to be called Martha Stewart Living Radio.
Last week Stewart appeared at a magazine industry awards ceremony as two magazines published by her company, Martha Stewart Living Omnimedia Inc., won honors for design and general excellence.
Two TV deals involving Stewart were also announced in the past few months, while she was still in prison: a daily cooking show was announced in December, while the "Apprentice" show was unveiled in February.
Local journalism is essential.
Give directly to The Spokesman-Review's Northwest Passages community forums series -- which helps to offset the costs of several reporter and editor positions at the newspaper -- by using the easy options below. Gifts processed in this system are not tax deductible, but are predominately used to help meet the local financial requirements needed to receive national matching-grant funds.
Subscribe now to get breaking news alerts in your email inbox
Get breaking news delivered to your inbox as it happens.
---